X #23
Superhero/Action/Adventure
Dark Horse Comics
Posted 3/11/15 - 10:30 PM EST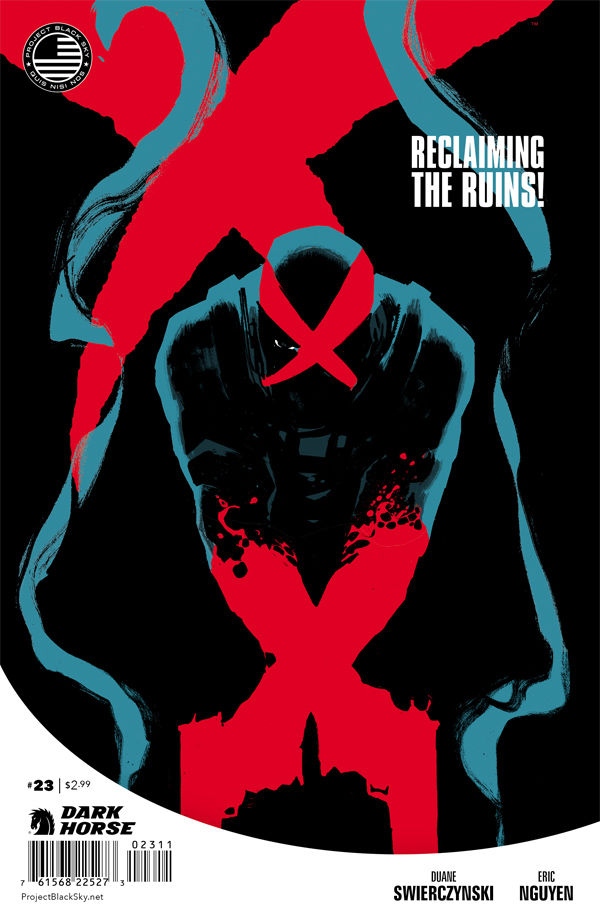 Dark Horse Comics' Official Solicitation: "The city zone destroyed in the battle between the Archon and the Mark has become an insane asylum, as a new, highly addictive drug gains control of ordinary Arcadians. X goes on the hunt for the operation's ringleader, but a rival vigilante—a shadowy woman from X's past—stands in his way!"
Story: Duane Swierczynski
Artist: Eric Nguyen
Colors: Michelle Madsen
Letters: Richard Starkings & Comicraft
Cover Artist: Rafael Albuquerque
Production: Allyson Haller
Designer: Kat Larson
Assistant Editor: Everett Patterson
Editor: Patrick Thorpe
Publisher: Mike Richardson
Dark, grim, and gritty as always, this issue is a decent jumping on point for new readers, through exposition and flashbacks enough is covered for new or lapsed readers (like myself) to catch up with what has been going on since X relaunched almost two years ago. Story is pretty par for the course when it comes to dystopian cities, riddled with crime and drugs; very Dark Knight Returns. And X is like Batman if he were the Punisher, X kills a lot of bad guys, with Wolverine's mutant healing factor to boot; that said, X is pretty cool and has a long history at Dark Horse. The character first debuted in Dark Horse Presents #8 and got his first solo series in February of 1994.
The story moves fast and is well written and well illustrated, perfecting the grim 'n' gritty, crime and corruption ridden story landscape that was so popular in the era in which X was created. Definitely a pull list add if you like grim antiheroes out to make the world, or at least their slice if it, a better place whatever the cost may be.
For more X and more titles from Dark Horse Comics visit www.darkhorse.com and get out to your local comic and hobby shops, support local comic retailers before they disappear!