Usagi Yojimbo: Senso #3


Action/Adventure


Dark Horse Comics
Posted 10/2/14 - 5:39 PM ET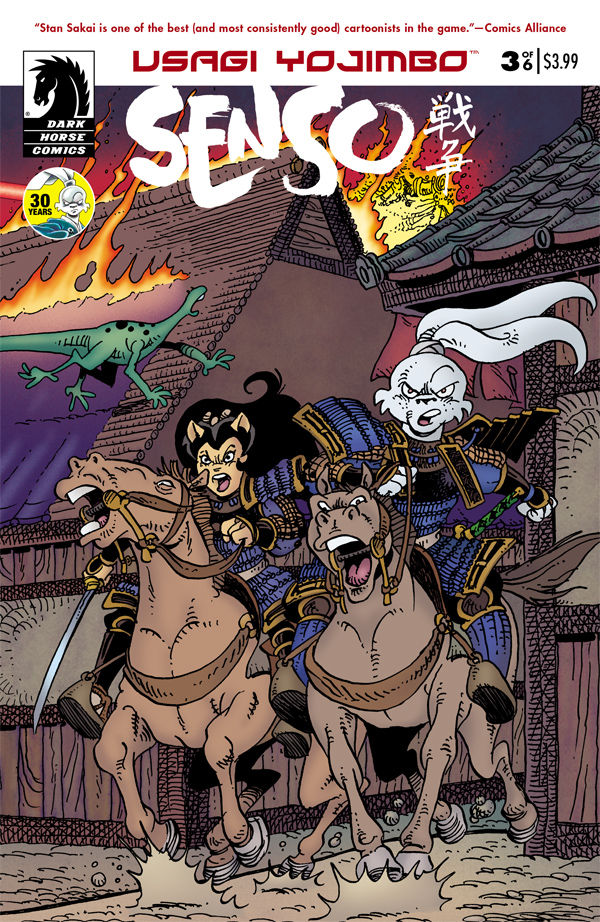 Dark Horse Comics' Official Solicitation: "As Usagi and Tomoe race to warn the town of a marauding Martian war machine, Lord Noriyuki orders an all-out assault against the alien rocket—ending with General Gennosuke and Jotaro in a desperate battle face to face with the extraterrestrial invaders. Be warned—some of your favorite characters will not survive this issue!"
Writer/Artist/Cover Artist: Stan Sakai
Assistant Editor: Aaron Walker
What can be said that I haven't said about Stan Sakai's epic Usagi Yojimbo that hasn't said before? And numerous times at that, both by this reviewer and fans the world over. Sakai's artwork is superb with Yojimbo, even after thirty years, the car and detail he gives his world are always flawless. From a story line point of view, there's no detracting from what Sakai does with Usagi Yojimbo; even when the story feels like it's dragging (rarity that that is ) you know it's going to turn soon and you'll be floored by what Sakai does next. Here in Senso #3, Sakai's blending of Yojimbo and his universe's version of the Martian invasion from H.G. Wells' War of The Worlds continues. Stan keeps the action on high throughout the issue, racing at breakneck speed to the cliffhanger ending, and trust this writer, it is a cliffhanger. Dark Horse's solicit doesn't lie in that last sentence, and longtime Usagi fans may be pretty damn shocked at who it is.
This review is once more pretty short, but it's difficult to write about Usagi without giving spoilers, and I hate that. Stan Sakai is one of the best in the business for a reason, his creation Usagi Yojimbo is one of the best series out there for a reason. If you love samurai epics, there's no reason for you to not be reading Usagi if you aren't already, don't let that the titular character is an anthropomorphic rabbit samurai stop you. Usagi Yojimbo is just as epic a samurai tale as Lone Wolf and Cub or 47 Ronin. This is not an ideal jumping on point, be you a lapsed reader or a new fan, especially with the samurai and ninja at war with invading Martians.
Usagi Yojimbo: Senso #3 of 6 gets a 5 out of 5, honestly don't expect a Yojimbo issue to get less from me.