Under Aspect - The Things You Should Not See
Posted 10/21/14 - 11:20 PM ET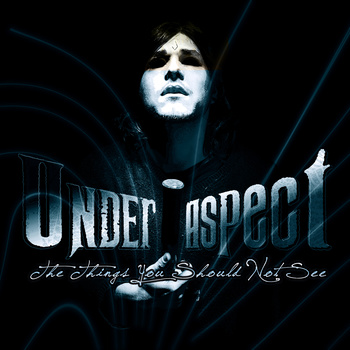 Under Aspect delivers a solid metal album in The Things You Should Not See, with a nice crossbreeding of metal subgenres woven throughout the eight tracks within. There are some tropes that come from Death Metal, Goth Rock, Post-Hardcore, even Metalcore along with a bevy of detectable influences contained here too in the structuring of some of the songs. Killswitch Engage, Deftones, and The Devil Wears Prada are easily heard as said influences over the course of The Things You Should Not See; but not in a suffocating way. Not at all in fact, Under Aspect may not be shattering the metal mold, but they clearly are making there own identity within the boundaries of 21st century metal and giving some better definition to the rough edges. Lyrical content is dark at times; dealing with disappointment in others, one's inner demons, dissatisfaction with life and other common metal themes in the current state of the musical genre.


At times the songs deal with pushing forward through the rage and using it as a tool to do so, but it doesn't turn into a preachy sap fest; the attitude remains hard and pissed off for the duration.
Pacing is the norm for most metal album, fast with moments of slowed tempo to add gravitas to the feeling of the album. While the drums act as the backbone of each song, as they should, they (thankfully) are arranged to have more character and personality than the popular and boring machine gun repetition that focuses on how hard and fast the drummer can strike the drum heads. Vocals are strong and fit the genre well, slightly reminiscent of an amalgamation of Mike Hranica (The Devil Wears Prada) and Wil Francis (Aiden), while the guitars and bass are driving forces in each song but give the guitars the spotlight; bass is present but gets muffled out by the guitars and drums at times. Overall though, the band is a strong unit and performs well together on The Things You Should Not See with all of their strengths as a metal outfit displayed at one time or another.
Yesterday's Prayers

The Sad King

Broken Family

What Does It Mean

Cuddling Toward Rat Poison

Child's Play (Diggin' Gold)

Common Illusion

Guilty

Choice cuts are "Yesterday's Prayers", "What Does It Mean?", and "Common Illusion".
Under Aspect gets a 3.5 out of 5 for The Things You Should Not See.
Under Aspect is David Lessard (vocals), Carl Dubreuil (bass and vocals), Hugues Bouchard (drums and vocals), Dany Godin (guitar, and Olivier Veilluex (guitar). For more from Under Aspect check out

www.underaspect.net

.