The Waletones Reinvigorating Mersey Beat in the UK
Interviewed by Michael Meade - 3/9/15

Posted 3/16/15 - 3:05 AM EST

TLR's editor, Michael Meade, spoke with UK band The Waletones about their first album dropping, their current tour, and future plans. The band is reinvigorating Mersey Beat style rock, the style that spawned The Beatles and defined British Pop and British Rock's infancy.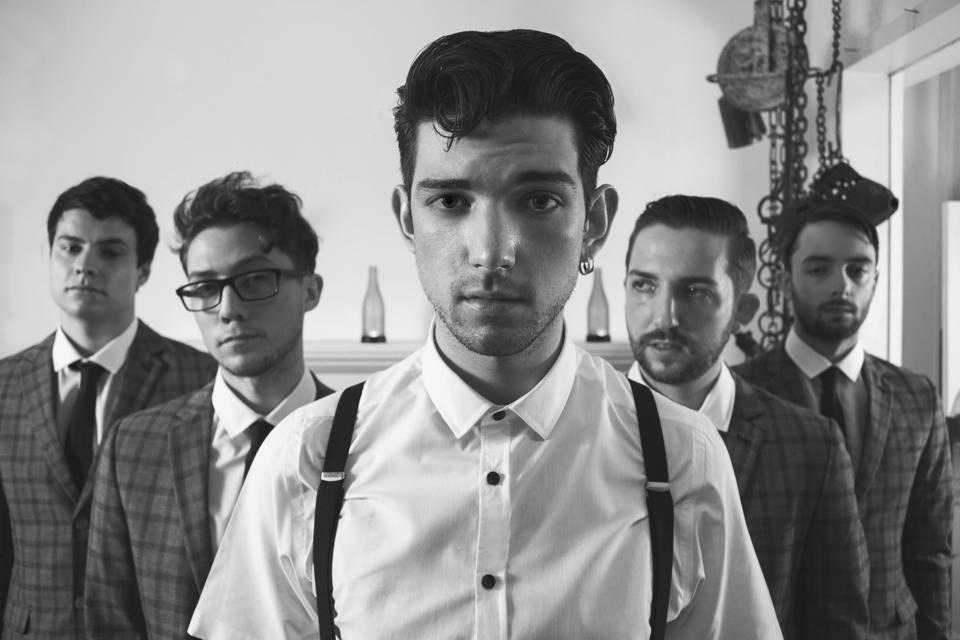 The Waletones - Courtesy of The Waletones and LAW Music Management
TLR: First off guys, how about an introduction for those that don't know The Waletones yet?
Luke: The Waletones is a 4-piece band, and Sam! Bringing you that 60s Merseybeat rock with a good ol' modern twist. Matching suits and old school music, what more could you want?!
TLR: Secondly, thank you all for taking the time to let Tastes Like Rock's readers get to know you. Let's really dive into the background story, how did The Waletones come together?
Drew: We all met at London College of Music at the University of West London. I was writing and producing some new material, after which I decided to put a band together. I recruited my 'go to' studio musicians Mat Swales and Pete Daynes. Shortly after Luke and Sam auditioned and the rest is history!
Luke: I auditioned when Drew, Mat and Pete were already recording the first EP. They saw me on my birthday singing karaoke in a bar and I was pretty smashed. Mat suggested me to Drew - he thought Mat was joking. My drunk performance obviously didn't impress him! Anyway, Mat got in contact and said he thought I would be good, did I want to come and audition? So I did, and the rest is history.
TLR: Drew, we've spoken before, when you still had Kissimmee going, so we've talked about your influences, but with The Waletones you're bringing back Beat and other early 60s rock and roll styles to make The Waletones' sound. What are your top influences from that period in music history and what brought them into your life?
Drew: My parents introduced me to 60s music from infancy. The record player was always on at home. My Dad would play The Beatles, The Beach Boys, The Kinks, The Hollies, and Burt Bacharach to name a few. I have also heavily studied the history of recording, which led me to learn about the people on the other side of the glass; producers like George Martin, Phil Spector and Brian Wilson. These guys are also key influences for the way I create and produce music. Essentially, with The Waletones I have attempted to produce a band that would sit comfortably in that era with those bands.
TLR: This is for each of you; Luke, Drew, Samuel, Pete, and Mat; what drives each of you to create music?
Drew: Creating music is my Buzz, and I'm fortunate to have made a life out of it. For me it's about leaving a legacy. I get a kick out of thinking that 100 years from now, some kid like me might be at home listening to a song that I have written or produced!
Luke: I would say, just wanting people to hear what I have to offer. My passion for music makes me want me to create music all the time.
Sam: I'd say other musicians, whether that be a famous artists or just friends/band mates. Of course, being subjected to my Dad's vinyl collection helped a lot for this band.
Mat: The satisfaction of being part of a final product that I enjoy listening to and can be proud of. Entertaining people with the music I am part of and hopefully seeing them genuinely enjoying it.
Pete: Music has always been a way of being able to kind of get away from the rest of the world. I think it came from being at school, at first when I was around 8 or 9, it was something that I felt I was really good at but the later years of A levels were so academically challenging for me, I saw it as a bit of an escape and it turned into something I really had a drive for to pursue.
TLR: Luke, how did you get into singing?
Luke: My mother took me to singing lessons when I was 8 years old and began classical singing. As I grew older and heard more and more of my dad's 80s and 60s records I began singing in different bands and that got me on writing lyrics.
TLR: Influences and creative drive aside for a moment, the band's first album, Lookout! Here Come The Waletones, is dropping today, March 9; what is everyone feeling about the release?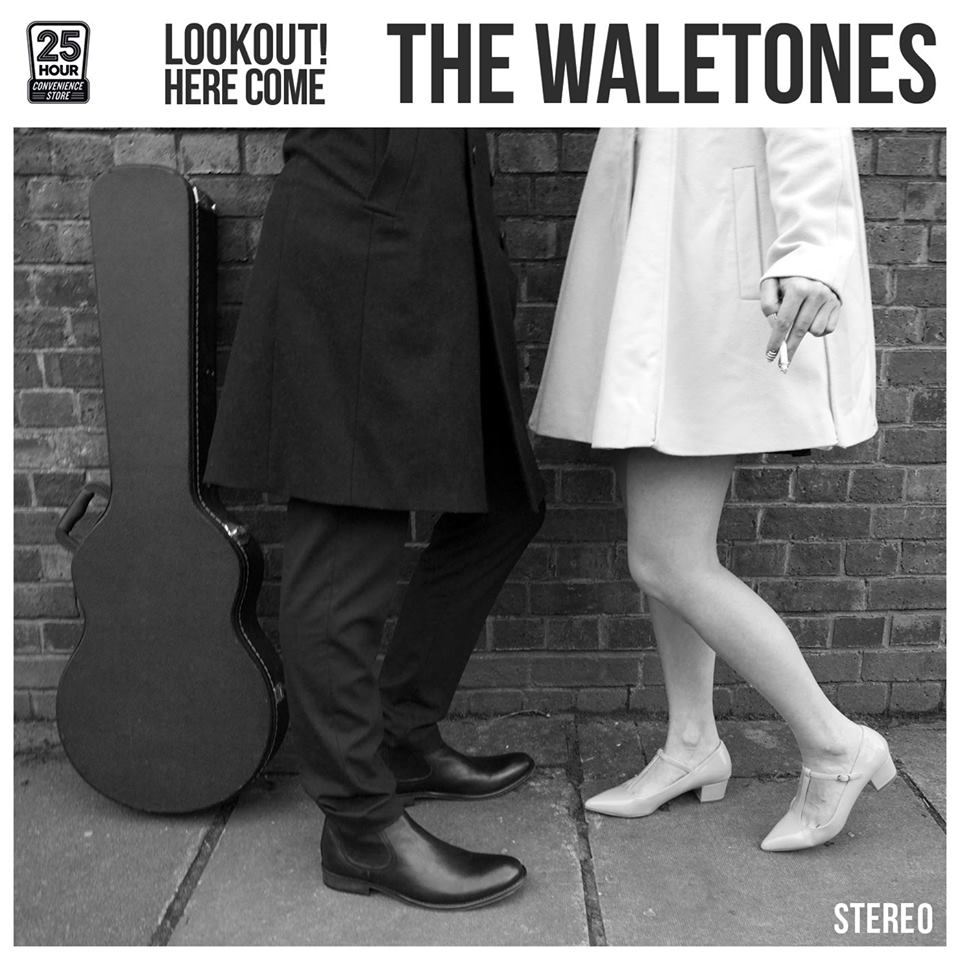 "Lookout! Here Come The Waletones" EP cover - Courtesy 25 Hour Convenience Store and LAW Music Management

Luke: Feeling great! I hope it's liked by everyone and yeah, bring on the next E.P!
Drew: I'm excited for people to hear it! It's the ultimate reward when you work on a record and it gets a commercial release! We're pleased to be working with 25 Hour Convenience Store for the release and hope that the extra 'rocket boost' that a record label brings will get Lookout! Here Come The Waletones to a larger audience!
Sam: It's really exciting for all of us. It's such a great set of songs that represent who we are. We've wanted to get our material out for so long.
Mat: Can't wait to hear what people think of it. Interested to see how our music fits into today's audiences. Really hope it goes down well.
Pete: Awesome!! Mat, Drew and I started tracking the first parts to 'Chasing The Tide' back in November 2013, so for the final product to be finally released is a very satisfying feeling. Plus, we've been lucky enough to have had some amazing people work with us on it, Phil English (Biffy Clyro), Andrew Bourbon and the insane mastering magician Tom Waterman, have really brought the tracks to life.
TLR: Sam, what led you to guitar?
Sam: I found the urge to start learning after watching a talent show at my school. Since then I've been influenced by so many genres and artists. I'm currently really into The Shadows, particularly Hank Marvin.
TLR: You guys have been touring around the UK for a month or so now, with two dates remaining in March, how was the tour and what was the favorite stop for each of you?
Luke: Tour was great. A lot of banter thrown around the bus, sometimes getting a little sick of each other but holding it out, hah! Favourite stop would be St. Andrews, for me. Great support by everyone and people seemed to really like the vibe of our sound.
Sam: They've all been great in different ways the whole way through the tour. The atmosphere at Winchester was amazing as soon as we arrived (regardless of the tour van breaking down).
Mat: The tour has been really fun; very tiring at times and pretty manic, but overall a very good experience. My favourite was Warwick University.
Pete: The tour has been fantastic. We were quite apprehensive about what sort of reception we'd receive being so used to a London crowd, but we've had such a great time, great feedback and excitement up and down the country! The show we played at Barfly in Camden a few weeks ago was definitely up there, but for me my favourite show was at Bath Spa University.
TLR: While on the subject of touring, what do each of you prefer? Being in the studio or out on the road?
Luke: Out on the road any day of the week. I like to move about a lot and get bored quite easily. So on the road helps my attention span!
Drew: I love doing both too much to choose! I own a studio in London, England and we have begun recording demos and other promotional bits in there. It's my home from home at the moment. I love tracking drums; in fact I'm bordering obsessive compulsive! That being said, there is no bigger kick than playing your music to a big crowd, meeting new people each day and exploring new places!
Sam: I'd definitely say that I prefer touring. It's a lot more inspiring to play when you've got people in front of you to bounce off of.
Mat: On the road. Playing our music in front of people and interacting with our audience.
Pete: Definitely out on the road. It's so much fun waking up somewhere different each day, and playing different cities each night. The banter within the tour bus becomes red hot and it feels like a real adventure!
TLR: Mat, what or who brought drumming into your life and led you to learning to perform?
Mat: For as long as I can remember I was always drumming at the dinner table, or at my desk at school. A friend of my parents was a drummer in a local band and I went to see them when I was 9, after which I was utterly hooked on drumming. I started lessons at school and was then given a second hand drum set for my 10th birthday, which I would practise for hours everyday. Drummers such as Steve Gadd, Steve Jordan, Buddy Rich, Peter Erskine, they have been a huge influence in my studies. After a couple of years I realised I wanted to be a performer and set out to move to London and make it happen.
TLR: Final tour related question guys, where would you each like to tour the most? And who would you each like to share the billing with? Alive, dead, disbanded... doesn't matter.
Drew: The US! With Jeff Lynne & ELO.
Luke: I would say it would have to be America! I think they would really take to us as a band. I would love to tour with The Beatles if they were alive, that would be the best possible tour ever.
Sam: The US, with The Beatles. Definitely.
Mat: America, during the summer festival season, with The Beach Boys.
Pete: Would have loved to do a tour in the states with The Beatles. Just to be around at the peak of Beatle mania would have been a real experience.
TLR: Pete, as a fellow bass man, four or more strings? Plectrum versus finger picking? And both versus slapping? I always like to talk shop about what other bass players prefer when playing.
Pete: Hmm, well all the songs on the EP were tracked on a 5 string, so in terms of playing them live, a few parts require a low D or Eb. I'd love to switch back to 4 as my main, perhaps using a different tuning. I own a 4 string thunderbird that is ridiculously fun to play. Out of my two main basses the 5 string Cort is like driving a Bentley, very beautiful, but has to be treated with some class, whereas the Thunderbird is like driving a go kart! I think the plectrum vs fingers debate really depends on the song. I grew up listening to Rush and The Who so I was always amazed how Geddy Lee and John Entwhistle could get those tones from their fingers, but on the other end of the spectrum there's Paul McCartney's pick playing, very smooth and very melodic, so I think it's very important to try and find your own sound. I'm very comfortable playing with both so it totally depends on what the song needs. In 'Cracks' for example I use thumb strokes, fingers and a pick in different sections so yea, totally depends. I'm not really for one, or against one or the other. Absolutely love slap bass. It's a shame that it exists more commonly within funk and jazz and other genres. Maybe that's something to try and squeeze into our next record!
TLR: Again, for each of you, how do you five usually break down the composing process of your music? Go team from start to finish or individual parts brought together to form the whole?
Drew: I have a melody or hook stuck in my head. I kind of put together the arrangement in my head, the beat, and where the song will go, then flesh out the chord progression on a guitar. I then go into the studio with the guys. Luke is a great lyricist and his words really bring life to the songs. And the guys are awesome musicians that give the music that extra cluster of energy.
Luke: I write lyrics, not so much on the first EP as it was already written but I have written a lot on second EP (yet to be released!)... And that's all I'm good for really, ha!
Pete: Drew usually writes the majority of the song, we come in and flesh it out and add our own individual spices to the pot.
TLR: What would you all say is the collective muse when the five of you are together?
Drew: Our Manager Leigh, she is the driving force behind the scenes that keeps this band trucking!
TLR: Leigh is good people, she was a great help getting this interview going. Now that Lookout! Here Come The Waletones is out, what's the plan from here for the rest of 2015 and maybe beyond?
Drew: We have a second EP that we will put out later this year. Also… tour, tour, tour!
Sam: I think just getting out and touring our music. We'd love to be able to just keep doing what we're doing and getting recognised for it.
TLR: Awesome, looking forward to the next EP, and once you're touring here in the States, hopefully can do this again! Thank you Luke, Drew, Samuel, Pete, and Mathew for hanging out and chatting today! Looking forward to what the future brings for you fellows.