The Venetia Fair - ...Basically Just Does Karaoke
Posted 1/16/14 7:58 AM ET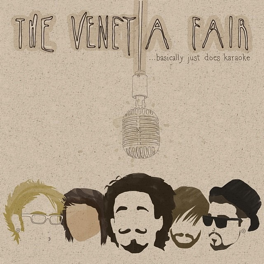 The Venetia Fair are back with their new EP of covers, ...Basically Just Does Karaoke, on the EP are the bands takes on new and old classics like "Bohemian Rhapsody" (Queen, if I have to tell you it was done by them you need to GTFO Tastes Like Rock), Jesus of Suburbia (Green Day), among others. Instead of covering the songs verbatim, The Venetia Fair take each and give them a retooling with their own punk meets cabaret style. No rioting please, it's well done, very well done in fact... well, if you like punk with some almost steampunk style neo-cabaret instrumentals. This reviewer happens to, and while TLR tries to stay away from covers in general and cover bands (which The Venetia Fair clearly is not) as a rule, I like the new takes on the songs included in the six track EP.
The new spins are done with respect and are mindful of the original artists' fans while putting their own unique and pretty enjoyable take on each song. Definitely a recommended EP by this reviewer, especially if you're looking for a fix of covers with some new flavor added, which in a landscape inundated with Glee and its ripoffs and the current trend/fad (hard to tell which is which anymore the way things in the music and entertainment industries blow up and then fizzle away so quickly) of aca pella groups and covers is a refreshing turn.
"Bohemian Rhapsody" (Queen)

"Come On Eileen" (Dexys Midnight Runners)

"Rock Lobster" (The B-52s)

"Jesus of Suburbia" (Green Day)

"Camouflage, Camouflage" (The Blood Brothers)

"The Willing Well III: Apollo II: The Telling Truth" (Coheed and Cambria)

Choice cuts are "Bohemian Rhapsody", "Rock Lobster", and "Jesus of Suburbia".
The Venetia Fair gets a solid 4 out of 5 for

...Basically Just Does Karaoke

.