The Roxy Gets Adrenalized
By Wes & Melissa Anderson
Photography: Rockwell Anderson Media
Posted 4/7/13 11:57 PM EST
It is rare to see a show where every band that plays could be the headliner. That was the show at the Roxy, officially headlined by Adrenaline Mob, held Saturday March 30th. The line up, in order of appearance included: Killset (sadly we missed this set), Blackmore, Faded Sun, Nothing More, and Adrenaline Mob. The talent on the stage that night was no less than spectacular.
Blackmore is: Adrian Barrios - Vocals, Shaunt Sulahian - Guitars, Jack Heldt - Guitars, David Dadoyan - Bass and Vinny Mezian - Drums. This LA band is Alternative Metal, Hard Rock, & Progressive Rock all rolled into one. This was the first time I have seen this band and it won't be the last. Their set was tight and their sound reminded me of Nickleback meets Black Sabbath.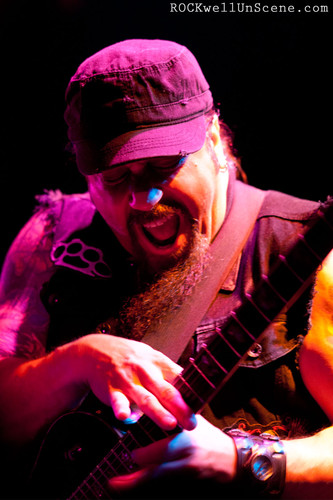 The unworldly amazing Faded Sun is: Tony DeVita ....Lead Vocals/Lead Guitar, Mike Brown....Drums, David Baldwin Gamble....Lead Guitar, & Lou Papai...Bass. Tony DeVita is a music veteran who has played on stage with countless greats including Anthrax, Metal Church, Kings X, Motorhead, Queensryche, and many more. This band is a pinch of Ozzy, a dash of Leatherwolf, a sprinkle of Testament and a whole bunch of Classic Metal awesome melded together to form Faded Sun. I confess I was a fan before I went to the show and left with a greater appreciation of the guys. If you want a show that will satisfy your Rock & Metal needs, this is the band to see. Your next chance to see the almighty Faded Sun will be Saturday April 13th when they open for the legendary Lizzy Borden at the world famous Whisky a Go Go on the Sunset Strip.
Nothing More is: Jonny Hawkins - Lead Vocals/Aux Drums, Daniel Oliver - Bass/Backup vocals, Mark Vollelunga - Guitar/Backup vocals, and Paul O'Brien - Drums. With an urban look and a Rock/Progressive/Alternative sound, this band is like nothing you have ever seen. I have covered hundreds of shows and the only thing that comes close to what they do on stage is what Slipknot does with their drums. Not in sound, but in the performance. This band has one of the best stage shows ever and it is hard to describe, other than - Fu*k'n WoW!. The band has even created a bass rig that allows 3 members to play the bass at once: 2 members plucking with their hands and the lead singer tapping the strings with - Drum Sticks?!?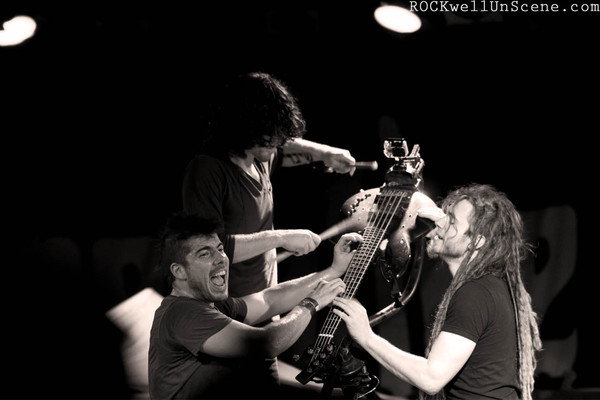 Percussion instruments were on all parts of the stage and there were times when all 4 members of the band were playing percussion instruments...it was truly amazing. If you are tired of the same old show and want an unforgettable performance go see Nothing More - when you can. Their home base is in Texas, and they're currently touring the U.S. with the evenings headliner; Adrenaline Mob.
The aforementioned Adrenaline Mob was the headliner for this show and they closed the night in style. Currently on a very ambitious tour, this was their only L.A. area show, and only the second in SoCal (they previously played at Brick by Brick in San Diego on Thursday March 28th). In the previous two weeks they traveled from Florida to California, playing shows almost every single night.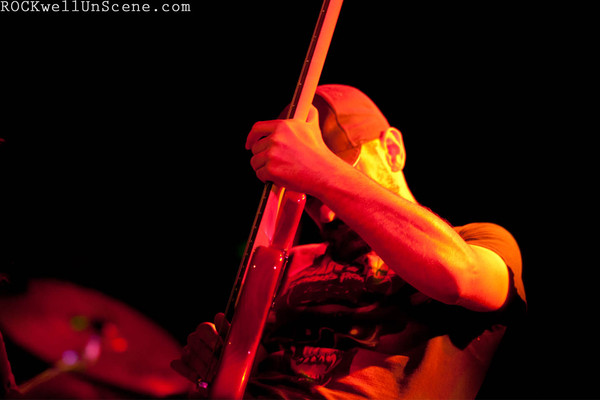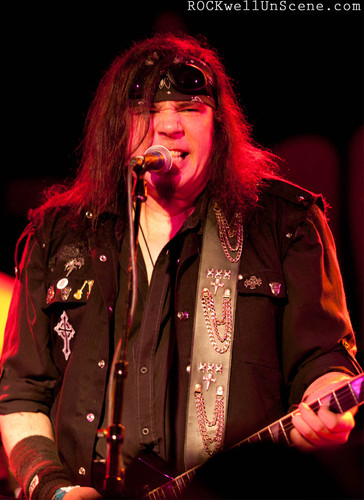 The band: Mike Portnoy - Drums, Russell Allen - Vocals, Mike Orlando - Guitar, and John Moyer - Bass gave a stellar, high energy performance that you wouldn't expect knowing how hard they've been working on the road recently. "Slammin', Groovin' & Shreddin' METAL" is how they describe themselves and that is the show you will see. This band knows how to play to the crowd, making each fan feel like they are important. My favorite portion of the set was when Russell sang a song about his child with Autism and told a story with it. You could see the emotion and passion in his face and hear it in the voice when he sang this song. The song was performed by Russell and Mike Orlando each playing acoustic guitars, and it was amazing. But fear not hard music fans, the rest of the set was face melting. The talent in this band is mind boggling; Russell also sings for Symphony X and drummer Mike Portnoy was a founding member and in Dream Theater for 25 years. Need I say more? Yes...one last thing...go to a show and see them live!