The Goon: Occasion of Revenge #1 of 4


Action/Adventure/Horror/Humor




Dark Horse Comics




Posted 7/26/14 - 1:08 PM ET



Writer, Artist, Cover Artist: Eric Powell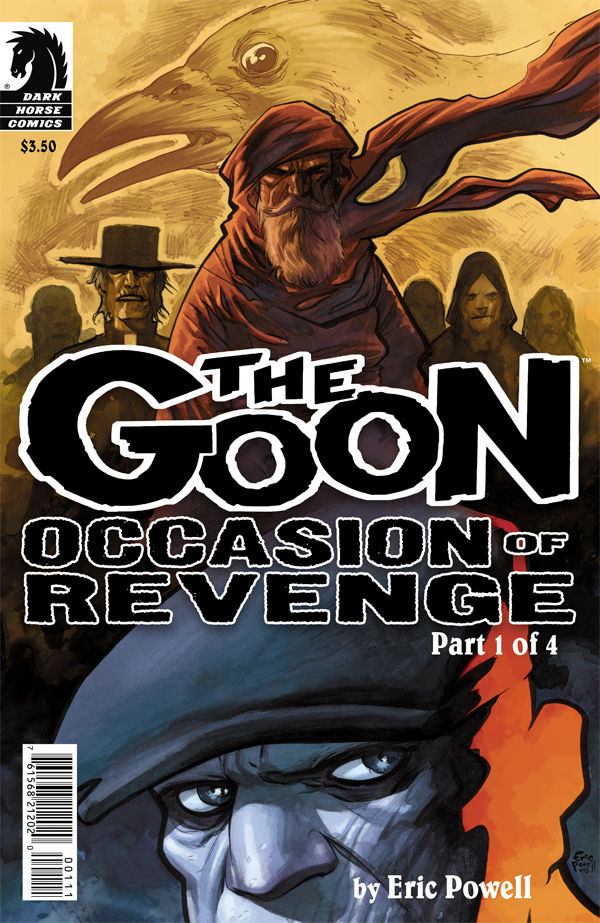 Dark Horse Comics' Official Solicitation: "In Eric Powell's biggest story since 2008, what's left of the Zombie Priest's race of witches comes after the Goon, forcing him to face his nightmares or lose his town!"
Eric Powell is back on a monthly schedule with the new Goon four part mini-series Occasion of Revenge. In this first issue, there is little of the offbeat humor and antics of Goon titles past, there is no levity except for one scene where Franky's beer is used as a.. well, read the issue and you'll see. This reviewer believes the official solicit from Dark Horse, this is looking like it will be the biggest Goon story in quite a while. And one that focuses on horror and darkness, I'm sure Powell's humor will break in at some point, but the threat Goon and his cohorts are up against this time is bigger than anything they've faced before. The Priests will be a formidable force, and I can't wait to see the Goon kick their asses. Powell's narrative is very Film Noir and hints at deeper horrors he has up his sleeve for the rest of this mini-series, his character designs for the Priests are all very creepy and very cool. This reviewer's favorite, so far, is Longfingers. He has a design with many elements of the Slender Man, but more horrifying in truth.
Story pace in this issue has "calm before the storm" vibe, and it definitely is the way the issue plays out before the To Be Continued hits in the last panel. Going back to art for a moment, mostly to avoid spoiling anything, is slicker and more detailed than the last time I reviewed one of Powell's issues of The Goon. He is pulling out all the stops for this mini-series in writing and in art, both taking a leap into a fully matured horror tale heavy on the horror and less reliant on the bizarre. Not to knock Powell's previous outings, The Goon is consistently a great title and the offbeat/bizarre takes on horror and humor are a huge part of the series and main character's charm and appeal. However, for this one the mature and scarier tone suits what is being set up for the remaining three issues. I'm looking forward to what's next and will be doing reviews of each issue this time around.
The Goon: Occasion of Revenge #1 of 4 gets a 5 out of 5.
For more on The Goon: Occasion of Revenge #1 of 4 and more titles from Dark Horse Comics, check out www.darkhorse.com and get out to your local comic shops!