The Catholic Girls Concert at the Living Room
((Part of the Exposed Tour))
Posted 9/10/13 5:56 PM ET

The Catholic Girls, an Eighties New Wave Rock Band, certainly can Rock America! The concert was small and intimate giving the audience an up close and personal view of the music as Gail Petersen, lead singer and guitarist and Roxy Andersen, lead guitarist and back up vocals quipped back and forth about songs, as well as, adventures in the rock music industry. Roxy gives incredible life to Gail's phenomenol songs with her power playing. Gail is an incredible word smith crafting beautiful ballads and hard pumping party songs. Doreen Holmes, one of the best drummers I have ever seen certainly packs a rhythm punch keeping the Music rockin'. Steve the unofficial 4th Catholic Girl is great on bass guitar. Check out their website:

www.catholicgirls.net

.

Give them a listen you will not be disappointed! Also check out their website for performance dates!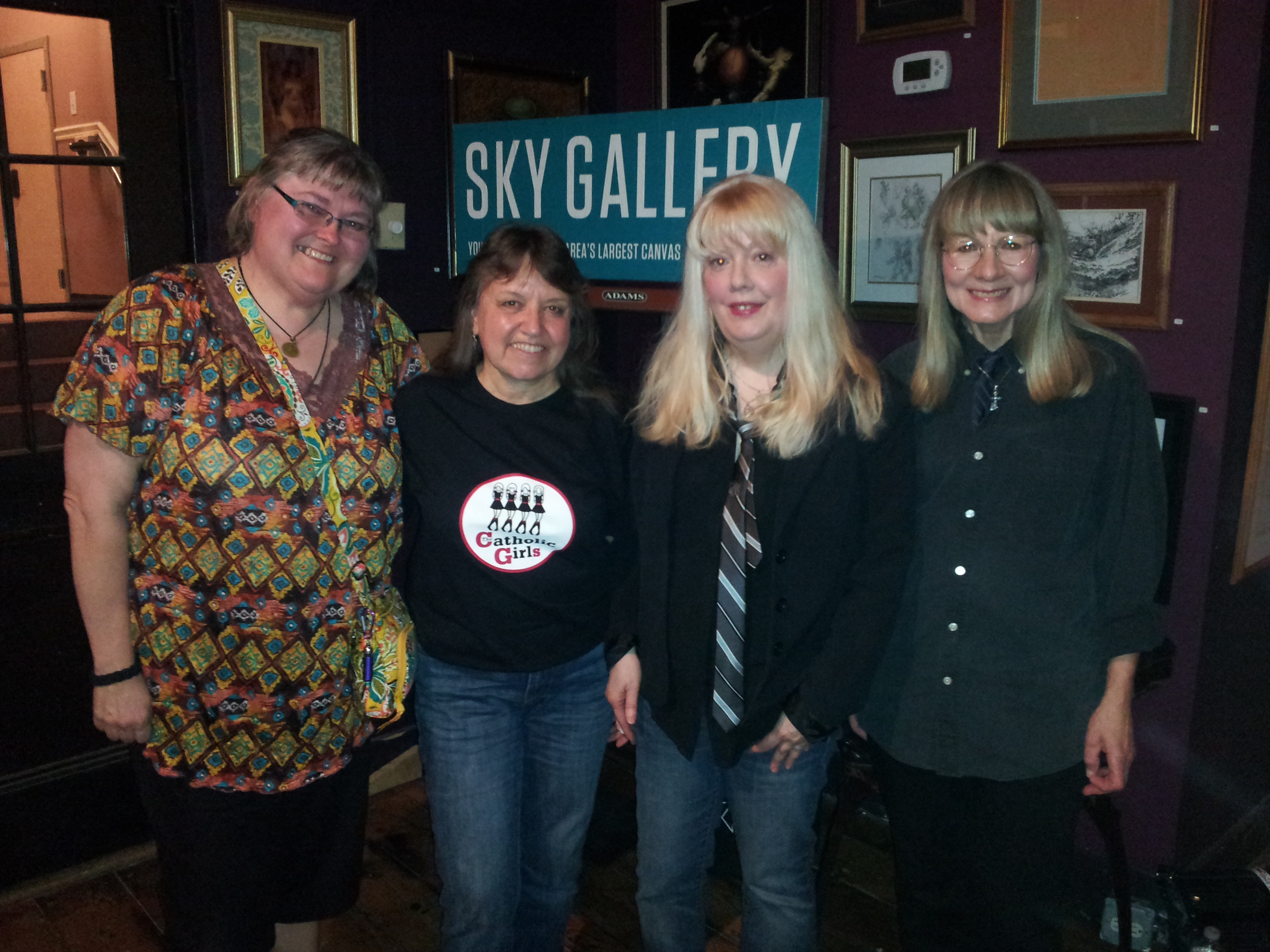 L-R: Deborah from TLR, Doreen Holmes, Gail Petersen, and Roxy Anderson
"The Story Then The Catholic Girls were born when schoolgirls Gail Petersen and Roxy Andersen put their guitars together to form the first all-female band from New Jersey that would be signed to a major label. With Doreen Holmes on drums, The Catholic Girls released an album on MCA both in the USA and Australia as well as a special Armed Forces Edition. They embarked on 2 national tours, received widespread commercial airplay and debuted on MTV to the music of their new wave anthem, Boys Can Cry. In 1999, the original album was revived and released in CD format, and fans from the 80s were thrilled to have the girls in plaid back, as were many new fans they were making along the way. In 2002, the band released Make Me Believe as their first indie CD, embarked on a tri-state tour (NY/NJ/PA), opened for acts like Dave Davies of the Kinks, Gene Loves Jezebel and performed at The Knitting Factory in Hollywood at The International Pop Overthrow Festival. The Asbury Park Music Awards nominated them for Top Rock Band of the Year and their video, Make Me Believe, reached the charts in Billboard. In 2004, their CD single, Summer Vacation/Rock'n America (a tribute to Joey Ramone) was released nationally, followed by a full length CD, Meet the Catholic Girls. Both gained momentum with college and Web airplay and glowing reviews. Meanwhile, the band made history in the 1/06/06 copy Goldmine Magazine when their first 45 single Boys Can Cry was selected by readers to be part of The Ultimate Rock'n Roll Jukebox (The Top 200 songs ever that must be included on any jukebox)! They were in good company on the list including The Beatles, The Stones, The Ramones and Blondie! Then, Little Steven (of The E Street Band and Sopranos fame) saw them play live one night and instantly converted. Rock'n America, was now played on a regular basis on his internationally syndicated radio show, The Underground Garage. It was later included on his Coolest Songs in the World, Vol. 7 CD . Bill Kelly, a long-time altar boy was also broadcasting the single on Sirius Satellite Radio, and Genya Ravan (also on Sirius), featured CG songs on her shows, Goldie's Garage and Chicks and Broads. Both songs additionally got airplay at hundreds of college, internet, and commercial radio such as WRAT, WNTI, WFMU, WPRB, WTSR, WDIY, Cybertorm Radio, BlowUpRadio, IHeart Radio, and This is Rock'n roll Radio." As Quoted from the Catholic Girls Website!
My personal favorites of all their creatively woven songs are "Summer Vacation", anything that reminds me of a beach is fantastic, and "Rockin' America". Join the Catholic Girls on their Exposed Tour and Rock out with the Goddesses of Rock n Roll! They are truly an experience. I love to see them perform. The show is great and the soulful music sounds are awesome. 5 skulls to this incredible band! The songs they played for us were:
"Sleep"

"C'est Impossible"

"Doesn't Become You"

"No One Like You"

"Celebrity Guy"

"Young Boys"

"Grounded"

"Broken Record"

"Sleepwalker"

"Summer Vacation"

"Airplay"

"You Let Me Down"

"Somebody in the USA"

Encore: "Rock 'n America"