Superior Spider-Man #31 (Series Finale)
Action/Adventure/Superheroes
Marvel
Posted 12:00 PM ET 4/18/14
Pencils: Giuseppe Camuncoli
Inks: John Dell and Terry Pallot
Letterer: Chris Eliopoulos
Cover: Giuseppe Camuncoli
Variant Cover: J. Scott Campbell
Variant Cover: Kevin Macquire
Marvel Comics' Official Solicitation: "SERIES FINALE! The end of an era! A tale of triumph and tragedy! The GREEN GOBLIN unmasked! A hero reborn! But what does this mean for OTTO OCTAVIUS?!


There's only one man who can save us from the Goblin Nation… PETER PARKER: The one, true SUPERIOR SPIDER-MAN!"
Months ago my reservations about Dan Slott's Superior Spider-Man play, with Doc Ock pulling a Freaky Friday on Peter Parker and sending the real Pete for a seemingly permanent dirt nap in the dying body of Doctor Octopus, were assuaged and rightly so. Critics can say what they will but Slott did something much greater than the tried and true "kill a hero and put someone new under the mask" story. He took that comic book trope and made it his own. Keeping spoilers to a minimum, Slott and Christos Gage end Otto's time as Spider-Man brilliantly, taking what some writers would have made a grandiose and impersonal slug fest; Dan made tremendously personal and very much a Peter Parker story to the core.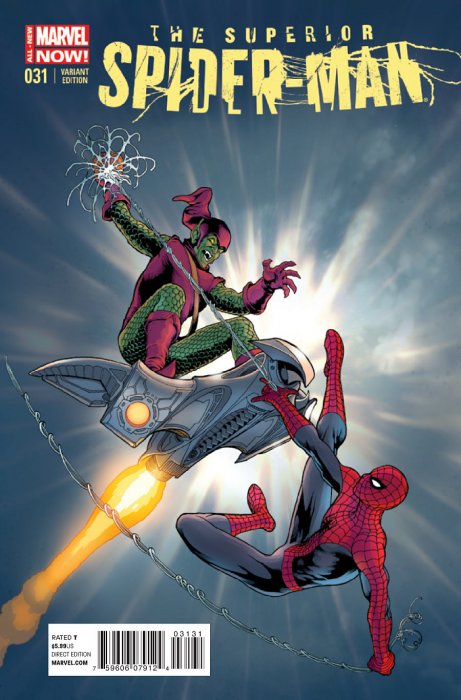 L-R: J. Scott Campbell Variant Cover and Kevin Maguire Variant Cover - Courtesy Marvel Comics
Artwork is fantastic, and makes me wish Camuncoli's pencils teamed with Dell and Pallot's inks and Fabela's coloring were all staying on full time instead of handing the reigns back to Spidey regular Humberto Ramos. Not that this reviewer dislikes Ramos, while a bit cartoony for my tastes at times, his hyper-kinetic style fits Spider-Man well; and for the length of time he has been drawing Spidey with Slott writing, it would almost feel wrong to break up the team. Ramos has been a staple of Spider-man since I was a teenager! That said, I hope to see Camuncoli, Dell, Pallot, and Fabela all work together on Amazing Spider-Man from time to time once it is relaunched in a few weeks (just in time for The Amazing Spider-Man 2 to hit theaters).
As an aside, this reviewer and fan is also extremely happy for the set up the last two story arcs have given for the new Spider-Man 2099 series launching in June, I believe I have the right month (check Marvel.com to confirm).
So many panels in this one issue show Peter in top form as Spider-Man and as Peter Parker now that he's back in the driver's seat of his mind and body (see Superior Spider-Man #30 for almost as amazing an issue as #31). One in particular, that I will not spoil, between Spidey and the Green Goblin... truly it was like being a kid again and filled with pride in my biggest fictional hero. Slott made me remember and feel in a way I didn't think I needed to for why I love superhero comics, and Marvel heroes in particular. The issue also features a beautifully written epilogue showing Pete beginning the process of reclaiming and acclimating to the changes Otto set in motion. The emotion of the epilogue aside, as both a reviewer and a fan, I'm looking forward to the Amazing Spider-Man relaunch and seeing what Slott has in store for the aspects of Parker's life that Otto has altered or, in some cases like Parker Industries, made better. At the beginning of the Superior Spider-Man saga, at the beginning of the first Marvel Now! push, when I was just starting to come back to Marvel as a reader and fan more than a reviewer; I thought it was all a marketing ploy that would not service the art of telling this iconic character's story. I was wrong. Slott made all... well, most of us Spider fans stop taking Spider-Man for granted as he was, this was a status quo change that made the character better and better appreciated. Otto's time as Spider-Man and as Peter Parker truly gave readers a view of what the real Peter might have become if not for the love of family and friends that made him the hero he always strove to be. The parallels between Pete and Otto that Slott played with from past writers as well as instances that he added in to the mythos himself, give an even more interesting psychological profile to both Peter Parker and Otto Octavious. Pick this one up, and if you walked away from Spider-Man after Amazing Spider-Man #700 do yourself a favor and pick up the trades and back issues of Superior Spider-Man and dive in with an open mind. You'll enjoy it and have a better appreciation for everything that makes up the Amazing, Spectacular, Sensational, Peter Parker Spider-Man!!
Superior Spider-Man #31 gets a solid 5 out of 5.
For more information on Superior Spider-Man and the soon to be relaunched Amazing Spider-Man, check out www.marvel.com.