Spider-Man 2099 #1


Action/Adventure/Superheroes




Marvel Comics




Posted 7/13/14 - 2:37 PM ET



Color Artist: Antonio Fabella
Letterer: VC's Joe Caramagna
Cover Artist: Simone Bianchi
Variant Cover Artists: Leonardi/Green/Antonio Fabela; J. Scott Campbell/Ruffino; J.G.Jones; Skottie Young
Marvel Comics' Official Solicitation: "ALL-NEW SERIES FROM THE PAGES OF AMAZING SPIDER-MAN!
The book you have been demanding for months finally hits the stands! Miguel O'Hara is Spider-Man in the year 2099 but he's currently stuck in the year 2014. He was stranded here by his father who is the head of an evil corporation called Alchemax in 2099. But in 2014, Alechmax has just been formed and Miguel has a chance to stop its corruption before it starts! You'd think being a man out of time would make you a man without enemies, but Spider-Man 2099 is about to discover that he's not the only one hoping for a better tomorrow, one that might be ensured by The Adjustor eliminating Miguel from the time stream altogether! Join comics legend (and Spider-Man 2099 creator) Peter David and breakthrough artist Will Sliney (Superior Spider-Man Team-up) for the most adventure you'll find in a book this side of the twenty second century!"
Let us begin this review with a fanboy moment... SPIDER-MAN 2099 IS BACK IN A MONTHLY ONGOING!!!!! AND IS BEING WRITTEN BY PETER DAVID AGAIN!!!!
Okay, that's enough of that. The cult favorite future version of Spider-Man from Marvel's 2099 line of comics series that began with the first volume of Spider-Man 2099 back in late 1992, is back after years of fans demanding it. Sure Miguel O'Hara has been back in the limelight to lesser degrees with one shots and backup stories, plus a stint on the now defunct multi-dimensional X-Men offshoot Exiles team about ten years ago. But, this is the first time Miggy has had his own ongoing since the original series concluded in, I believe it was 1996, and it is a damn good return. The new series kicks off just a few days after the events of Superior Spider-Man #31 and the latest relaunch of Amazing Spider-Man (the back up story with the S-Man is directly referenced by Miggy early on in this issue to help establish a timeline with Amazing Spider-Man for the upcoming Spider Verse mega Spidey event this fall).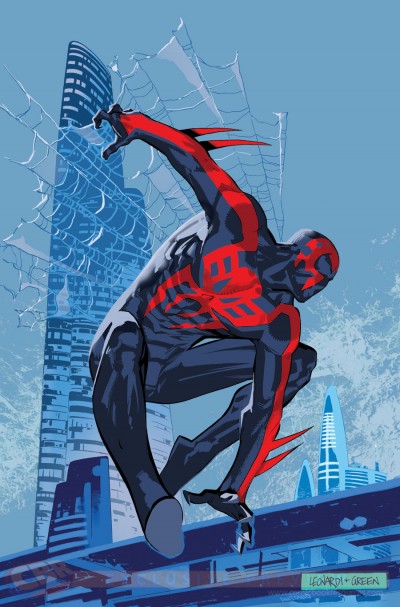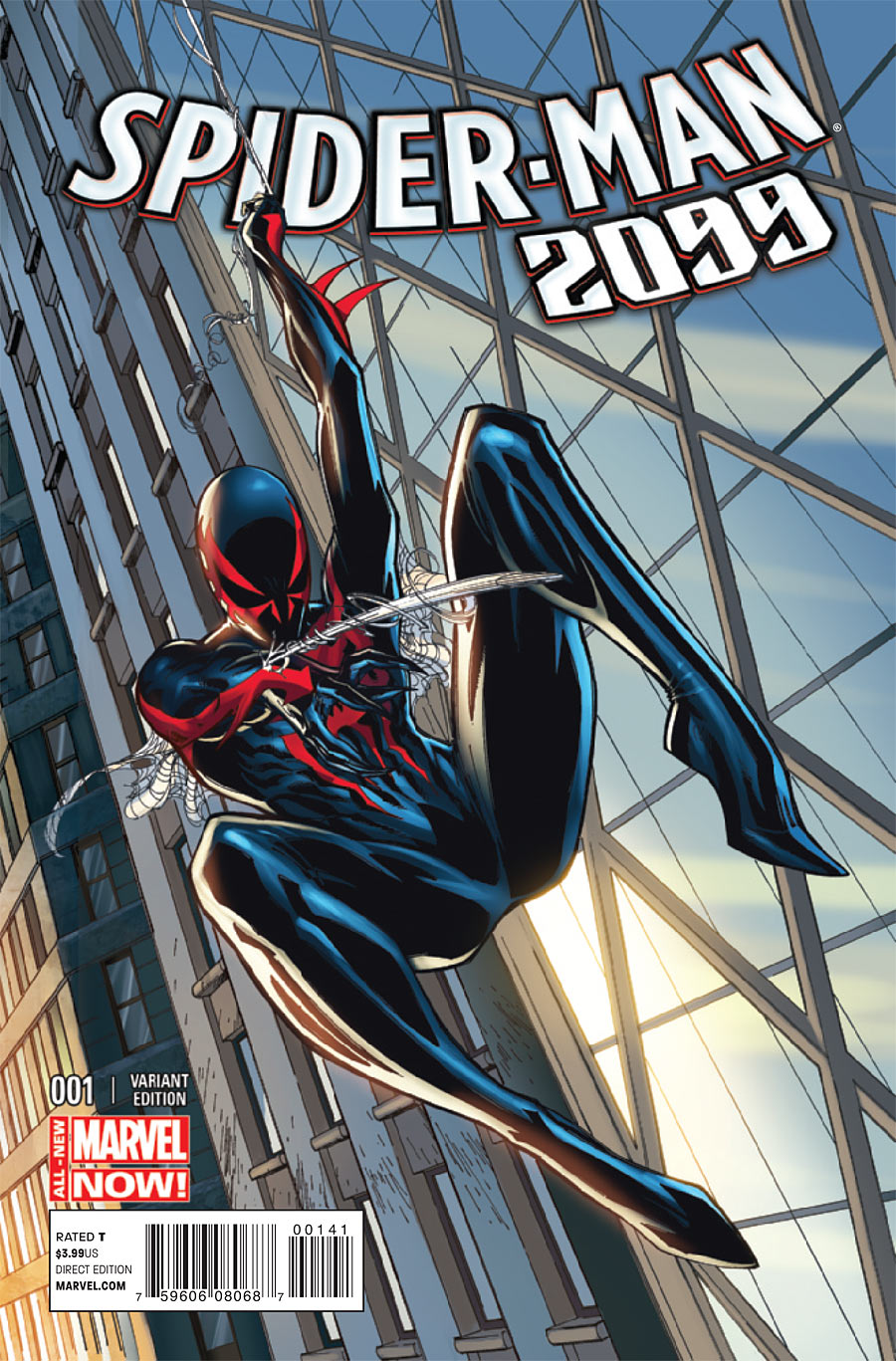 L-R: Leonardi's variant cover and J.Scott Campbell's variant cover - Courtesy Marvel Comics
Peter David is back on his A-game with Spidey 2099, which is as it should be since he created him and has always been the best writer of the character thus far, though Dan Slott's use of him at points from Superior Spider-Man #17 through to the series "finale" #31, were also really good and pretty on point with Miguel's personality. Spider-Man 2099 #1, as stated, picks up where Superior left off with O'Hara time locked into present day 2014 working for his grandfather, Tiberius Stone, at the beginning of Alchemax; which for those that don't know is a big part of Spidey's life in 2099 and the main reason he has spider powers. Miguel is slightly less of a hard ass as he has matured through the first volume of Spider-Man 2099, he can still be a jerk but he cares about people more and doing the right thing. David utilizes the fish out water aspect of the time displacement well, but thankfully doesn't push it to the point that Spidey acts like an idiot. Spidey isn't happy with his circumstances but doesn't obsess to the point that the character doesn't function, David writes him as being an old hand at time travel (which he is). And that is pretty awesome, as most of the times the character has been displaced from time David was writing him. Granted, Marvel has been keeping a line wide continuity in mind rather hardcore for a while now, but it's nice when a writer respects what's been done with a character when someone else was utilizing him in their stories/teams for a quite a while. The introduction of the Agent of T.O.T.E.M. (Temporal Oversight Team Eliminating Mistakes) is an interesting new agency that plays well off the rest of the time travel problems happening in the greater Marvel Multiverse set to come to a head in the upcoming Avengers story arc, "Time Runs Out". Avoiding spoilers with whom, but another interesting plot thread set up is one with a long time Amazing Spider-Man supporting cast member, this reviewer is looking forward to the developments there (it's not a stretch to figure out I'm talking about if you've been reading Superior Spider-Man and Amazing Spider-Man, and if you haven't get on it).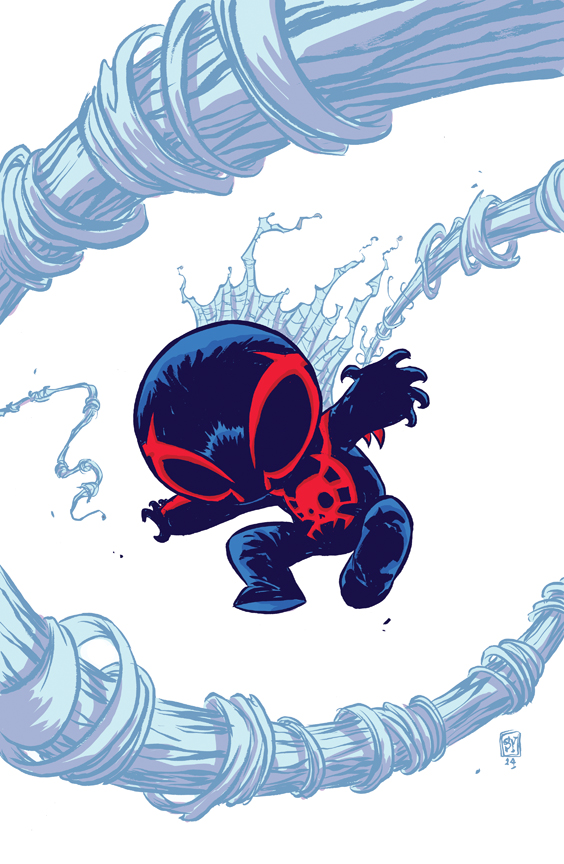 L-R: Skottie Young variant cover, Hastings variant cover - Courtesy Marvel Comics
Art and colors are perfection for tone and attitude of the series, at least so far; this is only the first issue of the new volume. Sliney's linework is smooth and gorgeous, I see why he was lauded for his work on Superior Foes of Spider-Man (a series I have not read but am seriously thinking about picking up the trades for), Fabella's colors are lush but realistic. Fabella's colors also have a hybrid look to them, part CG part painted, that is very pleasing and suited to comic book art; especially one with a character from the end of the 21st century as the protagonist. Lines and color teamed look awesome throughout the book, and the fight scene is seamless from panel to panel and the action itself is realistic too. Minimal use of impact flares and no sound effects for physical strikes, add to the 3D, fantastic circumstance in a real world environment feel the art team seems to be going for in Spider-Man 2099.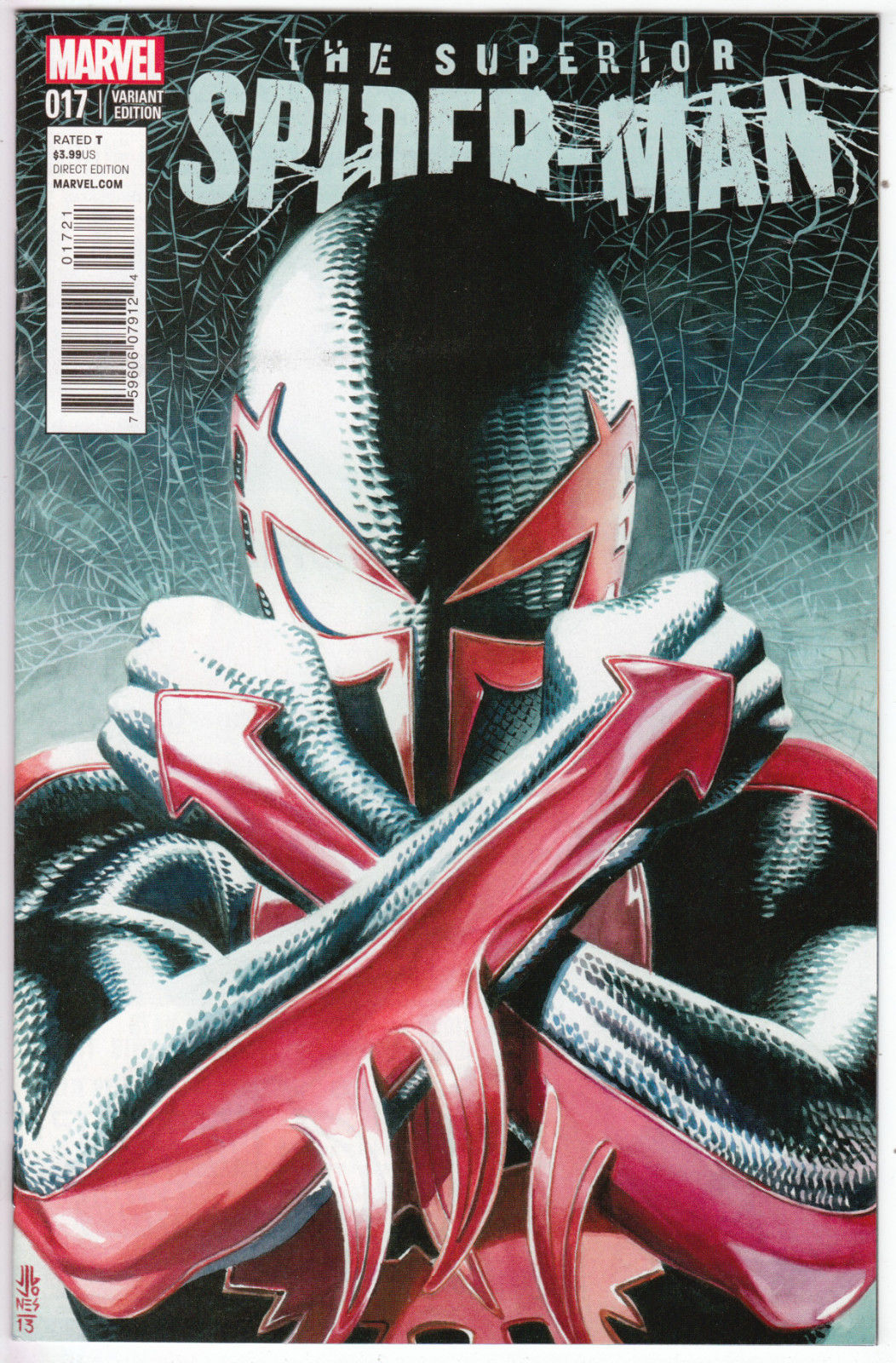 J.G. Jones variant cover, rarest of the Spider-Man 2099 #1 volume 2 variant covers shipped for the July 19, 2014 release date - Courtesy Marvel Comics
The new Spider-Man 2099 series is looking to stay on my pull list for the duration of its run, not only for the return of one of my favorite Marvel legacy heroes, but also for David's writing and Sliney and Fabella's art. This is one reader that will be saddened by the current writing/art team's departure, but hopefully that will be a few years down the road. Definitely recommending this series be added to your pull list if you're a Spider-Man fan, a Spider-Man 2099 fan, a cyberpunk fan, a time travel fan. Spider-Man 2099 whether left in the present or eventually returned to 2099 is a great character and looks to be up for a great run.
Spider-Man 2099 Volume 2 #1 gets a solid 5 out of 5 on the Geekonomicon Scale of Awesome! Yes, that was just made up and probably won't be called that again but my inner fanboy is taking over at the excitement of having Spidey 2099 back in a solid monthly.
As always, for more on Spider-Man 2099 check out www.marvel.com and get your butts out to your local comic shops and support them by getting your books onsite!