Spider-Gwen #2
Action/Adventure/Superheroes
Marvel Comics
Posted 3/11/15 - 9:15 PM ET
Marvel Comics' Official Solicitation: "WHO IS THE VULTURE?!
• Gwen finds herself between a rock (this vulture) and a hard place (the entire NYPD)!"
Writer: Jason Latour
Artist: Robbi Rodriguez
Color Artist: Rico Renzi
Letter: VC's Clayton Cowles
Cover Artist: Robbi Rodriguez
Design: Idette Winecoor & Jessica Pizarro
Assistant Editor: Devin Lewis
Editor: Nick Lowe
Editor-in-Chief: Axel Alonso
Chief Creative Officer: Joe Quesada
Publisher: Dan Buckley
Executive Producer: Alan Fine

Release Date: 3/11/2015
The creative team behind Spider-Gwen continues to deliver with the second issue of the mouthy pink one's adventures in her own dimension. This issue gives us a better look at some of her supporting cast and a better look at what her world is like, in particular its differences from the 616 Marvel Universe; some characters are different sides of the hero/villain divide, as stated in earlier Spider-Gwen related reviews (Edge of Spider-Verse #2 and Spider-Gwen #1), and this issue shows that for one beloved character it's a damn deep divide. As the series progresses this reviewer is looking forward to Gwen and said character having a face to face encounter. Story pacing matches the perceived speed ans want for more at the end as issue one did, Latour is pretty damn good cliffhanger endings leaving readers damning the month until the next issue.
There's also one interesting addition to the cast in this issue that I will not spoil. It is unexpected, a little crazy, and somehow works beautifully giving the story some needed Spider-Humor as Gwen's solo story before and after Spider-Verse has been a little dour. The addition is also acting as a Jiminy Cricket of sorts for Gwen.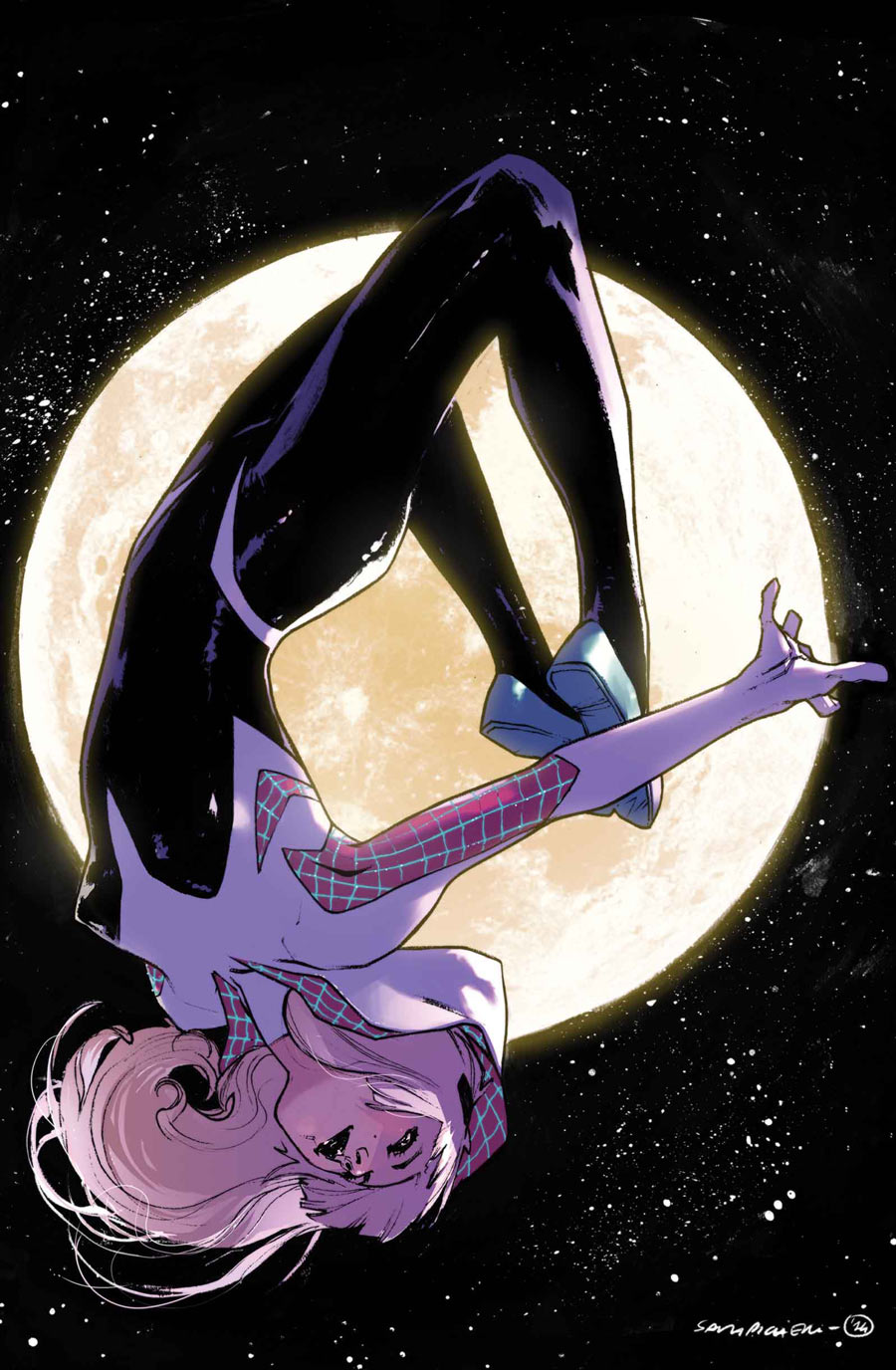 Sara Pichelli Variant Cover, textless version - Courtesy Marvel Comics
Artwork continues to match the darker nature Earth-65 presents, Robbi Rodriguez's art mixed with Rico Renzi's colors continue to tell the story as much as the writing. There have been critics and reviewers panning Renzi's coloring, but I don't agree with those assessments, though bright when the scene calls for it, his colors continue to help bring forth the grittier feel Gwen's earth has compared to Earth-616 or Earth-1610 (the Ultimate Marvel Universe that is home to the Miles Morales Spider-Man). I hope this trio of creators stay on the title for the long haul, not only because they built this awesome version of Gwen Stacy from an idea Dan Slott posited but did not pursue himself, but because of the complex characters traits they are imbuing these alternate versions of classic Marvel characters as well as a Marvel Earth that leaves a huge weight on Gwen Stacy's shoulders as there are seemingly no other costumed, super powered heroes around her yet. So far, there are more and more villains piling up with a grudge for this Spider-Woman from events yet to be revealed in full through flashbacks.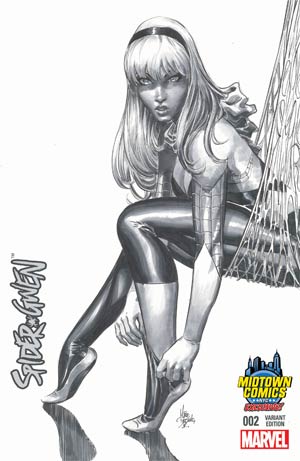 L-R Mike Dedato's Midtown Comics' Exclusive Variant Cover, color and sketch versions - Courtesy Marvel and Midtown Comics
Spider-Gwen #2 gets another 5 out of 5 as the Spider-Gwen love continues from here at Tastes Like Rock's Geekonomicon and many more comic reviewers, critics, and most importantly fans throughout the world. Our little Gwendy really is setting the fandom on fire.
Gerald Parel ComicXposure Exclusive Variant Cover -
Courtesy Marvel and ComicXposure
Jerome Opena Dynamic Forces Exclusive Variant Cover, textless version -
Courtesy Marvel and Dynamic Forces
For more about Spider-Gwen and the rest of the Spider-Man family of comics from Marvel visit www.marvel.com and get out to your local comic and hobby shops, support local comic retailers before they disappear!