Spider-Gwen #1
Action/Adventure/Superhero
Marvel Comics
Posted 2/25/15 - 8:08 PM ET
Marvel Comics' Official Solicitation: "SPIDER-GWEN SPINS INTO HER OWN SERIES!
• BECAUSE YOU DEMANDED IT! The breakout hit of the biggest Spider-Event of the century is taking comic shops by storm this winter with her own new ongoing series – SPIDER-GWEN!
• Gwen Stacy is Spider-Woman, but you knew that already. What you DON'T know is what friends and foes are waiting for her in the aftermath of Spider-Verse!
• From the fan-favorite creative team that brought you Spider-Gwen's origin story in EDGE OF SPIDER-VERSE #2, Jason Latour and Robbie Rodriguez! "
Writer: Jason Latour
Artist: Robbi Rodriguez
Color Artist: Rico Renzi
Letterer: VC's Clayton Cowles
Cover Artist: Robbi Rodriguez
Design: Idette Winecoor & Jessica Pizarro
Assistant Editor: Devin Lewis
Editor: Nick Lowe
Editor-in-Chief: Axel Alonso
Chief Creative Officer: Joe Quesada
Publisher: Dan Buckley
Executive Producer: Alan Fine
Release Date: 2/25/15
This reviewer has been waiting and waiting for this issue since I read and reviewed Edge of Spider-Verse #2, which introduced this alternate reality Gwen Stacy, Earth-65 to be exact, that received that fateful spider bite instead of Peter Parker. Gwen was integral to the Spider-Verse event that wrapped this week in Amazing Spider-Man #15, and now back in her own world has to pick up the pieces of her life as Gwen Stacy and figure out how to live up to the Spider Legacy having met and fought alongside the greatest Spider-Man; the original Peter Parker of the 616 Marvel Earth as well as the Spider-Woman of 616, Jessica Drew; Silk, Cindy Moon, bitten by the same spider as 616 Parker; the Ultimate Universe Spider-Man, Miles Morales; the Spider-Man of 2099, Miguel O'Hara; the Spider-Ham, Peter Porker; and so many more. Latour continues to write an incredible new take on Gwen Stacy, "the mouthy pink one" as the 616 Spider-Woman nicknamed Gwen in Spider-Woman #3. Science and music minded, sarcastic, funny, intelligent, street smart, strong (stronger than she knows in fact); she could be the greatest Spider-Woman ever, standing shoulder to shoulder with the greats, 616 Spider-Woman, May "Mayday" Parker Spider-Girl from a world where Peter Parker and Mary Jane Watson-Parker's marriage was never written out of reality and their child wasn't stillborn among many others. Heck, this Gwen will stand equal with the 616 Spider-Man!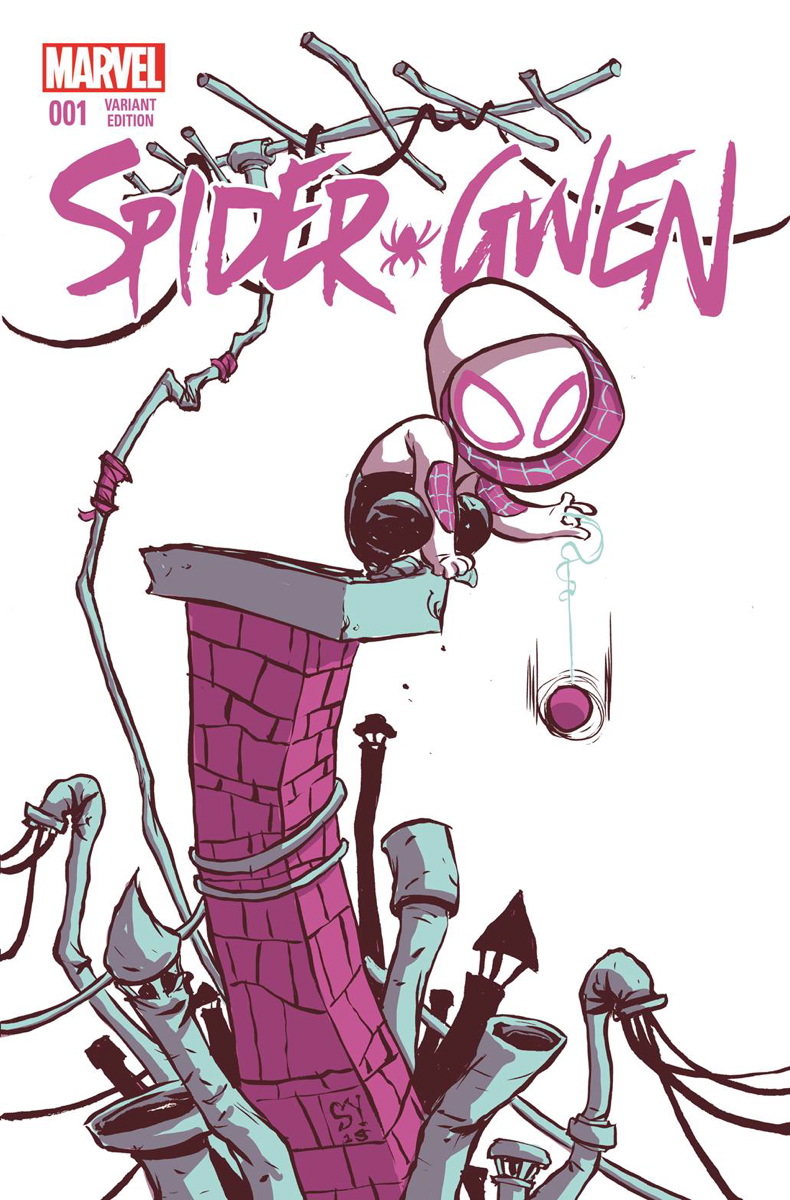 Skottie Young Variant Cover - Courtesy Marvel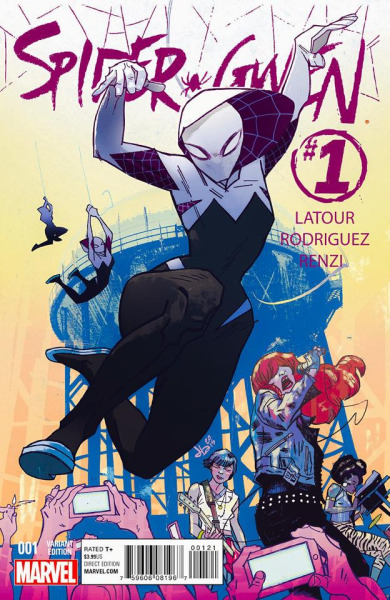 Robbi Rodriguez Heroes Aren't Hard To Find Exclusive Variant Cover - Courtesy Marvel
Artwork is well done with a one-two combo from Robbi Rodriguez on linework and inks and Rico Renzi on colors. Combined the two show a grittier New York City than we've seen in the 616 Marvel Universe for a while now, though, Gwen's Earth-65 seems to have more villains than heroes and perhaps some that are heroes in other worlds on the villainous side here (see Edge of Spider-Verse #2 for one in particular!) and some that never received their Fantastic powers and abilities. It's also still unclear if mutants and any form of the X-Men or Avengers exist on Earth-65 or if Gwendy's completely solo in the heroing side of the spandex set. Spider-Gwen is also the first Marvel series I remember having so many variant covers and shop exclusive variants, finishing out at 24 covers, including the main cover by Rodriguez; half of them are pictured with this review, and that's all I'm including! Much as I clearly love the concept of this character and the way she has been written and presented so far, by Latour and by Dan Slott in The Amazing Spider-Man over most of the Spider-Verse crossover event between ASM, Spider-Man 2099, Spider-Woman (616 Jessica Drew's new solo series that launched with Spider-Verse), the Spider-Verse anthology two parter, Scarlet Spiders (also highly recommended if you were a fan of the 616 Clone Saga in the 90s or even the Ultimate Universe Clone Saga from about ten years ago), and Spider-Verse Team Up.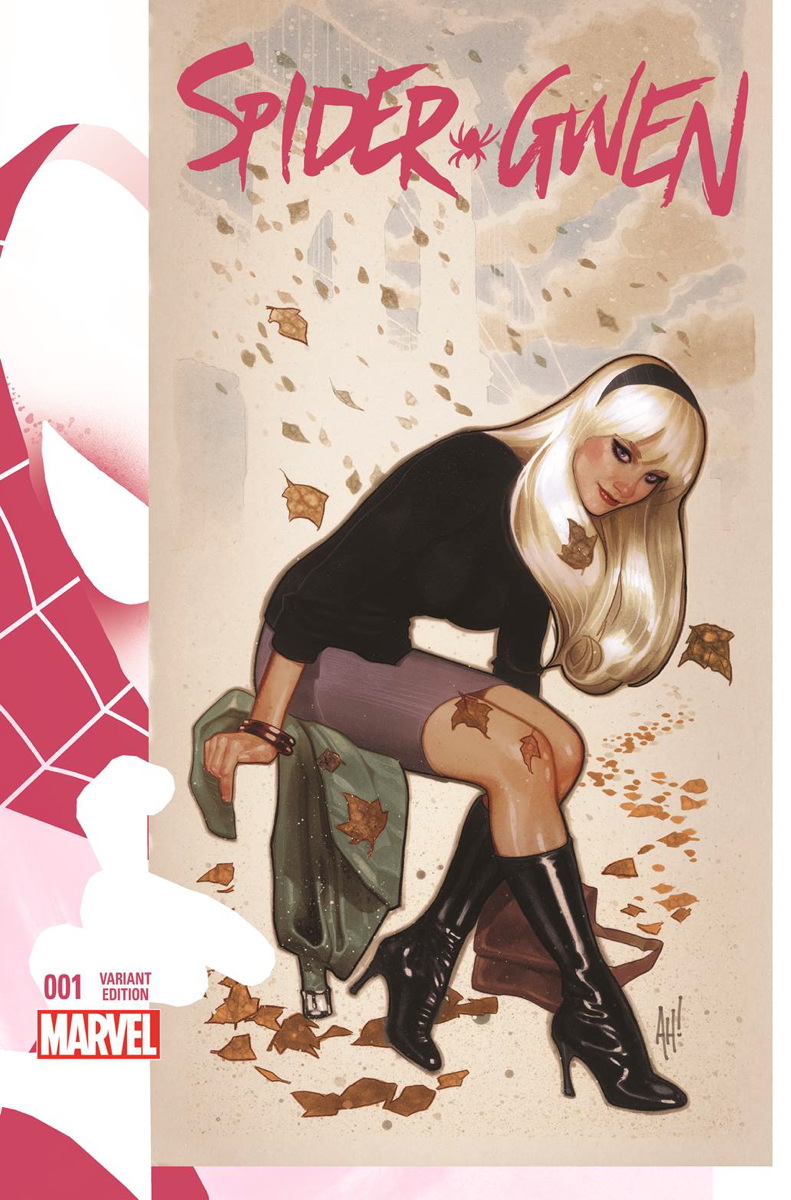 Adam Hughes Variant Cover with Earth-65 Gwen peeking at the classic Earth-616 Gwen -
Courtesy Marvel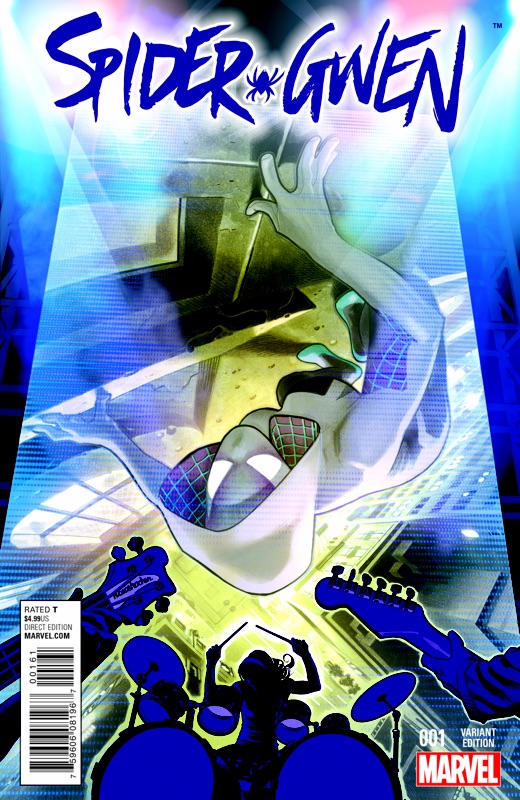 Adam Hughes Conquest Comics Exclusive Variant Cover - Courtesy Marvel
In short, BELIEVE THE HYPE! Take it from a fan who used to think of Gwen Stacy as nothing but a McGuffin in the overall tapestry of Spider-Man's life, even after reading the excellent Spider-Man: Blue from 2003 (granted even that was more about Parker than Gwen) and this was compounded by J. Michael Straczynski's posthumous treatment of the 616 Gwen. Truly I didn't care for Gwen much, and was hard pressed in the Mary Jane Watson being Pete's true soul mate camp, until Emma Stone's portrayal of Gwen in 2012's Amazing Spider-Man reboot from Sony. Say what you will about those two films in the soon to be rebooted into the Marvel Cinematic Universe franchise, Emma Stone's Gwen Stacy made those worth seeing. Luckily, there's some of Emma Stone's Gwen in Spider-Gwen's personality and I look forward to seeing the mouthy pink one continue to be a great and self possessed and self actualized female super hero in my favorite family of titles, the Spider Friends (as 616 Pete declared during Spider-Verse, I concur with Spider-Ham... "nailed it"), of the Marvel Multiverse.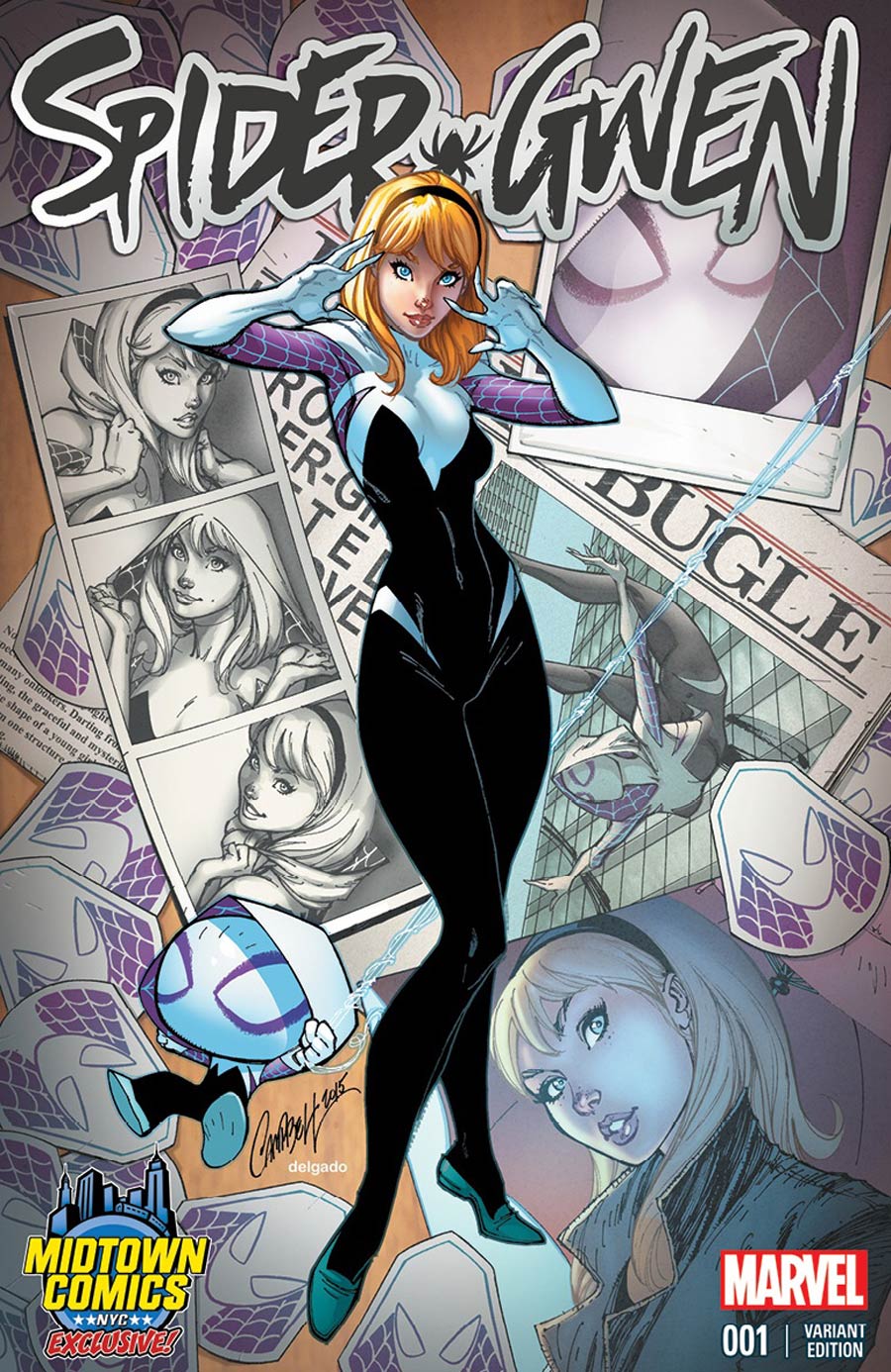 J. Scott Campbell Midtown Comics Exclusive Variant Cover - Courtesy Marvel
J. Scott Campbell Variant Cover - Courtesy Marvel
Spider-Gwen gets a solid 5 out of 5! This title is helping to keep making mine Marvel.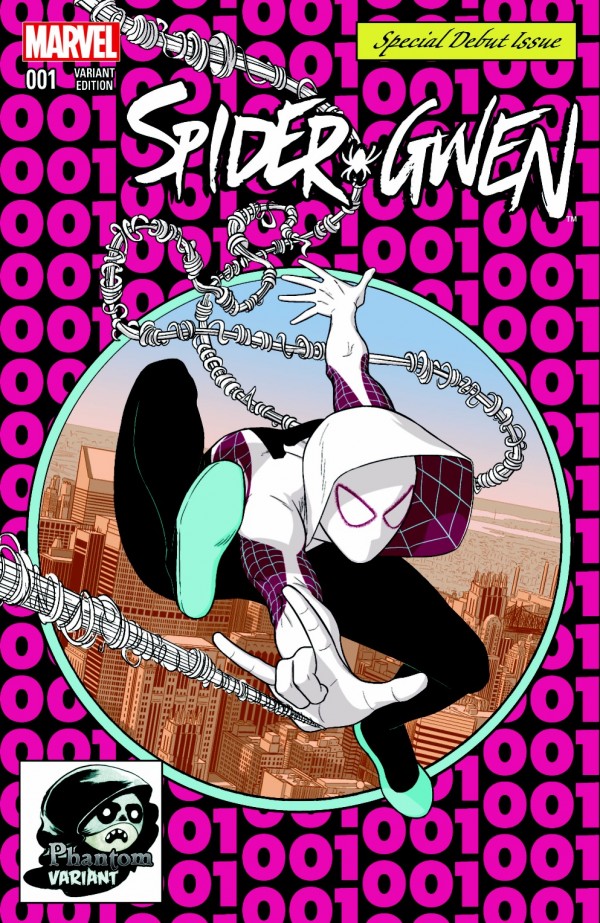 Phantom Variant - Courtesy Marvel
Humberto Ramos Variant featuring all the Spider-Women (and a look at 616 Spider-Woman's new costume!) -
Courtesy Marvel
For more from Marvel Comics visit www.marvel.com and your local comic and hobby shops, wherever you get your comics and support local shops!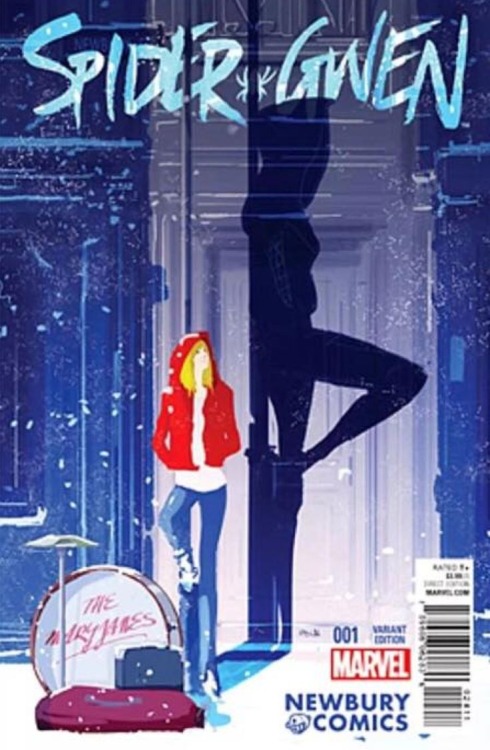 Newbury Comics Exclusive Variant, sorry to the artist, I couldn't find your info anywhere - Courtesy Marvel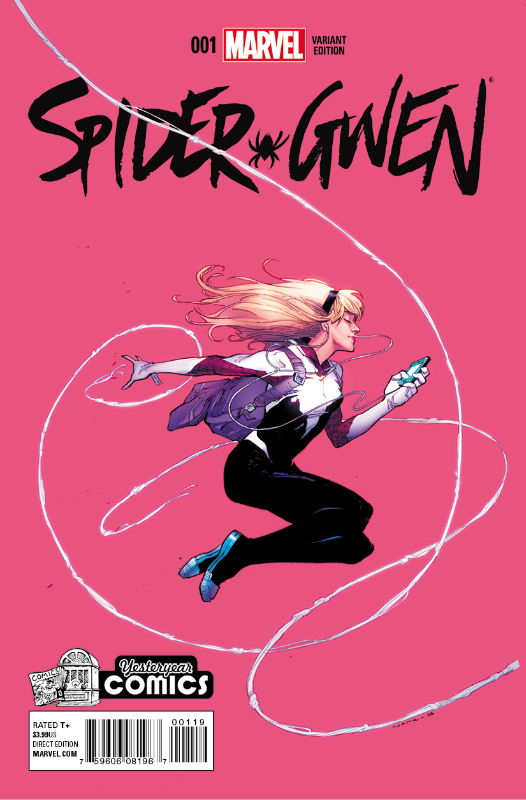 Opeña Yesteryear Comics Exclusive Variant - Courtesy Marvel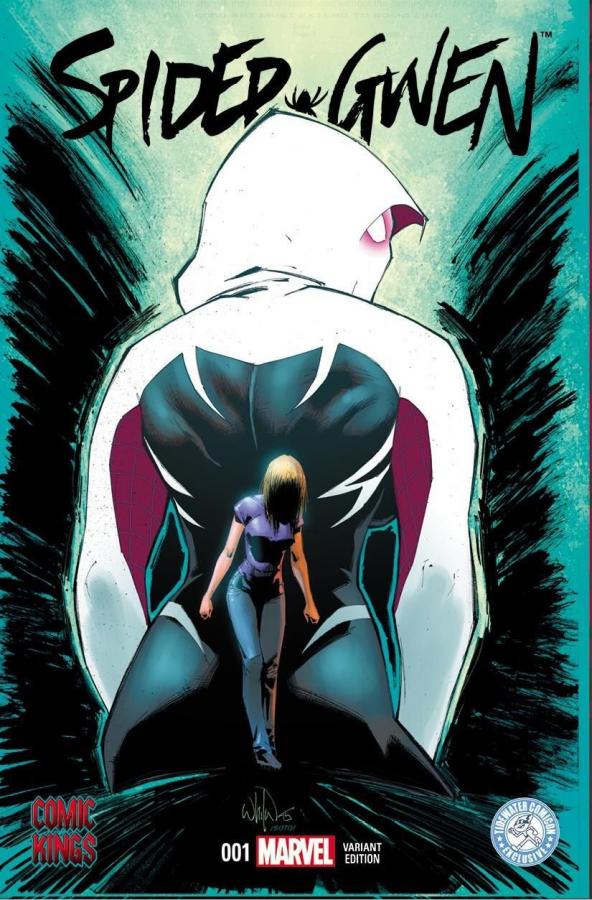 Comic Kings Exclusive Variant - Courtesy Marvel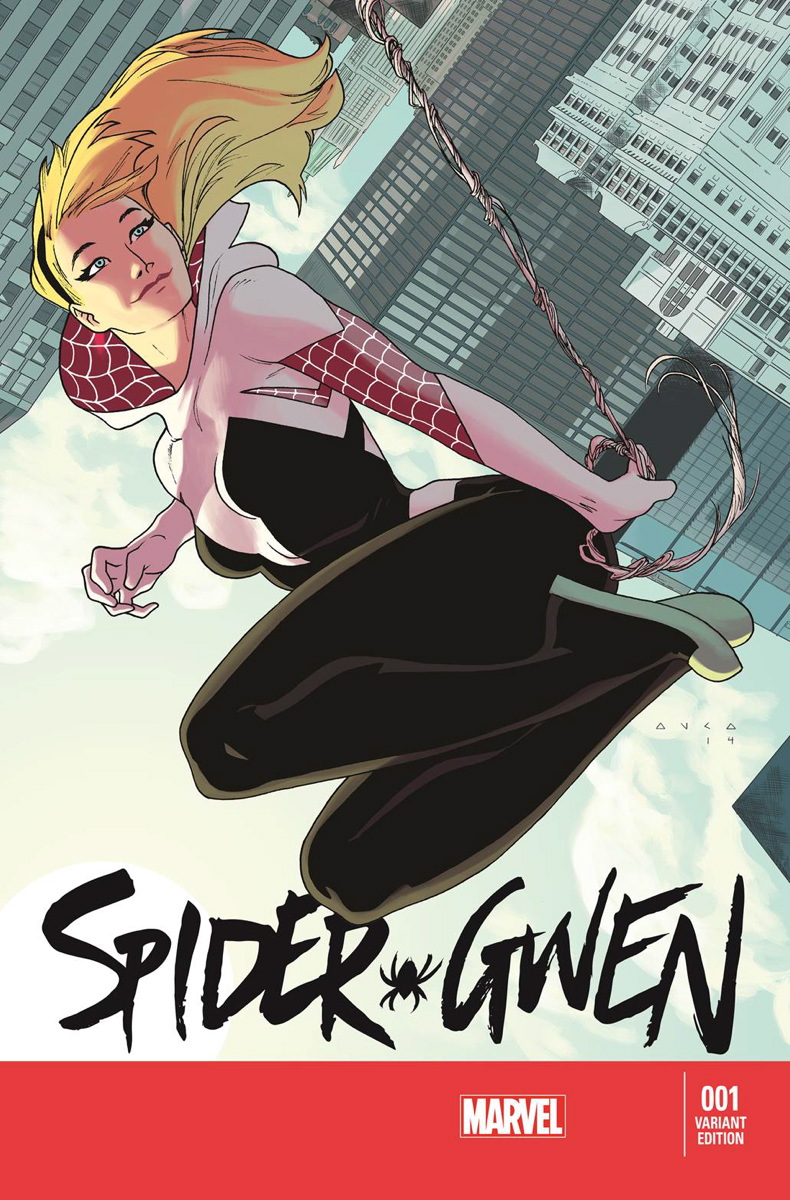 Kris Anka Variant Cover - Courtesy Marvel