Skyman #1
Action/Adventure/Superheroes
Dark Horse Comics
Posted 1/16/14 6:40 AM
Story: Joshua Hale Fialkov
Click here to change this text.
Letters: Nate Piekos of Blambot
Cover and Variant Cover: Freddie Williams II & Dan Scott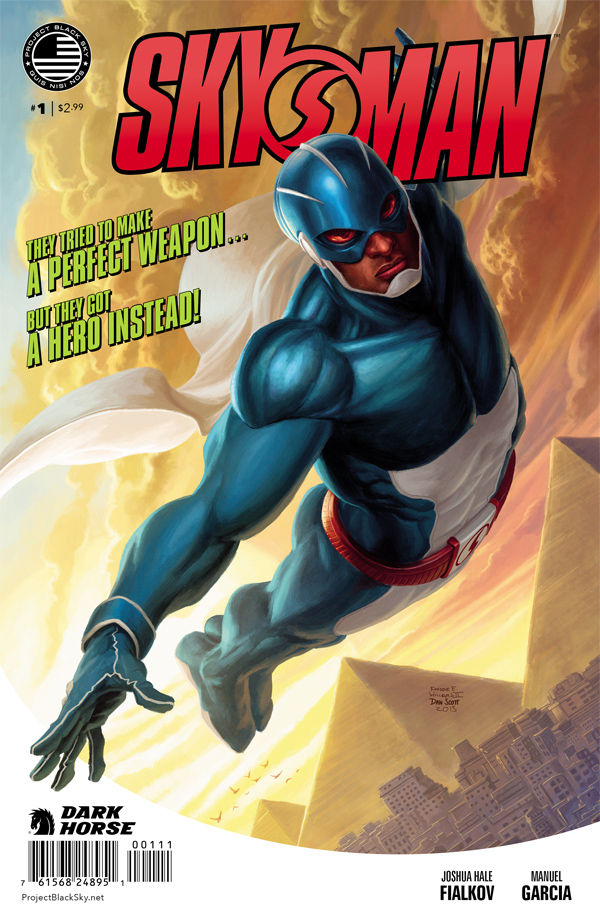 Official Dark Horse Comics Solicitation: "After an embarrassing defeat at the hands of Captain Midnight, a drunken Skyman accidentally kills an innocent man! Needing a new face for their initiative ASAP, the Skyman Program turns to US Air Force Sgt. Eric Reid: a wounded veteran on the ropes, looking for a new lease on life."
Skyman is a blend of superheroes and government conspiracies, not virgin territory granted, but speaking perhaps a little early (given that this is the first issue) this series looks to have areas of realism that should not be as limited as they are in a medium that is continually maturing and not backing away from adult issues. The adult issues dealt with, not a major spoiler, largely in this issue being racism in the United States from the citizenry to the branches of the military and government itself. Racial issues are nothing new, but many of the scabbed over wounds and incidents swept under the collective and proverbial rug have been ripped open and brought to light since the historic election of President Barack Obama. Being tied to the government, this title does not shrink from the racial bias and hatred aimed at President Obama anymore than it does the incidents aimed at the protagonist of the series, Sergeant Eric Reid. Not that this reviewer hasn't seen other comics deal with racial tensions of late, but it is refreshing that the series doesn't hold back and shows how blind and ignorant it can, including that aimed the US President. For as socially advanced as we, both liberals and conservatives, like to pretend this country is, it truly isn't. Too simple is it for people to forget to judge a person by the content of their character, or how effectual or ineffectual a leader they are, how much they adhere to the Constitution or how much they reject and defile it. My personal soapbox will be put away momentarily, Fialkov doesn't shy away from these ugly truths of human habit; he faces them head on to hopefully show readers how horrible these ignorant habits are. It's the only way to really combat ignorance, straight on and hope to educate.
Soapbox away, the writing is truthful, human, and well done. Art follows suit, from Garcia's pencils to Bit's inks, and Martinez's colors. Combined the art team presents realistic artwork that is also technicolor splashy like superhero antics are expected to be. Pacing of the finished product is well done and feels episodic, in a good way, and jumps right into the present story with only a two paragraph explanation of events leading to the beginning of the readers journey with Sergeant Reid as he begins his training as Skyman.
Going back to history of the character for a moment, Skyman is actually a legacy character (for those like myself who did not know that until writing this review and doing a bit of research on the franchise). A legacy character dating back to the late 1930s/early 1940s, one of many that came into quick creation by publishing companies no longer remembered by the majority, having disappeared almost as fast in the wake of the "first" super-powered comic hero, Superman. Skyman's history extends to later decades where relaunches were tried and failed as well; most notably in the 1970s and 1980s. Hopefully this time with this creative team can keep Skyman flying.
Skyman #1 gets a 4.5 out of 5.
For more on the Skyman series from Dark Horse Comics, check out www.darkhorse.com and of course, get out to your local comic shops and support them before they disappear completely.