Shaper #1
Action/Adventure/Fantasy/Sci-Fi
Dark Horse Comics
Posted 3/18/15 - 2:29 PM ET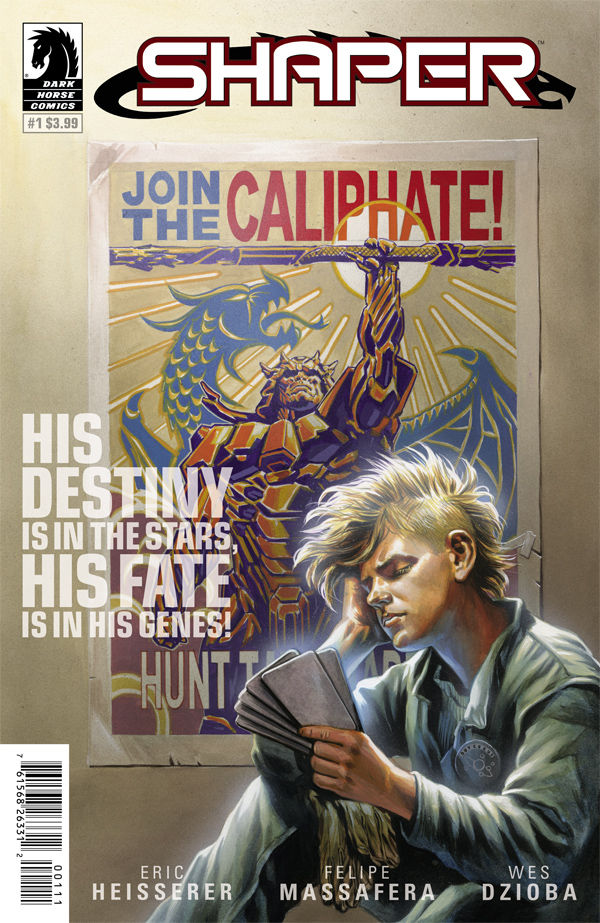 Dark Horse Comics' Official Solicitation: "A Hidden Heritage Reveals a Hero!
A galactic empire hunts a race of shape shifters prophesied to overthrow its rule. When orphaned teenager Spry discovers that he is one of the hunted—a Shaper—he must learn to use his newfound abilities to escape the empire's prime enforcer, Tor Ajax, and save his entire race!"
Writer: Eric Heisserer
Illustration: Felipe Massafera
Colors: Wes Dzioba
Letterer: Michael Heisler
Cover Artist: Felipe Massafera
Shaper Created by Eric Heisserer
Designer: David Nestelle
Assistant Editors: Freddye Lins & Everett Patterson
Editor: Randy Stradley
Publisher: Mike Richardson
Release Date: 3/18/2015
Shaper #1 could be the next great sci-fi/fantasy epic, all the building blocks are there and the story doesn't lag on exposition setting up this universe. Action picks up pretty quick and thrusts protagonist Spry into the story's central conflict fast, with up front reveals and revelations about Spry's lineage and abilities. And just as you're getting into the story and enjoying the plot, boom, To Be Continued! Shaper does leave you wanting more, in a good way, it really does have the makings of a great space opera piece in it. Heisserer's dialogue is tight and to the point, character development and character personalities, particularly Spry's, will grow as the series progresses; it was not so much lacking in this first issue but the action and set up for the protagonist's journey overshadows it.
Artwork is cinematic and the colors are striking, the art team is well matched and have brought Heisserer's story to four color life in an awesome way. Detailed, yet not to the point of characters looking mocapped off of models and actors, clearly comic book, pop art style and doesn't attempt to be something it isn't; something this reviewer likes to see in comics, no pretense to be a statement about the current state of art in general; just kick ass imagery, extremely well done. Hints of John Romita JR. and Mike Dedato as influence, at least to my eye, in Massafera's line work.
Shaper #1 gets a 4 out of 5.
For more on Shaper and more titles from Dark Horse Comics, visit www.darkhorse.com, and get out to your local comic and hobby shops; support your local comic retailers to ensure they stay in business!