Save The Clock Tower - Wasteland
Bullet Tooth, Faction/Sony Music

Posted 7/1/14 - 11:49 PM ET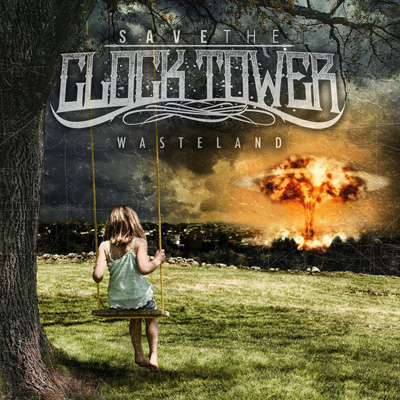 Tasmanian quartet, Save The Clock Tower, bring together metal, hardcore, post-hardcore, emo, screamo, alternative, and balls to the wall hard rock; melding and distilling the mix down to the purest forms of each in a blend that surpasses many metal and post-hardcore acts. Save The Clock Tower uses the tropes of these genres to truly break out of the mold of the post-hardcore subgenre (is post-hardcore still considered a subgenre? It's hard to keep up with the promotions and demotions affected by the flavor of the week syndrome all types of music have been suffering from for the last decade) and give it some new life. The band has been playing together since 2010 and it shows, in the good way, on this album; vocals and instruments work together like true musicians should. Whether performing their harder songs replete with death grunts and machine gun fire drumming or more melodic songs with emotive vocals that drive the melody home and orchestrated instrumentals, the band sounds like a true and not a slapdash assembly meant to sell records to the masses.
Pacing is pretty typical of a hardcore album, but that's not a bad thing, especially given the above statement of Save The Clock Tower's breaking of the post-hardcore mold and creating something of their own; little nods to what has come before is nice to hear and is to be appreciated. The Tasmanian rockers show a versatility in their sound that hopefully will be explored further in future album and EP releases. Too few bands are genuinely versatile in their performing, pigeon holing themselves into one area and never attempting to reach a new plateau. Save The Clock Tower has a lot they're keeping close to their collective chest, this reviewer feels, and is hoping to see and hear exactly where they can take their already awesome skills.
If Save The Clock Tower is an indication of what talent there is Down Under, than it's time for all of the US based music industry to take a trip to Australia and explore its various states, like Tasmania, and take the shot in the arm bands like Save The Clock Tower can give it.
Swan's Song

A Pale Horse

Wasteland

At The Bottom of a Bottle

Isolate Recreate

To The Dreamer

Sanctuary

The Beautiful Lie

The Way We Were

These Diseases

Hope, Sweet Home

Oblivion

Choice cuts are the title track, "At The Bottom of a Bottle", "To The Dreamer", "These Diseases", and Hope, Sweet Home".
Save The Clock Tower gets a 4.5 out of 5 for Wasteland.