S.H.I.E.L.D. #3
Action/Adventure/Superhero
Marvel Comics
Posted 2/25/15 - 8:45 PM ET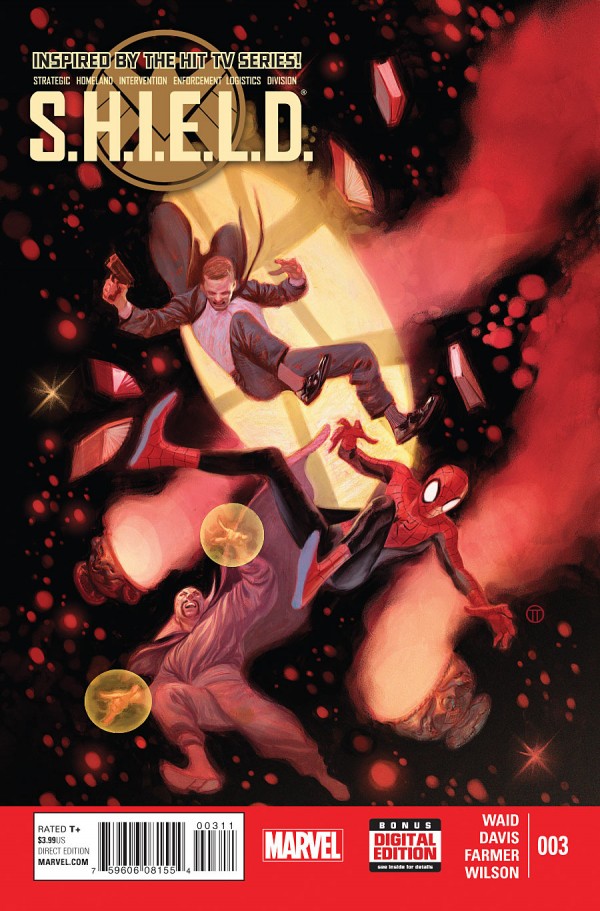 Marvel Comics' Official Solicitation: " DIE HARD in the Sanctum Sanctorum! With Dr. Strange elsewhere, magical terrorists have taken over Strange's sanctum!
• Agent Coulson must lead a strike team into the mansion before time runs out for New York City, and his only available allies are Spider-Man and one of Strange's oldest foes!"
Writer: Mark Waid
Pencils: Alan Davis
Inker: Mark Farmer
Colorist: Matthew Wilson
Letterer: VC's Joe Caramagna
Cover Artist: Julian Totino Tedesco
Designer: Jessica Pizarro
Assistant Editor: Jon Moisan
Editors: Tom Brevoort & Ellie Pyle
Editor-in-Chief: Axel Alonso
Chief Creative Officer: Joe Quesada
Executive Producer: Alan Fine
Much like the debut issue of Spider-Gwen, also out this week, S.H.I.E.L.D. #3 is an issue I've been waiting for since the announcement that Marvel would be producing a series set in the 616 Marvel Universe inspired by the Agents of S.H.I.E.L.D. TV series. Why is that? Simple, Phil Coulson. Spider-Man. Teamed up. The Ultimate Spider-Man cartoon series' Spidey and Coulson moments have nothing on this issue, an adult Spidey with a 616 Coulson that Mark Waid finally has sounding like Clark Gregg's portrayal of Coulson on the big and small screen. Quips a plenty back and forth, my favorite being their first scene together, going rounds over what Coulson will do to Spidey if he scratches Lola while flying to the Sanctum Sanctorum. Well written all the way, this is the Mark Waid I remember from my days collecting comics in high school.
Alan Davis, Mark Farmer, and Matthew Wilson Variant Cover - Courtesy Marvel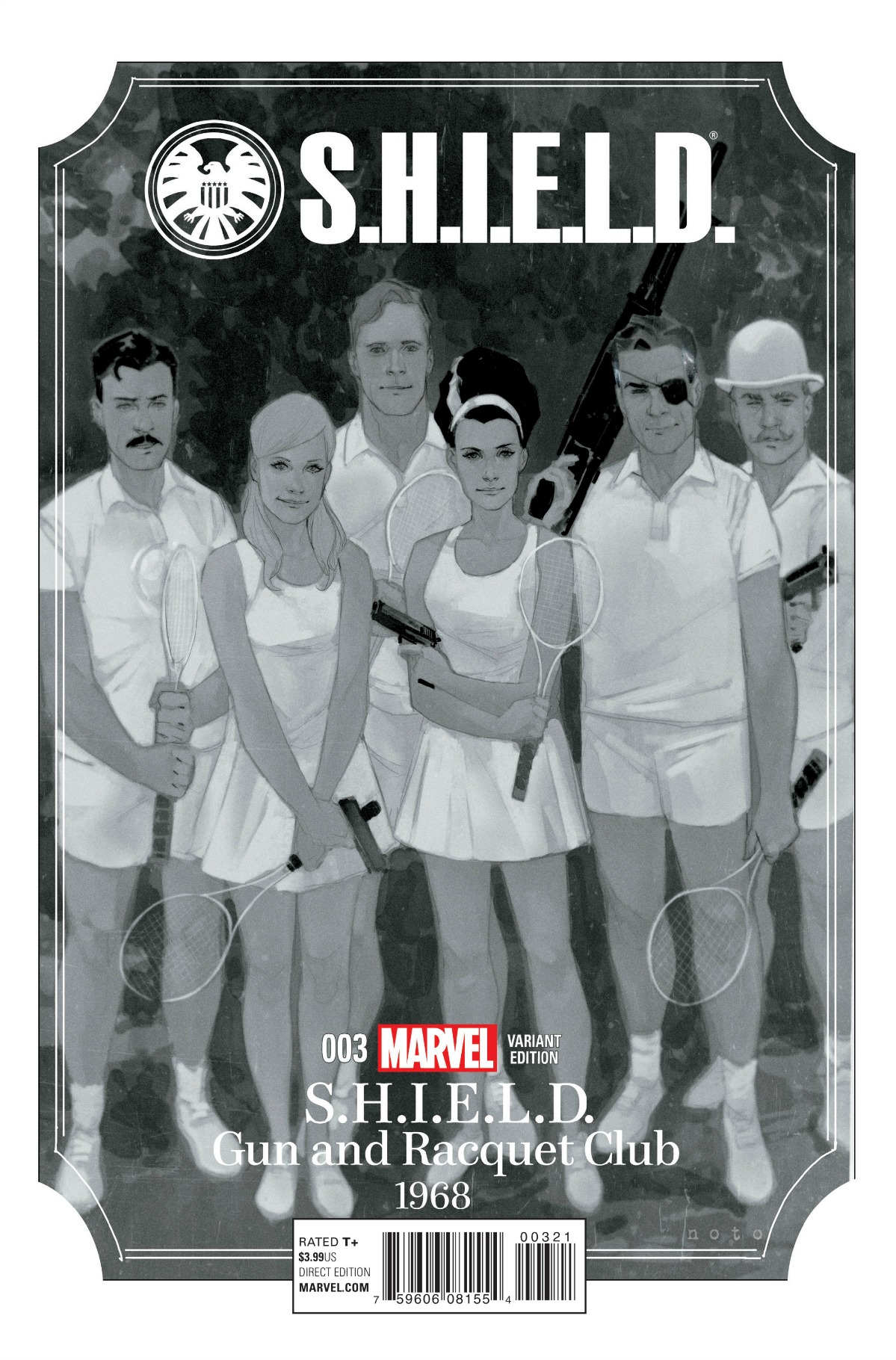 Phil Noto "History of S.H.I.E.L.D."
Variant Cover - Courtesy Marvel
Alan Davis on pencils was also a real treat for me as a reviewer and as a fan, I loved his pencil work on Excalibur back in the 90s, he's still my favorite artist for Nightcrawler, and his work on Uncanny X-Men back around 2006 when I stupidly stepped away from collecting for a few years. Farmer's inks and Wilson colors go beautifully with Davis's pencils, artwork is the full package in this issue, and as stated above, I really liked Waid's writing in this issue. Issue one and two were great as well, but it feels like Waid has found his footing with issue three. I will be sticking with this series for reviews and as a collector for the foreseeable future now. Also happy with some continuity going back to the mystery started in issue one, to avoid spoilers I won't share the possibilities I see coming with that subplot that will likely become the main plot at some point in the near future. As has been done repeatedly with the Agents of S.H.I.E.L.D. TV series.
S.H.I.E.L.D. #3 gets a 4.5 out of 5, it would a solid 5, but I hoped for more back and forth between Spidey and Coulson, my top two favorite Marvel characters.
For more on S.H.I.E.L.D. visit www.marvel.com and get out and support your local comic and hobby shops! Wherever you buy your hard copy comics, patronize them today!