Rock Lives! The Adarna – Jet City Rock At Its Finest
Posted 12/5/13 11:41 PM ET


Hidden away in the Pacific Northwest is an incredible band, The Adarna. Born in Seattle, Washington and expanding their reach across the United States, these incomparable musicians can really rock the house! The Adarna, named after a Filipino Mythical bird much like the Phoenix, have truly risen from the ashes of the greatest rock legends ever, but with their own unique modern rock sound. Each original song has a very different feel and flavor one from the next. The hard driving rhythms and pop smoothness truly give their musical sound an original vibe. More rock in their souls then any modern rock band you can find today. The Adarna's original sound and unique variety of interactive entertainment can and will make any event extra-special and fun. The band's musical prowess is exceptional. Every song shows amazing professional musicianship. What's incredible is that even as tight as their playing, the Adarna have so much fun with the audience that they play through any mistakes that maybe made, not that the audience would ever know they play so smooth. Many bands are so caught up in themselves that they forget to have fun and let the joy of music flow. The Adarna seem to communicate with each other Spirit to Spirit to produce this awesome sound that really moves you heart, mind, body and soul.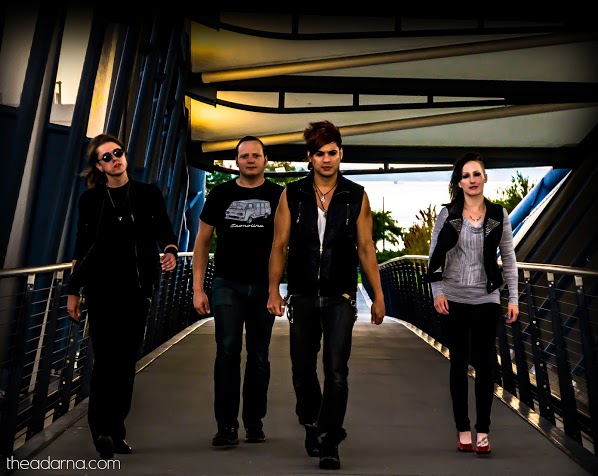 L-R: Jeremiah Hazel, Murdock, Will Moore, Andrea Jasek - Photo Courtesy Lani Linton of SM Photography via The Adarna

What is Jet City Rock? You may well ask. The Adarna have created their own brand new genre of Modern Rock music. This completely interactive form of Rock music is reminiscent of some of the Rock legends that influence the Adarna sound, bands like Journey and Guns n Roses. Jet City Rock is an original breed of Modern Rock born in Seattle and rising from the ruins of an over saturated technology apocalypse which has over-stimulated us into techno junkies. As a result we as a society are becoming more and more insular with less and less personal interaction. "People are afraid to be alone with themselves and their thoughts." Explains frontman, William Moore, "We want to connect and inspire by making people part of something personal and real." The lyrics in the original tunes of the Adarna are empowering and connecting. Any clubs, conventions or colleges would greatly benefit from this Rock n Roll band's special and unique style. Keep an eye on the Adarna, because we will definitely be seeing great things coming from this very original band. The Adarna have certainly risen from the ashes to be born into a totally new reality just as the mythological Phoenix type song bird they are named after. The Adarna's original songs are relatable, interesting and fun on many levels! Very reminiscent of Journey and Guns n Roses the lyrics speak to your mind and heart on a higher level while the rhythmic beats and smooth flowing sound grooves together to make you want to move and dance to the musical melodies.
Will Moore, frontman, lead singer, song writer, and guitarist; this multi-talented musician is really phenomenal. His voice is so smooth and enchanting that when you listen to the Adarna's original song, 'Superman', you feel Will singing directly to you. His voice is poignant and deeply touching. A stunning voice that strikes to the core of the listeners' soul and brings about emotional stirrings in the heart and mind of the listener. His sensual full bodied voice takes your attention off the awesome physique Will displays on stage during his performance making you remember that Will is so much more then just another handsome rocker with a pretty face.

There is real substance behind his talent. Will has classical and operatic voice training, making for a harmonious blending of elements from opera, classical, rock, and modern rock. Creating a unique and powerfully passionate voice with a range of vocalization rarely experienced in today's rock singers. His intensity about the empowering music he writes shines through every song. Will's bigger then life personality comes through his music and speaks to you about his dynamic passion for music with the solid message that life is a powerful personal experience that we should be living our lives to the fullest interacting positively with our contemporaries. Will Moore has an intensity all his own and when he starts rocking you can see the ultimate pleasure of a man doing what he loves!
Andreka Jasek, lead guitarist and song writer for the Adarna is an awesome hot rockin' guitar player. Her leads are phenomenal. Close your eyes and Andrea's guitar licks take you back to the truly great guitarists of the '70's and '80's. I can hear Slash from Guns n Roses playing through some of the Adarna's songs, however, the guitar playing is all Andrea and beautifully original. Andreka reminds me of Joan Jett's incredibly ground breaking female rocker style though Andreka is truly unique. The rifts played through the Adarna original 'Sugar' are so power – full it's a mind blowing experience. The lead is played incredibly well by a truly talented Andrea Jasek. Reminding me of Angus Young's power playing in AC/DC, but with her own special touch added in to her great style of play. Guitarist Lzzy Hale from Halestorm comes to mind in the harder edged moments of guitar play, but Lead Guitarist Nancy Wilson of Heart reminds me of Andrea's exceptional leads during the Adarna original song 'Gasoline'. When watching Andreka play you can also see an incredible intensity about the music, but also a great inner peace that only comes from doing what you love and sharing it with others. The empowering emotional experience of Andrea's playing inspires you to believe you can do anything!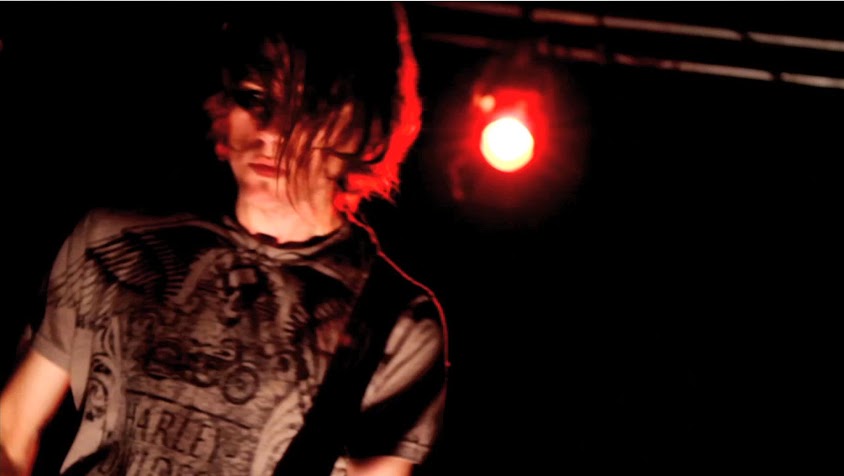 Jeremiah Hazel, Bass Guitarist & song writer for the Adarna gives the Adarna's music a genuine heart beat to their sound. The former Philadelphia native brings a New Wave Punk sound to his playing that creates fullness to the music which comes from a combination of influences. Jeremiah's precisely syncopated bass lines give a heart pumping rhythm to the music, which has a hypnotic effect on the audience resulting in a great need to dance to these incredible songs. There is an incendiary connection between the bassist and the percussionist/drummer within the Adarna that just sets your soul on fire to move. It is quite literally a spiritual connection that gives a soulful and full sound to the original songs of the Adarna. Jeremiah's hard pumping bass gives incredible backbone to songs like the Adarna original, 'Sugar'. Jeremiah's incredibly smooth and fluid playing delivers a fullness of sound akin to Journey or REM. As you watch the videos of the Adarna playing you can see an intensity of purpose in Jeremiah while he plays that empowers the audience to new levels of synchronicity of purpose. The​ observer can truly see the interactive interpersonal relationship that all members of the Adarna share.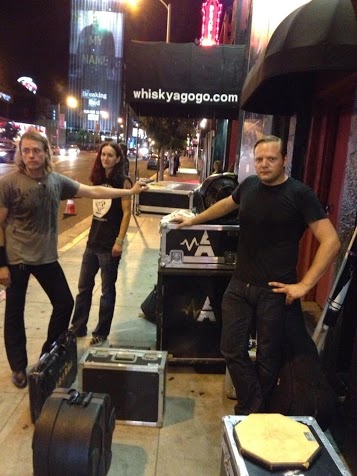 Murdock, percussionist/drummer and song writer for the Adarna gives a whole lot more to the Adarna sound then just keeping time. Native New Yorker, Murdock, has a Jazz, Metal background that brings that New York aggressive style of drumming to the Adarna sound. Murdock's particular style of drumming certainly compliments the rhythm of the bass. Keeping your heart pumping with his incredibly strong beats, the power of Murdock's drumming is felt in all the Adarna's songs, but I found it especially evident in 'Sugar' and 'Superman'. Murdock is a very versatile percussionist. He gives a variety of beats, changing up the drumming experience in every song. His drumming just makes you want to move to the beat. The Jazz influence gives a continuity of sound to his playing that really shows off his abilities! His beats just flow and move – you can almost see the movement in the music as your ears are hearing it and your body is feeling it. Murdock is an extremely powerful drummer. The perfect beats he creates suddenly take over and you feel your heart beating in time with this awesome drummer.




I have mentioned Liberty Devitto before in other reviews, and I usually compare all drummers in my own mind to Liberty, who has always been one of my favorites, but I must say Murdock's drumming in a very many ways surpasses this fabulous drummer. The intensity in his drumming just shows that he is doing what he loves, which gives the audience a genuine sense of empowerment as you watch him play.
The Adarna have their own unique style and sound, playing modern rock in a brand new genre of music. All the players in this band are truly exceptional musicians. You owe it to yourselves to put down your cell phones and give them a listen.

If you get the chance to experience the Adarna live, I highly recommend the event. It is a show so lively, fun and interactive that you will have lasting memories of this excellent phenomenon. The Adarna experience is truly interactive, so give these guys a listen and check out their calendar, because to experience them live is to really live!
Andreka and Jeremiah rocking out! - Photo courtesy of The Adarna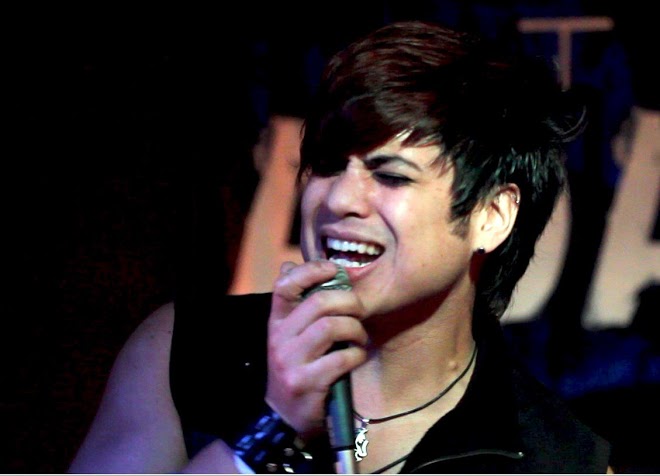 Summing up, the Adarna are truly a phenomenal modern rock band. I highly recommend that you give their wonderful music a listen! Not only are you listening to a great band, you are listening to a truly great musical find. I expect to see great things coming from the Adarna over the next couple of years. Certainly, very soon you will see them on larger and larger stages with new recordings coming your way. Definitely a band to watch, real rising stars of modern rock who will find their way to the top of the heap of bands out there, so make sure you keep an eye out for them. Whether you are hard core rockers or alt or punk or even dance pop, you will love the Adarna," Rock Gods Incarnate" Rock on!


And keep having fun out there, because you can really tell that you are doing what you love! Live the dream. Remember all you rockers do what you love and the money, success, and happiness will follow!
Tastes Like Rock gives you our highest review rating at 5+++++skulls!
The Adarna - Photo courtesy of The Adarna

You can read more about the Adarna and listen to their music at

www.theadarna.com

. They have music for sale on their site. Support the music don't pirate!