Prometheus: Fire and Stone #2 of 4
Sci-Fi/Horror
Dark Horse Comics
Posted 10/15/14 - 11:15 PM ET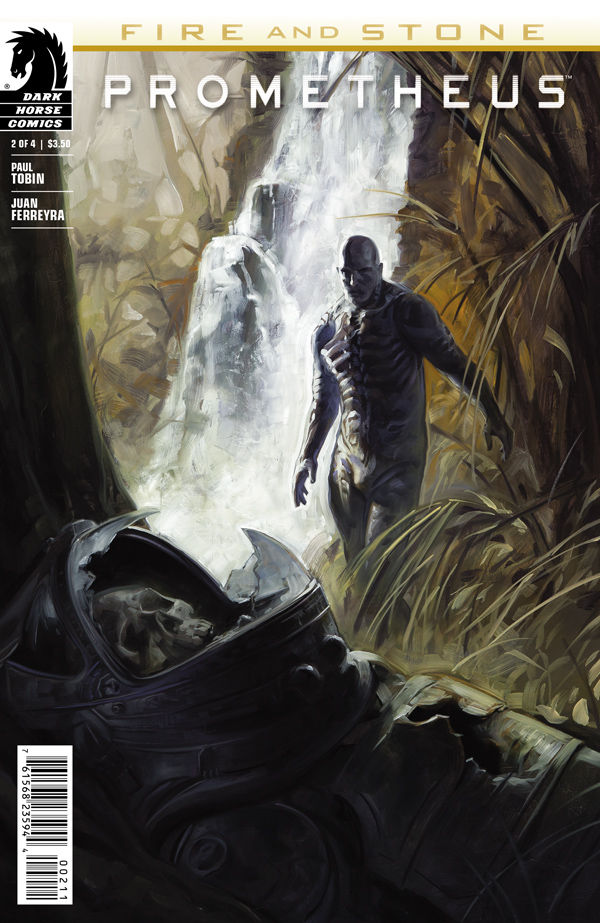 Dark Horse Comics' Official Solicitation: "After landing on LV-223, a recovery crew uncovers the fate of the Prometheus's doomed mission—and a horror unlike anything known to man!"
Color Assistance: Eduardo Ferreyra
Letters: Nate Piekos of Blambot
Digital Production: Ryan Jorgensen
Design: David Nestelle and Sandy Tanaka
Assistant Editor: Ian Tucker
Publisher: Mike Richardson
Another chapter in the Fire and Stone event Dark Horse Comics is using to relaunch and solidify the connections between the Alien, Predator, and Prometheus franchises. It's interesting the way Dark Horse is releasing them, this issue takes place before the events of Alien vs. Predator: Fire and Stone #1 which was reviewed last week, and then AVP: Fire and Stone breaks off into Predator: Fire and Stone #1 while AVP continues. Staggered releases for cross over events isn't anything new, it's just interesting the way the releases are being timed since AVP gave away some things from this issue and I'm sure that will keep happening with the release schedule for the next few months as each mini-series in the Fire and Stone event rockets toward their individual finales. As with the other Fire and Stone chapters across the multiple mini-series, Prometheus: Fire and Stone #2 keeps the story pace at breakneck speed and rolling through the panels and leaving the reader on a cliffhanger. Prometheus is the centerpiece of the whole event, though the gravitas feels equally distributed throughout each mini-series, which shows a well thought master plot throughout the creative teams; but makes the centerpiece feel relatively less important than it should. Granted, in the bigger scheme of this event it all the same story from different perspectives once the different human groups and individual human are faced with their own threats be it the xenomorphs, Yautja (Predators), Engineers etc.
Artwork is beautiful, my personal favorite out all the Fire and Stone series I've read issues from so far. A painted look and feel to each panel, digital paint I'm sure but solid and incredibly well done. Smooth but detailed, realistic too. Xenomorphic creatures *slight spoiler* that's right... "creatures"! Colors are beautiful shows the balmy atmosphere of a jungle without bogging down the overall color scheme of scenery, characters, and structures with the hazy fog so many graphic novel artwork is afflicted with in the attempt to add the heavy feel that humidity gives the air.
Prometheus: Fire and Stone #2 gets a 3.5 out of 5, solid like all the Fire and Stone event thus far, but for being the centerpiece of the event it doesn't feel integral as it should; it feels too much like "just" a chapter.
For more on Prometheus: Fire and Stone #2, the rest of the Stone and Fire event, and the rest of the varied and expansive franchises from Dark Horse Comics check out www.darkhorse.com and of course your local comic shops too!