Profane And The Sacred - Chapter 1: A Long Time Coming
Posted 3/15/15 - 2:19 PM EST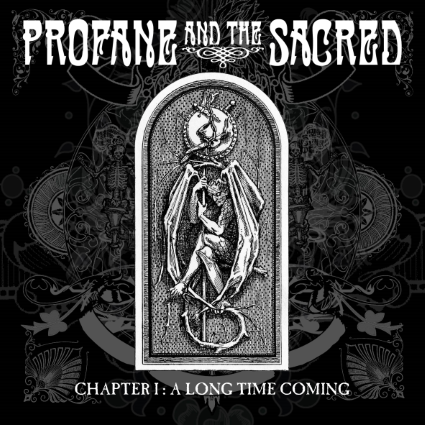 Heavy, dark, light, profound, and absolutely hard rocking. Profane And The Sacred takes listeners on a varied journey through the nine songs that comprise Chapter 1: A Long Time Coming. Influences are numerous and come out in degrees through each song's composition, most of the album is heavy hard rock with a metal edge to them, a few are straight metal, and the fully instrumental songs bring out a rollicking 70's jam band feel; these are the songs where the stoner end of Profane And The Sacred's sound comes out. It's been a while since I've enjoyed an instrumental jam in this fashion. Not a light listen, but a worthwhile one. More and more unsigned bands are coming from the UK that are needed here in the States for a shot of creative adrenaline to the system.





Pacing is a little back and forth, but with the range of styles that come out across the nine tracks, this is more than forgivable. Some might not dig that, but pacing is going to be less than unified. The band themselves however are, instruments and vocal complement each other in power and delivery. Instruments are a strong front, blending together in a fine tapestry of sound.
A few of the songs blend into each other, not in a concept album way, for casual listeners and those that let the music become background noise this may seem somewhat monotonous at points. While not really a hindrance to the listening experience it may put off some listeners to a degree.
Bench

Bleed That Stone

You Know

Weather The Storm

From The Top

All For None

Just A Little

Words

A New Leaf

Choice Cuts are "Bleed That Stone", "Words", and "A New Leaf".
Profane and the Sacred get a 3.5 out of 5.
Profane and the Sacred is Luke Alleeson (vocals and guitar), Rick Spooner (guitar), Rob Taylor (bass) , and Kieran Smith (drums). For more from Profane And The Sacred visit

www.Profaneandthesacred.co.uk/

.