Predator: Fire and Stone #1 of 4


Action/Adventure/Horror/Sci-Fi




Dark Horse Comics




Posted 10/25/14 - 2:17 AM ET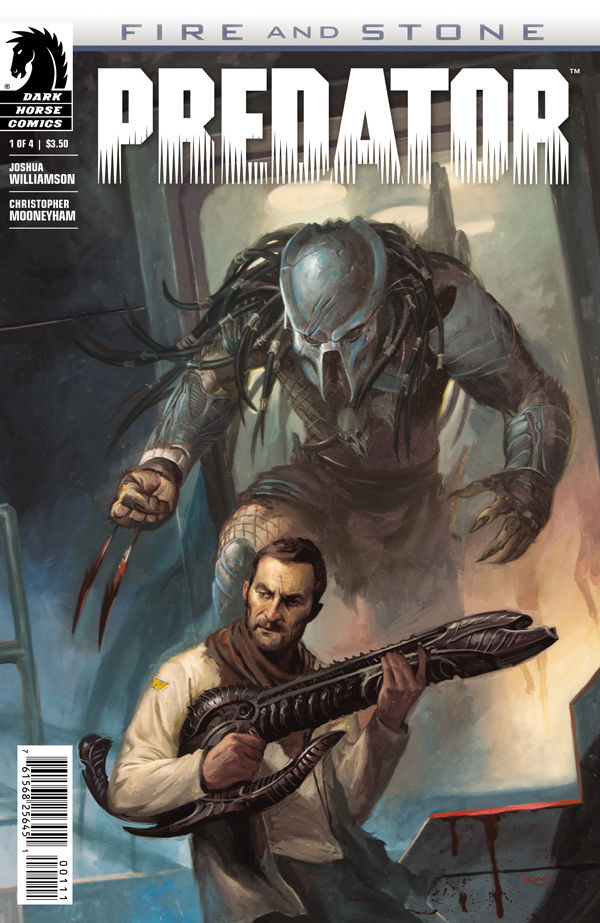 Dark Horse Comics' Official Solicitation: "A universe of terror drawn to one world.
As the Perses begins her long journey home, a deadly stowaway forces the crew into a savage conflict! While the crew defend themselves against this unseen predator, the hunter itself stalks a much more substantial game!"
Writer: Joshua Williamson
Letters: Nate Piekos of Blambot
Cover Artist: Lucas Graciano
Variant Cover Artist: Alex Maleev with Dave Stewart
Digital Production: Ryan Jorgensen
Assistant Editor: Ian Tucker
Publisher: Mike Richardson
Continuing reviews of the Fire and Stone event from Dark Horse Comics with Predator: Fire and Stone #1, action is the name of this issue's game only the last two pages advance the story; and it is a pretty awesome advancement and gives me hope that this mini-series in the Prometheus/Alien/Predator/Alien vs. Predator crossover event turns out to be the best of the Fire and Stone series. Pacing is even more breakneck than in AVP: Fire and Stone #1, though it still feels out of whack the with the staggered and out of order releases; this writer is digging the multiple series thus far and Predator in one issue is out pacing the other series in action, except maybe AVP: Fire and Stone. Again, action not gore or suspense. If you're more interested in the horror aspect of this event check out the Alien: Fire and Stone series... actually, check them all out; this is a 16-part crossover after all.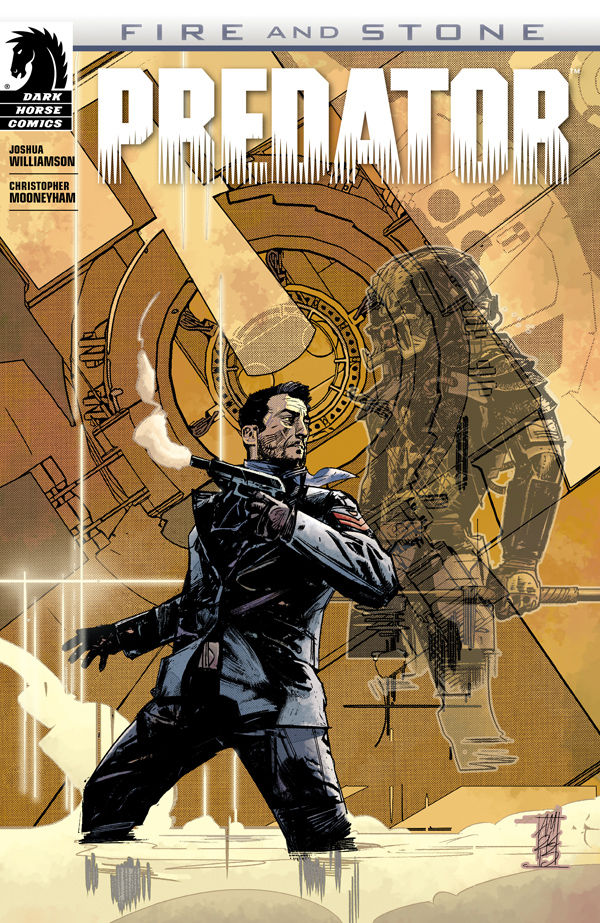 Predator: Fire and Stone #1 Variant Cover by Alex Maleev with Dave Stewart -
Courtesy Dark Horse Comics
Mooneyham's artwork and Brown's colors combine in a pitch perfect one-two combo that recreates the atmosphere and tone of the final confrontation between Arnold Schwarzenegger's Dutch and the Predator in the original film. Well, except this takes place on a space ship in the depths of intergalactic space near the planet LV-223 (the planet like moon from Prometheus). Human antihero/protagonist Galgo's character design is a little different, only in the character's face, and it is to be expected as the art team is different here than on Prometheus: Fire and Stone. As stated in the last Fire and Stone review done here in the Geekonomicon, it's difficult not to give spoilers with these mini-series that make up the event, and truthfully I don't want to. If you're a fan of the Alien franchise, the Predator franchise, the AVP movies, and/or Prometheus; check this event out. This writer is one of the few people I know that likes all aspects (even the AVP and Prometheus films) and I recommend it to fans of all pieces of the now combined franchises.
Predator: Fire and Stone #1 of 4 gets a solid 4 out of 5.
For more on Predator: Fire and Stone, as well as the rest of the Fire and Stone event check out www.darkhorse.com and of course get out to your local comic and hobby shops and support them before they disappear!