Neverboy #1
Fantasy
Dark Horse Comics
Posted 3/4/15 - 4:30 PM ET
Dark Horse Comics' Official Solicitation: "Most people take drugs to escape reality. Neverboy, a former imaginary friend, does the opposite. He's found a loophole that allows him to stay in the real world. As long as he stays medicated, everything's perfect. But when the drugs wear off and reality fades, the forces that guard the borders between the real and the imaginary will be ready to drag him back to where he belongs."
Story: Shaun Simon
Art: Tyler Jenkins
Colors: Kelly Fitzpatrick
Letters: Nate Piekos of Blambot
Cover: Conor Nolan
Variant Cover: Gerard Way
Designer: Justin Couch
Production: Allyson Haller
Assistant Editor: Spencer Cushing
Editor: Sierra Hahn
Publisher: Mike Richardson
Release Date: 3/4/15
If Inception and The Matrix (the first one, the good one) had a baby it would be Neverboy. This review will be a fast to keep from spoiling anything more than what I already said with the Inception/Matrix line... if you like trippy mysteries pick up Neverboy #1! Just from this first issue of the mini-series you'll be hooked if for no other reason than just to see what the hell is actually going on and who Neverboy really is. Be prepared for what you think is a boring story about a husband and father, regular working stiff, that is secretly a junkie... then wait for the "boom" and dive in as far as you can.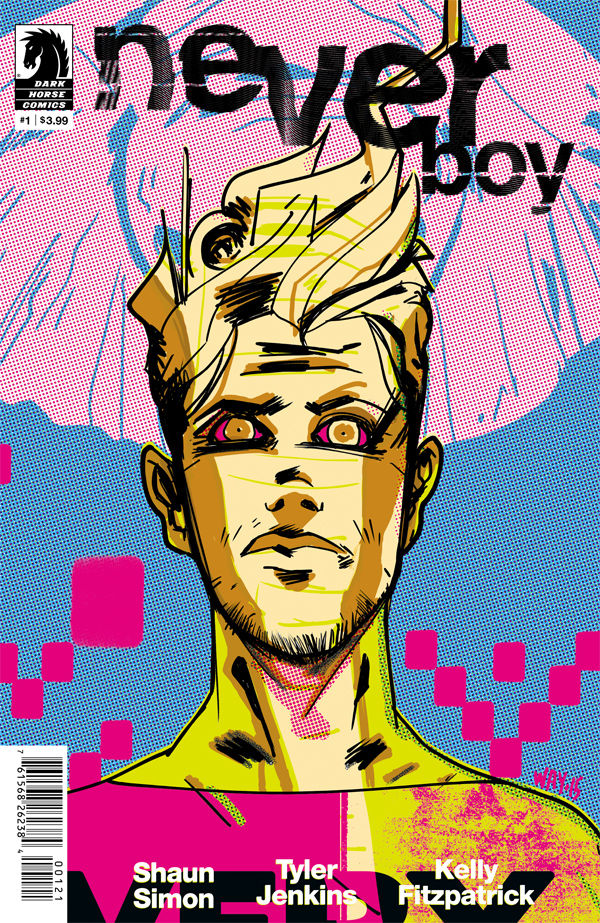 Gerard Way Variant Cover - Courtesy Dark Horse Comics
Once things kick up, any trace of expectation or boredom will be gone. You're going to get smacked with some hyper reality, and like it. Then you're going to want more. Is it cyberpunk? Is it a fever dream? Is it the nightmare of a drugged up junkie? The only answer here is, you're going to hate that To Be Continued that backhands you on the last page...
Artwork and colors fit the content of the story perfectly, going from typical slice of life story line work and colors to surreal acid trip and back in the same panel. Props all around for the creative team, Neverboy is listed as Fantasy on Dark Comics' website, but I'm not really sure if that's the classification it should receive. It looks as though this one is going to be a genre bender, once again, this reviewer is looking forward to the trip and will be adding Neverboy to my personal pull list at the shop I buy my books from.
Neverboy #1 gets a 4 out of 5. This reviewer is looking forward to the rest of this mini-series, for fans of Inception, The Matrix (again, the original film not it's two sequels), and Lawnmower Man.
For more on Neverboy visit www.darkhorse.com and get out to your local comic and hobby shops, wherever you can get your comics locally and support them!