Michael McDowell - Label Head or King of Shred Metal
Interviewed by Michael Meade on 4/12/19
Posted 5/26/19 - 3:10 PM ET
For Tastes Like Rock's relaunch, TLR editor Mike Meade caught up with long time friend Michael McDowell, head of Shredguy Records, to catch up on what's new at Shredguy Records and how the label is working and growing in the perpetually digitized landscape of the music business.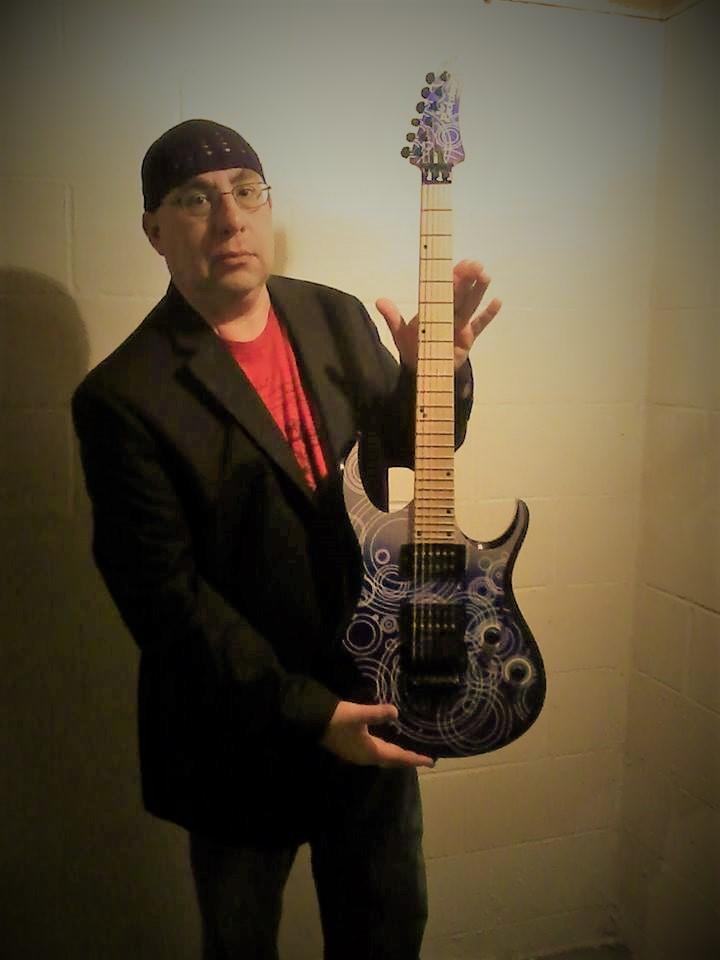 TLR: Thanks for taking the time to chat with for the relaunch of Tastes Like Rock, Michael. For those that don't know and/or are new to reading Tastes Like Rock, would you mind giving a little history on yourself and Shredguy Records?

MMC: Thanks for the opportunity for me to talk about Shredguy Records. We started in 2008, with the remastering and reissuing of a local Columbus, Ohio band from the 90's. We struggled a bit at the beginning, but things turned around in 2009 with the release of Shredding Across The World...Volume Two. The contributions from Tracy G (Dio) and Ray Luzier (Korn) really gave us credibility. I will be forever grateful to those guys. Also contributing to that release were some of my personal favorite guitar players....Michael Harris, Toby Knapp, and Jeremy Barnes. From there we became an LLC, started getting favorable reviews in magazines, webzines, blogs, etc. It's been a fun ride, with many highlights including the making of the Shredguy Signature guitar made by Rick Hanes Guitars (Indonesia). We are up to 38 releases now!! The mission has always been to provide a platform for virtuoso guitar players.

TLR: Now that our readers are caught up, since it has been quite a few years since our last sit down even before TLR went on extended hiatus for two and a half years, catch me up on what has been going on at Shredguy and the bands and solo metal artists you're working with.
MMC: Man a lot of great releases have come out since then. One I really like is The Sean Baker Orchestra - GAME ON!!. Sean is an incredible player..and his band is incredible as well! Guests include Bruce Boulliet, Toby Knapp, Marc Rizzo, Jeff Martin, and Ronny Munroe. If you want the quintessential Shredguy Records release this would be it. Another great release is Toby Knapp - Static Warfare. This release is close to my heart, because there was a time when I was about to pack it in. You know the underbelly of the music business...lots of ego...liars...posers...fakes...Then Toby sent me some demos of things he was working on..And I was like how can I quit when there is great music like this being created. This is what Shredguy is for...providing a platform for virtuoso guitar music. So we released Static Warfare on disc...and you can get it now on digital format!! Toby continues to put out great music, check out his latest releases on Moribund Cult Records and Crushing Notes Records. The guy is so damn prolific! And my association with another hard working and creative musician named David Mercado has been awesome. David's band is called Shadow Eden. And we have worked closely with him for the last few years. He is endorsed by PRS Guitars and Morley Pedals. He is doing a clinic tour as well as live concerts shows this spring throughout the U.S. Other releases that would like to highlight would be one you know about...Clownhammer....thanks for the exposure at SaikouCon 2018! Clownhammer is a straight ahead metal project featuring Sean Baker on guitar! And a couple of new additions to the Shredguy roster. One is Mike Risko and his band EGO. Tremendous progressive metal band. I had been told about this band years ago by the aforementioned Michael Harris. Finally in 2018 I got my head out my ass and started working with Mike Risko. Great player...check out EGO -NOSFERATU. Epic progressive concept album! And also Shredguy's first female guitar player Phoenix Van Der Weyden. I have to mention her. Great guitarist...recently became one of Kramer Guitars artists. Check out her release Defying Destiny if you like the Shrapnel Records albums of the 80's. A joy to work with, who has actually helped me with my own guitar playing. She is a great teacher.. We also did some tracks together that will see the light of day soon. Hope that catches you up a little bit...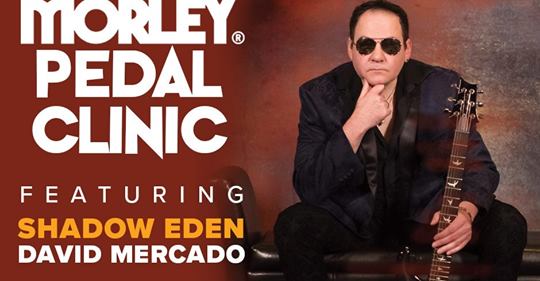 TLR: It does, and anytime! Shred Guy Records' music is always welcome at SaikouCon [SaikouCon is the annual anime convention that grew out of our now defunct sibling webzine, Anime Ate My Brain back in 2013, and back for it's seventh year this August 2, 3, and 4 in White Haven, PA]! Michael, we've known each other for the better part of TLR's existence, from your perspective as a label owner, how has the industry changed in the last ten years and do you feel the changes are for better or for worse? There are so many things to consider... the nature of marketing in the age of social media, upped file sharing and bootlegging concerns with most music releases being digital now, the need for nearly constant output to up with streaming trends, not screwed over by the myriad "legit" streaming services... I don't envy having to deal with all of the above.
Phoenix Van Der Weyden - Photo courtesy Michael McDowell/Shredguy Records
MMC: The industry has definitely changed in the now 11 years since I started Shredguy Records. First four years we sold a lot of discs. Now disc sales have dropped dramatically. I am old school so me personally I still buy CDs. And that's still the best way to support the artist. In the past couple of years I have put our new releases on streaming outlets also. I had to, because some people were just not going to get the music any other way. But I still strongly encourage people to BUY the CDs. And we will continue to print CDs no matter what. And in the future...vinyl also! It can be tough, because you want to release more good music. But, financially you just can't have a ton of releases in a year if you are an independent label. Despite the climate though, we have done well.
TLR: I'm happy to hear that on a few levels, first and foremost being an old school guy myself when it comes to having physical copies of albums, not that I don't have a large collection of digital music... although, if I'm honest, most of it I ripped from my CD collection and converted to MP3s myself because I do prefer CDs and vinyl. Do you think those challenges have improved the chops of musicians, label heads, and producers or inadvertently dulled us all?
MMC: That's hard to say. I think it's still up to the artists how well their chops are. And what kind of product you put out. One thing I will mention is that I do tire of guitar players who JUST show certain guitar licks. And aren't playing actual songs of any kind. There are too many of those on YouTube. Work on SONGS!
TLR: Following up on your thoughts of where the industry has been and its current state, where would you like to see things evolve from where it all stands now over the next two to four years as even newer tech, social media formats, and sociological trends diversify as well as, unfortunately, homogenize music?
MMC: Where would I like to see it??...[laughs]....people getting back to buying CDs and vinyl. But the other formats are there, so make use of them. I just want people to keep creating....and hopefully there will still be an audience for that.
TLR: Taking it back to your specific genre; why do you feel shred metal is still relevant as new genres, subgenres, blended genres, experimental genres are created every year?
MMC: I think people are still drawn to virtuoso guitar playing. Everyone loves to hear a great solo...people love the art of playing guitar. It will always be there. Our challenge is to put it into a memorable melody or song. Make it accessible to the masses.
TLR: I can't remember if I asked this question in our last interview, and to be honest I'm too lazy to looking through the TLR archives... what musician first opened the world of shred metal to you?
MMC: Yngwie Malmsteen. 1984-1990...great stuff. Playing was impeccable and impactful. And he collaborated with other great artists.
TLR: Time for some lightning round fanboy questions, but if you put together your dream concert, money is no object, living or dead artists, who would be up on that stage?
MMC: Jimi Hendrix Experience 1967.
TLR: What albums, shred or otherwise, are defining, cornerstone pieces for you?
MMC: Jimi Hendrix Experience - Are You Experienced
Deep Purple - Machine Head
Tommy Bolin - Private Eyes
Yngwie J Malmsteen's Rising Force
Marillion - Misplaced Childhood
TLR: Thank you again, Michael, as always it has been great hanging out and speaking with you, let's do it again, sooner next time.
MMC:

Definitely man...thanks for all your support. I just touched on few things happening with us. Check out some more of our releases from guitarists Lars Lind, Chris Bickley, and Tom Kopyto. And hopefully we can get EGO over to one of your HorrorCons. And thanks to your readers....check us out at

www.shredguyrecords.storenvy.com

, lots of great CDs and shirts there

Shredguy Record logo courtesy of Michael McDowell/Shredguy Records
TLR: Anytime, and I'm working on that getting that horror convention off the ground... hopefully 2020. And there you have it, check out Shredguy Records today!