Marvel's Avengers Alliance Tactics
Action/Adventure/Superhero
Playdom
Posted 6/5/14 2:06 AM ET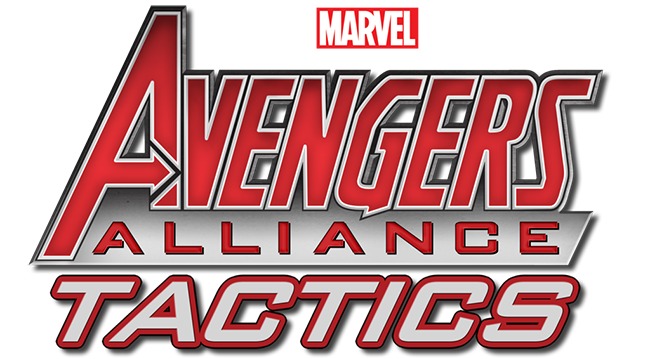 Playdom is back and capitalizing on the success their 2012 release, the original Marvel's Avengers Alliance. Much of MAA's success came from its integration as a Facebook game and later as an Android app. While the first Avengers Alliance, of which this reviewer has been an addicted player for the bulk of its two year release, was addictive for a return to and deft reinvigorating of 64 bit style turn based combat system and its decently solid melding of Marvel 616 Universe (original Marvel Comics continuity), the Ultimate Marvel Universe, and the Marvel Cinematic Universe that comprises the continuity from 2008's Iron Man through to 2012's Avengers. MAA Tactics is a continuation of the storyline developed for the Season 2 missions of Avengers Alliance, particularly the underlying plot point of Incursions; the collision of different timelines and alternate dimensions.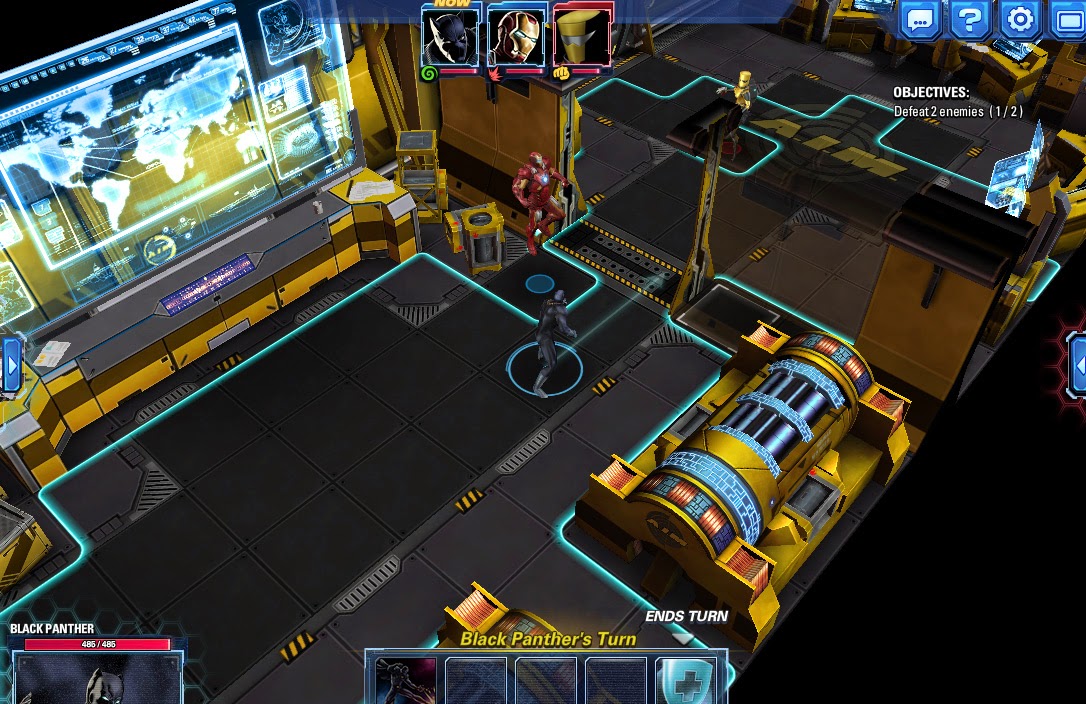 Screenshot of the first battle, letting players explore the "upgrades" to the battle system established in Marvel's Avengers Alliance.
This time around, Playdom has "improved" on the look of the game by making the environments and characters fully 3D CG, the battle system is still turn based though, just not as seamless a system as Avengers Alliance. Much of the game after about two hours of game play feels like it should not be out of Beta testing yet, I experienced a lot of lag and two browser crashes before getting past the first mini-mission that introduces the Tactics version of Iron Man and gives you a promotion to a S.H.I.E.L.D. commander rather than a special field agent, more on that momentarily.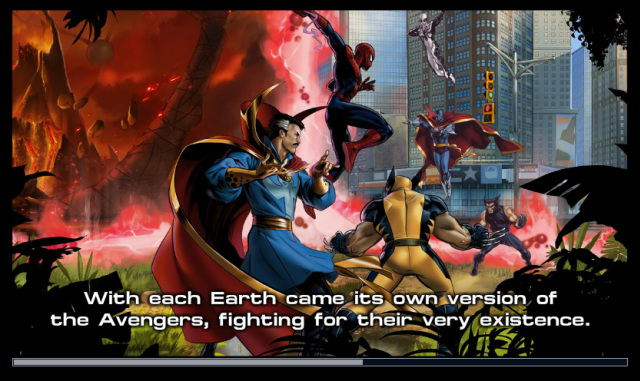 Overall, the game feels like a browser-based version of the underrated Playstation 2 game, Marvel Ultimate Alliance and its sub-par sequel Ultimate Alliance 2; but not as good as either PS2 games. MAA Tactics feels clunky and weighed down by the Starcraft and old school Windows 97 World of Warcraft style resource management additions to the gameplay. Players have to build their base, build an air field for Remote Ops, build barracks in order to unlock additional heroes, build Iso-8 factories and refineries etc. rather than being based on the S.H.I.E.L.D. Hellicarrier and having all these things at hand. For players that like being bogged down in resource management and additional component farming for new gear and abilities, this is a great and highly involved process that brings focus around to actual tactics to progress the game forward. For those of us that are better at character development, this is a gigantic pain in the ass.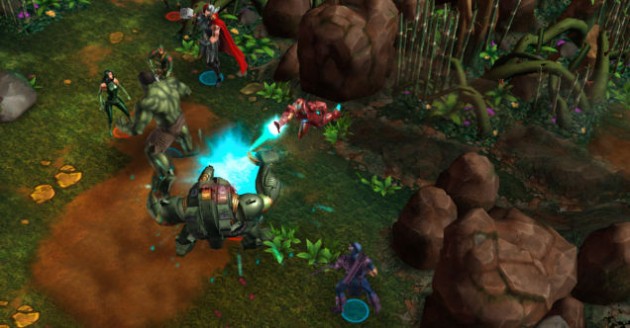 Beta test screenshot of a later battle with more heroes at the player's disposal.
This reviewer definitely prefers the original Avengers Alliance, in gameplay and visuals, the fact that as an agent in the original rather than a commander in Tactics, your avatar is in the field on missions with the Marvel heroes doesn't hurt either. The only improvement to battle is that you can deploy a team of four heroes rather than three. One other improvement is that Carol Danvers is Captain Marvel from the beginning of the game as opposed to her former super ID of Ms. Marvel. CG renders of the characters are hit or miss, Spider-Man and Captain America look good, so does Captain Marvel and Black Panther; others not so much, Iron Man looks too rounded and bubble chested on battle maps but looks fine in character management and training.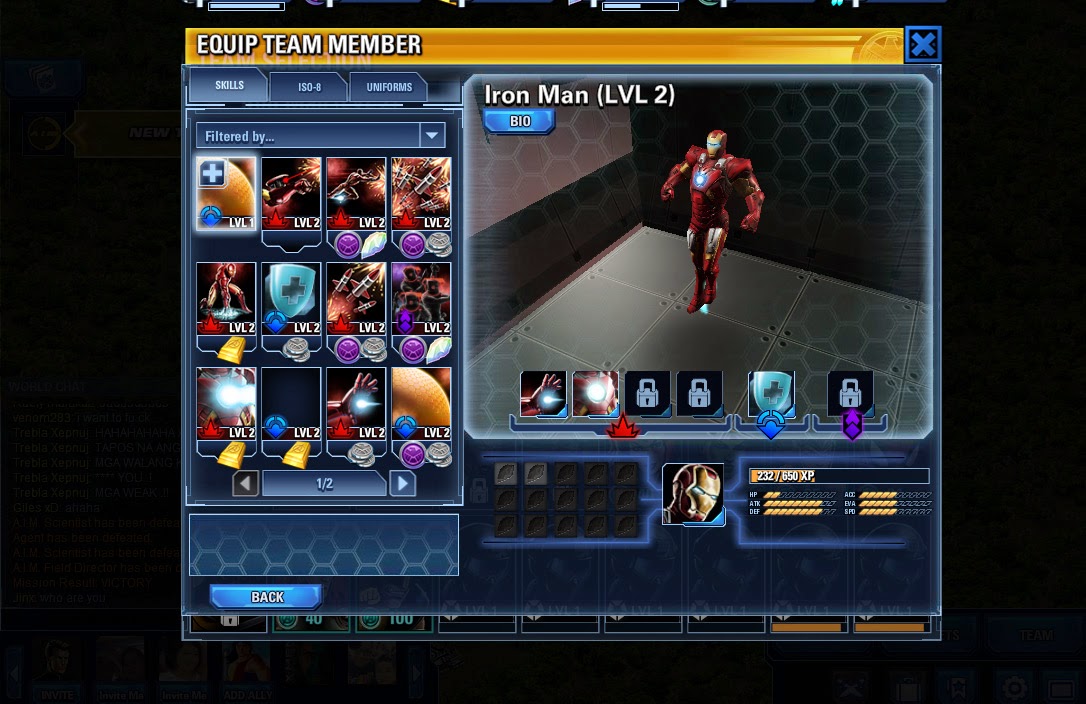 One other true improvement to character resources is that your heroes have more than four controllable abilities, different defense capabilities, and whatever passive abilities and effects different costumes and Iso-8 augmentation gives. The down side to having more abilities is that you can only equipment the same four at a time, and only one each for the new defense power slot and passive abilities slot that are not tied to Iso-8 or costume choice.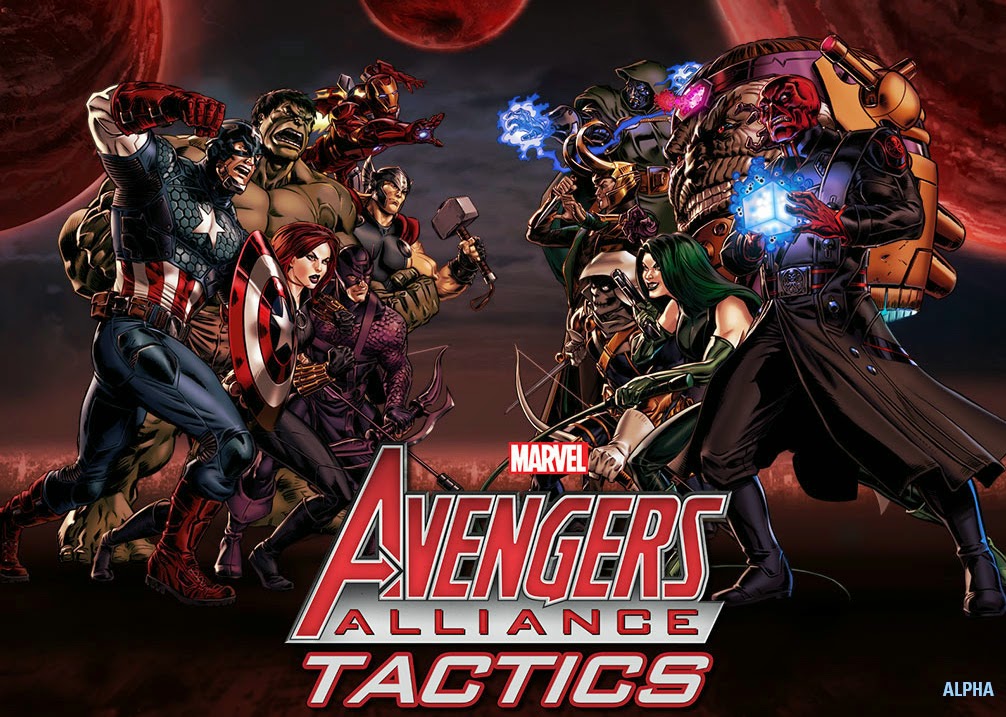 When all is said and done, Avengers Alliance Tactics is a social game to watch, it certainly has the potential to surpass Avengers Alliance and become the social media game hit that the original is. But it needed more development time before a general release, the closed beta should have gone on for more than a month; there's too much lag and too many crashes. Given the full 3D renders I can sort of understand the crashes on older systems and computers not equipped with high grade video cards and the latest software updates, but there shouldn't have been that many crashes on my system between the processor my laptop has and the video card equipped.
Again, it has potential and deserves an eye to be kept on it, but for this reviewers time and enjoyment, I'm sticking with Marvel Avengers Alliance (Playdom, we all know you lessen the amount of free things as much as you can in both Avengers games, but you might want to think about letting players that have invested time and actual money into Avengers Alliance, integrate their earnings and heroes from Avengers Alliance into Tactics, might earn the new game more players). Hopefully Playdom won't make the massive mistake of closing the original Marvel's Avengers Alliance down; there will be a huge uproar in which my voice will most definitely be included.
Marvel's Avengers Alliance Tactics freemium social game from Playdom, and available exclusively to Facebook users at the moment, gets a solid 3 out of 5 for cool concept and story expansion, but still requiring too much debugging for public consumption at the moment.