Mammoth Black - Death Is Not Ashamed
Posted 2/17/15 - 10:08 PM ET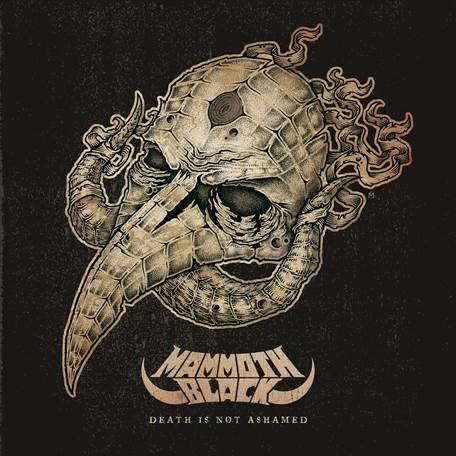 Heavy and dark, Mammoth Black brings hard instrumentals and Brett Lloyd's vocals pulverize with their strength; they are reminiscent of All That Remains' Philip Labonte but heavier and raspier. The band bills themselves as Heavy/Sludge/Doom, Heavy is there in spades but on Death Is Not Ashamed, this reviewer is hearing more Doom than Sludge. Which is fine by me, I prefer Doom Metal to Sludge Metal anyway. The Virginia-based five piece has a very solid sound and polished instruments, bass could be a little heavier for my tastes, but I'm biased for heavy drop tuned basslines and make no bones about it; that said Steve Ross's playing is tight and delivers a solid backbone to each song. Guitars are sharp, guitarists Billy Strong and Ross Becker show the range of what you can do with guitars in heavy metal and Doom without necessarily crossing over into shred, thrash, or progressive metal country.



Corbitt Carroll's drums are also impressive, delivering strength, heavy hits, and build the atmosphere of the songs; all this without going the repetitiveness of machine gun pounding on the snares and bass drum with a few clashes of cymbals near the bridge.
While the band's sound is heavier into the Doom side of their chosen genres, as stated earlier, their pacing on this album is closer to Sludge; slow and steady, but never slowing things down enough to make Death Is Not Ashamed feel sluggish or uninteresting. It plays like a slow, but blazing, burn. But not slow enough to keep from headbanging and getting pissed off right along with each song.
Open Death Letter

Sheep Skin

Self Pity & Self Deception

Limb from Limb

Death Mask

Suffer

Die Faster

Choice cuts are "Sheep Skin", "Limb from Limb", and "Suffer".
Mammoth Black gets a solid 4 out of 5 for Death Is Not Ashamed.
Mammoth Black is Brett Lloyd (vocals), Billy Strong (guitar), Ross Becker (guitar), Steve "Tombstone" Ross (bass), Corbitt Carroll (drums). For more from them visit

http://mammothblack.bigcartel.com/

.