Lizzy Borden: Cheers to 30 Years
By Melissa Anderson with Wes Anderson



Photography: Rockwell Anderson Media (Melissa & Wes Anderson)



Posted 4/25/13 3:30 PM EST



It is rare you get to see a stadium sized show in the intimate setting of a club, but the Lizzy Borden show at the legendary Whisky a Go Go in Hollywood was a show 30 years in the making. That is what the fans got at Lizzy Borden's 30th Anniversary show. On Saturday April 6th, Black Mourning, Fall of Man, Chemical Burn, Faded Sun, White Wizzard and Lizzy Borden took the stage at the world infamous Whisky a Go Go on the Sunset Strip. If you missed it you missed a jaw dropping night of twisted "American Metal" theater.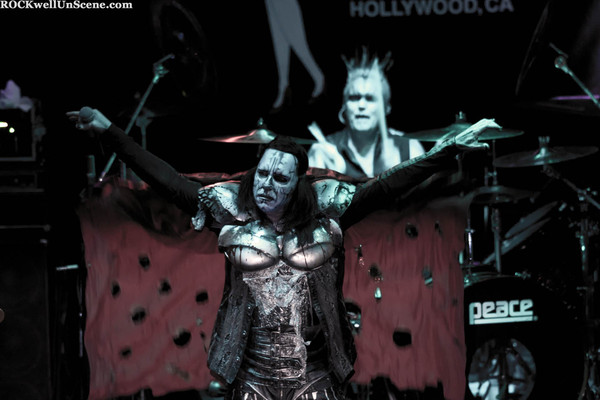 Black Mourning was first to take the stage and I regret that we missed most of their set because we were doing interviews in the green room. I cannot give you a full account of their set, but I can tell you about the band. The band: "Drew XIII" - Vocals and Lead/Rhythm Guitar, "Silence" - Lead Guitar and Backing Vocals,"Zombie" - Rhythm Guitar and Backing Vocals,"Voodoo" - Bass Guitar, and "Dahmer" - Drums hail from Covina, California.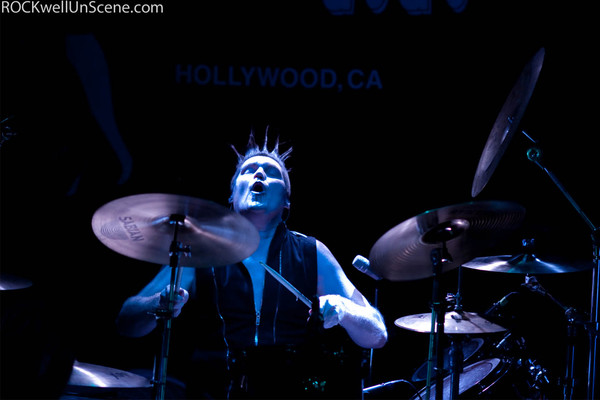 The band describes themselves this way, "We are an American Heavy Metal band with Shock Rock and Thrash influence . Our goal is to bring back the classic vibe of the famous Sunset Strip with modern metal sound." The band is well on their way. They had quite a few fans their ready to rock during their set. I urge you to check them out.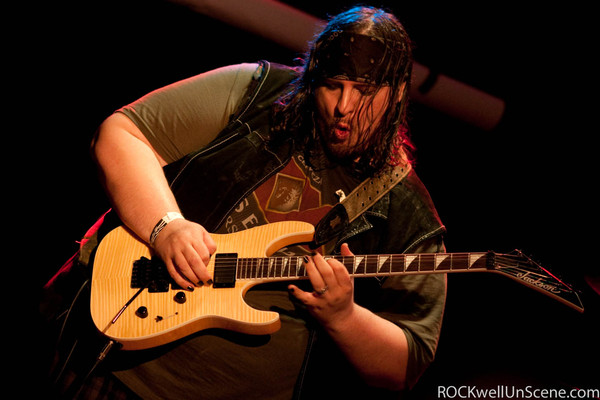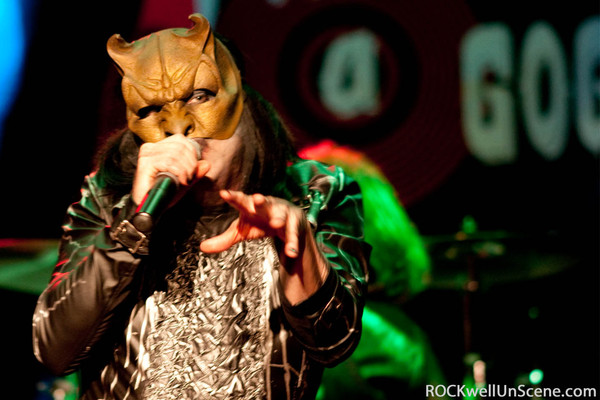 Mr.B, Erica, Mikey, and Ben are Fall of Man. I only caught the end of the last song because we were backstage, but what I heard blew me away. My daughter who is a musician with 8 years of experience playing bass and guitar, caught the whole set. She loved it. This is what she had to say about Fall Of Man, "Amazing vocalist (she had a great range), great drumming, and they had catchy songs." The bands describes their sound as hard rock/metal. You can find them on Facebook and on a stage near you soon. From what I saw I got hooked. I will be hitting another show.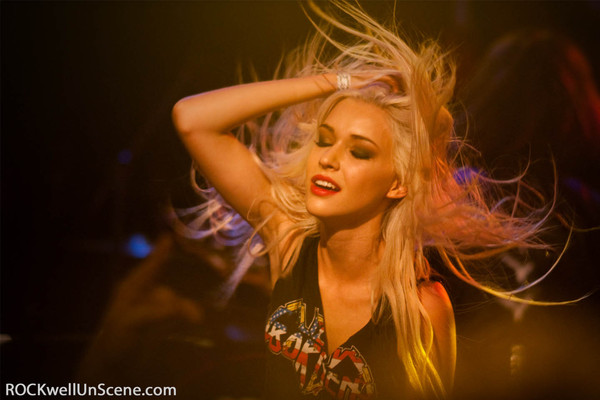 Chemical Burn is: Mike Garnica - Bass/Vocals, Kevin Jackson - Drums, and John Carek - Guitars. The band says the following about themselves, "this trio offers crushingly honest commentary delivered in a sonic brew that assaults the senses and demands attention. " Influenced by PANTERA, ANTHRAX, White Zombie and others, this trio is metal, hard to the core. Being at the Whisky a Go Go, they spiced up their set with two Go Go dancers, one blonde and one brunette, who wore appropriately metal studded bra's while dancing to face melting Chemical Burn songs. If you are a metal fan and you want a band that plays true metal check out Chemical Burn.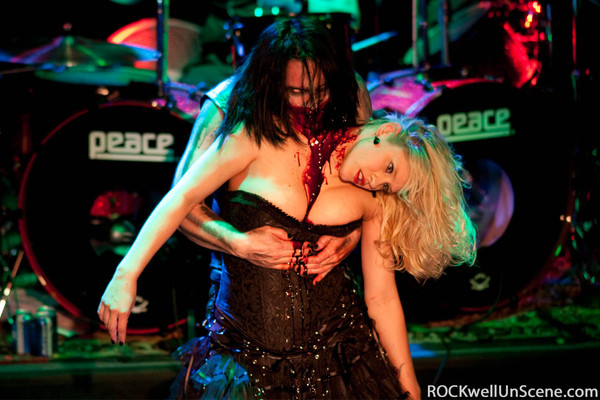 Faded Sun was next up. I confess I am a fan. If you do not know the band let me introduce them to you. Tony DeVita - Lead Guitar/Lead Vocal, Mike Brown - Drums, Dave Gamble - Lead Guitars, and Lou Papai - Bass. To give you a quick history of lead singer Tony DeVita, he has done everything. Starting in NewYork and playing with bands like WARRIOR, Bullet Boys, Mandy Lion's WWIII, Pretty Boy Floyd, Quiet Riot, ODIN, So Low DC4, LOUDNESS - just to name a few. To make a long story short, there are too many props to give this performer. That said, he is the master mind behind Faded Sun. This band started by Tony and Mike Brown, fell into place when David Gamble and Lou Papai were brought on board. With a line up that made sense in both sound (a mix of Alter Bridge, Black Label Society, Machine Head, Disturbed, Godsmack) and personalities, an epic band was born. This line-up, somewhat new with less than a handful of shows under their belt, came out swinging a few weeks ago when they opened for Adrenaline Mob at the Roxy. Playing the Lizzy Borden 30th Anniversary show two weeks later speaks volumes. If you want a show worth the drive there and price of ticket this is your band. More legendary shows are on the docket, including Friday May 10th at Sainte Rock with the San Francisco Bay area legends Y&T. This show is expected to sell out so get your tickets from the band ASAP.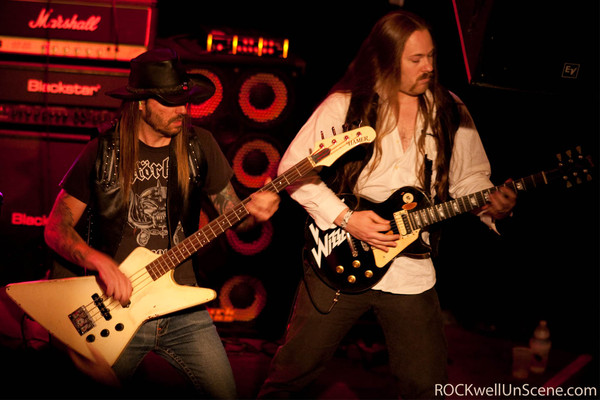 Meet the men of White Wizzard: Joseph Michael - lead vocals, Jon Leon - Rhythm and Lead guitars (Studio)/Bass guitar (Studio and Live), Jake Dreyer -Lead and Rhythm Guitar,Will Wallner -Lead and Rhythm guitar, and Giovanni Durst- Drums. This is what the band wants you to know, "The goal was simple - to bring the songwriting, melody and good times back into metal and rock." As I witnessed, they pulled it off. Influenced by such greats as Iron Maiden, Judas Priest, Scorpions, Rush, UFO, Dio, Thin Lizzy, Metallica, Led Zeppelin, and Van Halen, you can hear that in their sound. If you have not seen this band on stage make it a point to do so. They are awesome. Joseph Michael's falsetto alone is worth the price of admission!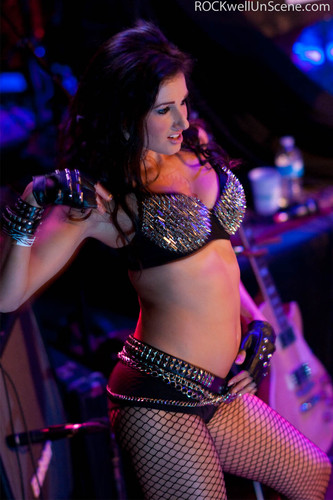 Lizzy Borden, the headliner celebrating 30 years of metal mayhem, put on maybe the best club show I've ever seen (and I've seen countless club shows). This set was an arena show on a club stage. What a treat for the fans, and they were there in force, with some coming to the show from as far as New Jersey and Georgia, just for this show. This was a asses to elbows packed show to be blunt about it. Lizzy Borden - Vocals, Joey Scott - Drums, Marten Andersson - Bass, and Dario Lorina - Guitar complete the band. This is a short bio the band wrote, "In a career spanning 30 years, Lizzy Borden was created in 1983 in Hollywood California. Spitting venom, stage blood and dripping grease paint while breathing life into bizarre characters bred precisely for the stage. Theme oriented creations such as; Love You to Pieces (1985) Menace to Society (1986) Visual Lies (1987) Master of Disguise (1989) Best Of (1994) Deal with the Devil (2000) and Appointment with Death (2008) forever cemented icon status to the master showman from the dawn of heavy metal." Now that you had a quick history lesson get up and get to a show. For the fans at the Whisky this was the Holy Grail of shows. It was like being transported back to the 80's. Lizzy is just as good now as he was when he started. With countless costume changes, blood, ladies of the night, and more, this show was metal theater at its finest. For me it was a show made for an arena and brought to the fans in an intimate engagement at the iconic Whisky. There is no reason to miss an event like this, and to make it even more special, it was only 1 of 5 shows scheduled for the entire U.S. I cannot give this show enough props. I have seen over 130 bands this year alone and this is my number 1 show. All my favorites elements fell into place; professional sound, visuals that told a story, interaction with the fans, and an all around epic show.