Hellboy and the B.P.R.D. 1952 #1
Horror/Action/Adventure
Dark Horse Comics
Posted 12/3/14 - 12:07 PM ET
Dark Horse Comics' Official Solicitation: "A bizarre series of murders and rumors of something worse lead Professor Bruttenholm to send a young Hellboy to a Brazilian village on his first mission. Hellboy and a small group of agents uncover something terrible in the shadows of a sixteenth-century Portuguese fortress . . ."
Story: Mike Mignola & John Arcudi
Art: Alex Maleev
Colorist: Dave Stewart
Cover Artist: Alex Maleev
Pencil Variant Cover: Mike Mignola
Letters: Clem Robbins

Designer: Amy Arendts
Assistant Editor: Shantel LaRocque
Editor: Scott Allie
Publisher: Mike Richardson
Release Date: December 3, 2014
A chapter of Hellboy's life only ever vaguely, very vaguely, hinted at; his first assignment in the field as a B.P.R.D. agent. As with most Hellboy stories, it rushed by before I had noticed I was at the final page, as addicting as it can sweetly annoying when Mignola is on his A-game; and here he is, teamed with John Arcudi once more for a 1-2 punch of well done story telling. Showing humanity at the center of the larger story has become a specialty for both these great writers as the greater mystery pushes forward. Hellboy stories are so hard for me not to spoil, as a big Hellboy fanboy and as an appreciative literature and pop literature enthusiast; there's a reason Mignola and Arcudi are fan favorite writers and Hellboy such an enduring figure in the younger than 50 comic character club. Taking place in Brazil, a location I don't remember Hellboy ever having a case in before, and I own just about every Hellboy trade published, is exciting and enthralling! So much rich mythology exists in Portuguese culture plus the ancient mythology of the country that largely goes unknown in North American culture, that this reviewer can't wait for the reveal of what the monster/demon/deity is that Hellboy will be facing in the next three issues of this mini-series.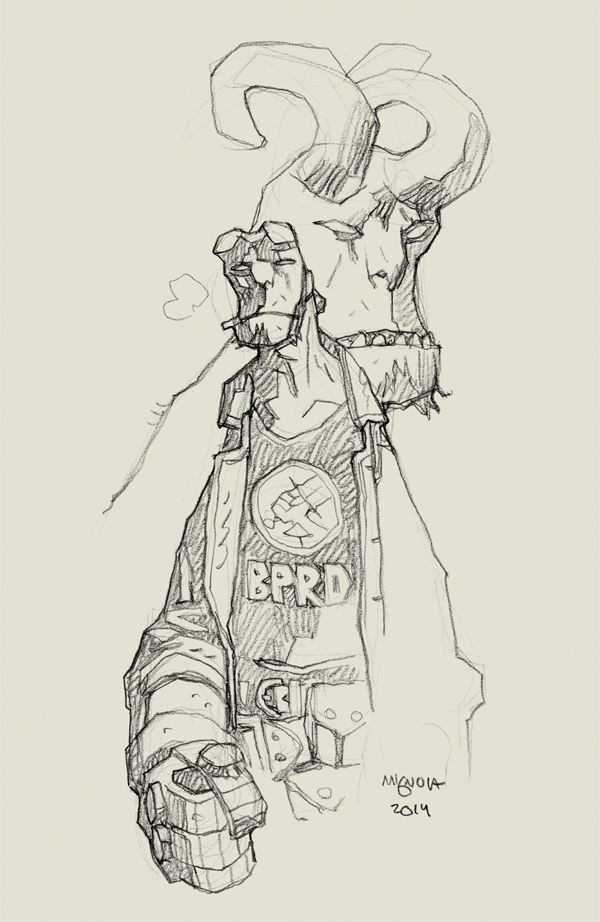 Pencil Sketch Variant Cover by Mike Mignola - Courtesy Dark Horse Comics
Now for the artwork. Dave Stewart's colors are always welcome in Hellboy and B.P.R.D. stories, he has a way of blending them to fit the mood of a horror/supernatural tale regardless of what the tale is, that astounds. For my money, I honestly don't want anyone else but Mignola him coloring Hellboy; that said, Alex Maleev gets a gigantic ditto to that sentiment! no one can draw Hellboy and Hellboy's universe better than Maleev except Mike Mignola! Maleev's painted-but-far-from-flat-while-somewhat-minimalist-yet-highly-detailed artwork is beyond perfect for the Right Hand of Doom himself. I loved Maleev's art on his Daredevil at Marvel about a decade ago and I'm loving his artwork even more now on Hellboy.
Hellboy and the B.P.R.D. 1952 #1 gets a solid 5 out of 5, sure I'm biased being a die hard Hellboy fan... but cripes, it's Hellboy! How could he not get a 5 out of 5?
For more about Hellboy and the B.P.R.D. 1952 and other Hellboy and B.P.R.D. titles, vist www.darkhorse.com and get out to your local comic and hobby shops today and every new comic book day!