Halestorm - Mayhem (Single)
Posted 2/18/15 - 8:45 PM ET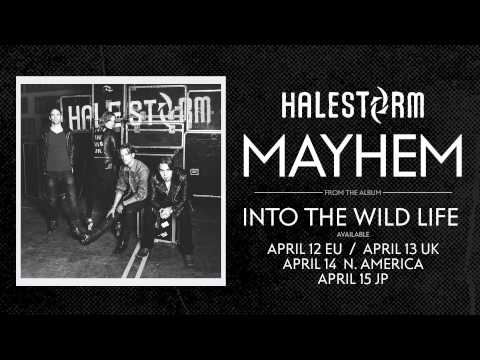 For the naysayers of Halestorm's first single from Into The Wild Life, "Apocalyptic", listen to "Mayhem". "Mayhem" is harder, faster, and about sex and rocking out, no love, no lovelorn sentiment; just balls to the wall hard rock. The song has the energy of "Love Bites (So Do I)" and oozes sex like "Dirty Mind", the composition is kinetic from start to finish and never comes down. The guitars rip backed by Arejay's drums and Josh's bass, each band member giving 100% of their skill on their instruments and Lzzy giving both barrels with her and guitar. Even more than "Apocalyptic", which I did like beyond my bias for Halestorm, "Mayhem" has me even more excited for Into The Wild Life; and I hope this is the vein the bulk of the upcoming album's thirteen, if memory serves correctly, songs. This is Halestorm the way they were meant to be, raw energy and refined skill yet hardly ever taking themselves too seriously, these are the four awesome people I met and hung out with five years ago at the first Uproar Festival. This what rock should be, high energy, fast and in your face; it should make you not only want to get up and dance, thrash, headbang, jump around, but make your body feel like it has no choice but to do so!
Halestorm gets a 5 out of 5 for "Mayhem", it's a great song and will hopefully be a chart topping single, as well as a definitive sign of what Into The Wild Life holds in store for fans.
Halestorm is Lzzy Hale (lead vocals and rhythm guitar), Arejay Hale (drums and percussion), Joe Hottinger (lead guitar), and Josh Smith (bass guitar), for more from Halestorm visit

www.halestormrocks.net

.