Evil Dead ('13)
Horror




Ghost House Pictures/FilmDistrict/TriStar Pictures


Posted 4/10/13 10:48 PM EST

As a newcomer to the Evil Dead this movie would be fine, it's dark, violent, even has some decent make you jump moments. But, if you're a hardcore fan of the original trilogy like this reviewer is, I'm calling it a rental, wait and save the nine bucks. The only real humor in it is catching the little Easter egg visual and dialogue references to the original scattered throughout. Otherwise it's just Saw level violence and gore, and the main character Mia played wonderfully by Jane Levy (Suburgatory, Shameless), that replaces Bruce Campbell's Ash, is more Reagan from The Exorcist than the taunting, demented, and funny Deadite she should have been once possessed (they even cut the bit from the trailers where she pokes her head up from under the door and sings "we're going to get you" like in the original).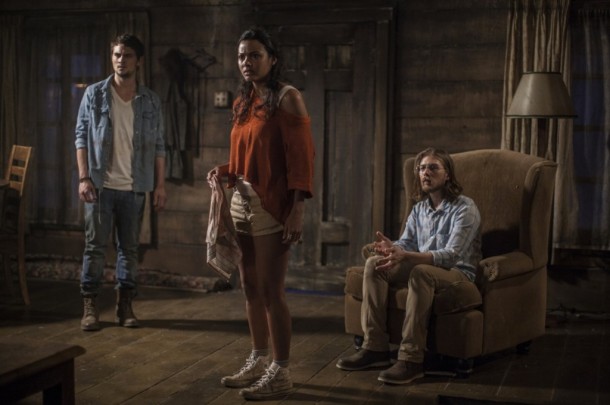 L-R: Fernandez as David, Lucas as Olivia, and Pucci as Eric - Courtesy Ghost House Pictures/FilmDistrict/TriStar Pictures
Two of the other four characters are hollow carbon copies of the cast from the original Evil Dead, even down to the male characters' clothing copying Bruce Campbell's duds from '79. Jessica Lucas as Olivia could have been a solid exception to this, but in the end the character of Olivia didn't break away from the shallow mold every character but Mia came from; and even she was sketchy at points regardless of Levy's ability to steal the show or at least the scene. The male character David played by Shiloh Fernandez, brother to Jane Levy's Mia, also has depth most of the other characters lack in the scripting, but it only shines near the end of the film. Which is sad since when each player is introduced the viewer is led to believe that Fernandez is the replacement for Ash; leaving viewers missing Bruce Campbell.
Shiloh Fernandez as David - Courtesy Ghost House Pictures/FilmDistrict/TriStar Pictures
The atmosphere and effects are perfect for the most part, blood still looks fake (at first anyway) but I'm not going to complain there since it wasn't CGI. At points the cinematography is too dark, so much so that you can't enjoy the gory make up and visual effects, though to be fair this could have been the theater I saw it in and their projectors, I thought the same thing about The Amazing Spider-Man last year after viewing in the same theater but was proven wrong upon seeing it on DVD. Cons of the script outweigh the pros for me personally, but much of that is in characterization and to be frank it feels like that is coming from a one-two punch of direction and the screenwriters. The screenplay was written by director Fede Alvarez, Rodo Sayagues, and an uncredited Diablo Cody; not being familiar with the others (this is Alvarez's first film) I'm not going to bash Diablo Cody excessively, but her writing is very hit or miss with me. Juno was great, but her last foray into horror, Jennifer's Body, is best forgotten as anything more than a last resort when there are no other horror movies to be found or a guilty pleasure for the fan service of the many nearly naked scenes of Megan Fox and her make out scene with Amanda Seyfried.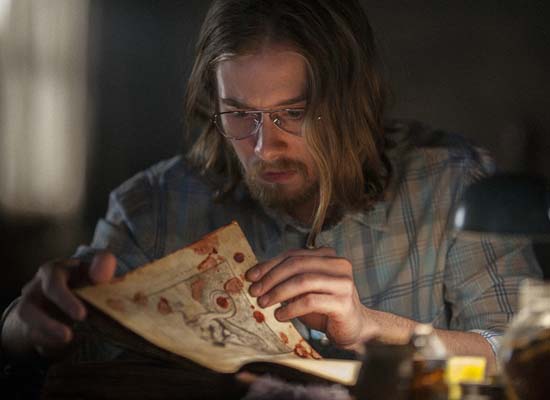 Lou Taylor Pucci as Eric deciphering the Necronomicon - Courtesy Ghost House Pictures/FilmDistrict/TriStar Pictures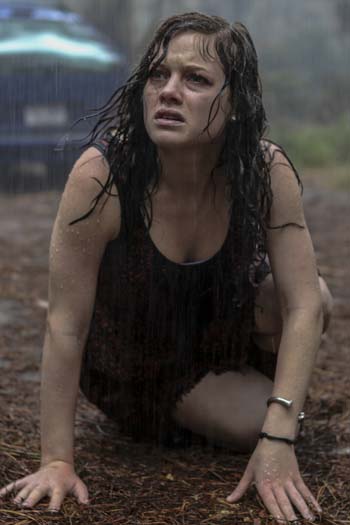 As a horror movie in and of itself, it scores high and is quality pretty far above the crop of demon possession flicks that have been dropping in waves since the sub-genre of horror came back into the forefront since The Exorcism of Emily Rose about ten years back. Psychological aspects of the horror genre are filtered into the remake much better than I've seen outside of Japanese horror films (not the American remakes) for a while. By no means to the level of Hitchcock or even old school Wes Craven, but the effort is duly noted and appreciated.
That said, without major spoilers, the last fifteen to twenty minutes focus on Mia and Jane Levy's performance at that point is the major redeeming factor for the movie both in terms of Evil Dead being a horror movie and a remake of a cult classic. The final sequence truly makes sitting through it worth the time, if like myself you find yourself thinking more about the original during the second act of the film. Plus the piece of fan service that begins during the credits and is capped off afterward, right before the fade out, helps make up for everything before the last act.
Not quite Mia - Courtesy Ghost House Pictures/FilmDistrict/TriStar Pictures
Now that the bulk of the cons and almost pros are out of the way concerning Evil Dead... it is a worthy successor to the name Evil Dead, yes much of this comes from Jane Levy's performance in the final act, showing that she is a worthy successor to Campbell (this may be colored by this reviewer's high school crush, but here's hoping Mia is back in the sequel). I digress, speaking about why it's a worthy successor without major spoilers is difficult since the main reason why blows the whole ending; which diverges pretty drastically from the end of the original in a pretty damn cool way. But I'll give it a try. Nitpicking reviews aside, is it perfect? No way, but it's solid in more ways than most horror films of the last 10-12 years. There is CGI, but not as much one would expect in a genre of film that has beset in the worst possible ways with CG imaging in place of make up F/X when make up just looks better most of the time (case in point, compare Robert Englund as Freddy Kruger done up in make up and prosthetic in 1984 versus Jackie Earle Haley mostly overlayed with a CG face in 2010).
THE HORROR! - Courtesy Ghost House Pictures/FilmDistrict/TriStar Pictures
Character development is weak, except in the main character Mia... this is true, but if you think about it there was zip on this front for anyone but Ash in the original; this is even true in Evil Dead 2: Dead by Dawn. The movie, I saw this line on IMBD from an unhappy movie goer while double checking cast and crew credits, is "CGI torture porn"... that would be a no. The scene in reference could be viewed as offensive but no more than tree rape scene in the original, hell that's even shown in the trailer in almost the same level of graphicness as in the uncut film. As a counterpoint, that's part of the mythology behind demonic possession, the body being sullied and made "unclean". Granted, from a mythologist's point of view, this is largely a point of Judeo-Christian myth and demonology as being raped or sexually molested isn't a part of all mythologies that contain what would be considered demonic entities by modern sensibilities. It is mythology nonetheless, even though I'm personally not a fan of rape being shown and never being glorified, it is in fact communicated quite well how horrible a personal invasion it is to a person.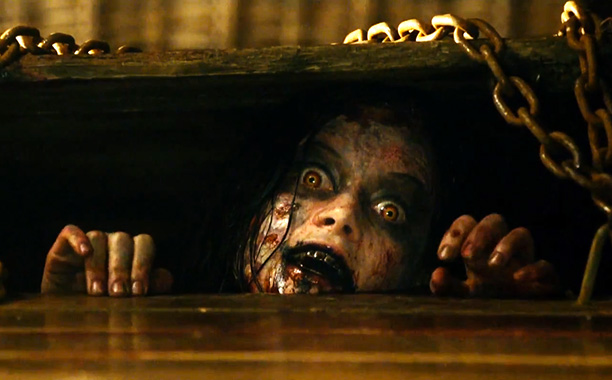 Deadite Mia - Courtesy Ghost House Pictures/FilmDistrict/TriStar Pictures
In the end, it's a damn good effort that falls a little short of its aim, but sets up what could be a bad ass sequel in the same way the original Evil Dead trilogy had a better second outing in Evil Dead 2: Dead by Dawn and pulled off a hat trick in Army of Darkness. When all is said and done, the new Evil Dead gets a groovy 3.5 out of 5 boomsticks as the heir apparent to the Evil Dead name, and a solid 4 out of 5 boomsticks as a horror movie in and of itself, and Jane Levy gets hailed to as the new queen with a 5 out of 5 for her performance as Mia.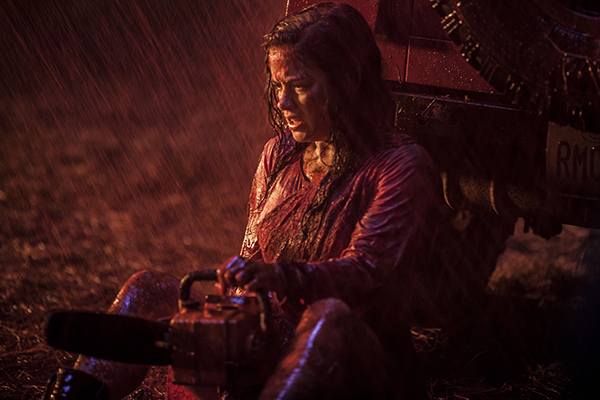 A familiar looking chainsaw... - Courtesy Ghost House Pictures/FilmDistrict/TriStar Pictures
Evil Dead Cast:
Jane Levy as Mia
Shiloh Fernandez as David
Lou Taylor Pucci as Eric
Jessica Lucas as Olivia
Elizabeth Blackmore as Natalie
Directed by Fede Alvarez
Produced by Sam Raimi, Bruce Campbell, and Robert G. Tapert
Screenplay by Fede Alvarez, Rodo Sayague, and Diablo Cody (uncredited)
Studios: Ghost House Pictures, FilmDistrict, and TriStar Pictures