Elfquest: The Final Quest #4


Fantasy/Action/Adventure


Dark Horse Comics
Posted 7/25/14 - 11:45 PM ET

Story: Wendy and Richard Pini
Letters: Nate Piekos of Blambot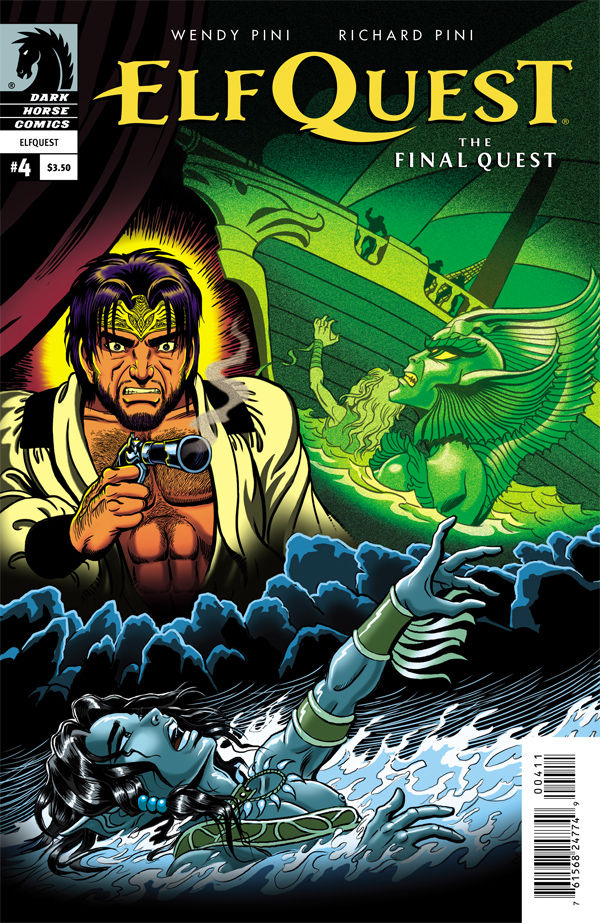 Dark Horse Comics' Official Solicitation: "Years ago, the human tyrant Grohmul Djun made an unholy alliance with the mad half-elf, half-troll tinkerer called Two-Edge. Now, the Djun's ambitious heir, Angrif, holds the key to a power never before seen on the World of Two Moons—a power that Chieftess Ember of the Wolfriders fears might destroy her world forever."
What can be said about any Elfquest issue that isn't gushing praise? The Pinis deliver another gorgeous and well written piece of the Elfquest tapestry, the writing and artwork are superb as always, Sonny Strait's lush colors keep making this series that much better. Elfquest always garners my highest recommendation, but again, this is not a jumping on point in the Elfquest mythos, if you're new to Elfquest make sure you check your local comic shop's back issues and grab issues one through three along with this issue before jumping in. This issue continues the obstacles Ember's tribe of Wolfriders and pursuit by the legions under the command of human tyrant Angrif Djun. Happenings at the Palace of the High Ones is also central to this chapter of the Elfquest saga, more non-spoilers about the events at the Palace shortly.
Pacing is breakneck if you've been following Final Quest, but slow and daunting if you are new to the series and greater Elfquest world. Confusing too if you don't know what's going on and at least some backstory for the Wolfriders and other elven clans, humans of this world too. Warnings for the noobs out of the way, Final Quest is upping the ante again with this issue and a few interesting, and for long time fans "squee" inducing, developments that will reverberate through future chapters for a long time, no spoilers but especially the cliffhanger last page. This reviewer loves how Wendy and Richard Pini keep the life of the Elfquest world moving and continually evolving, their mythology is living and breathing in ways that other multiple decade series should envy and strive to match. The cover hints at some of what passes in Elfquest: The Final Quest #4, but the depth of those images can only be appreciated by reading the issue.
Once more, if you're into fantasy action in the arena of Lord of The Rings than give Elfquest a shot, just be prepared to invest yourself, time and emotions, in ways similar to Tolkien. And on some levels surpassing his works for emotional attachment and sharing in the joy and pain of these characters, even with the number of cast members contained within the history of Elfquest; I dare you to not get deeply attached to at least a handful of characters.
Elfquest: The Final Quest #4 gets a