Elfquest: Final Quest #1
Fantasy/Action/Adventure
Dark Horse Comics
Posted 1/29/14 1:49 AM ET
Script: Wendy & Richard Pini
Letters: Nate Piekos of Blambot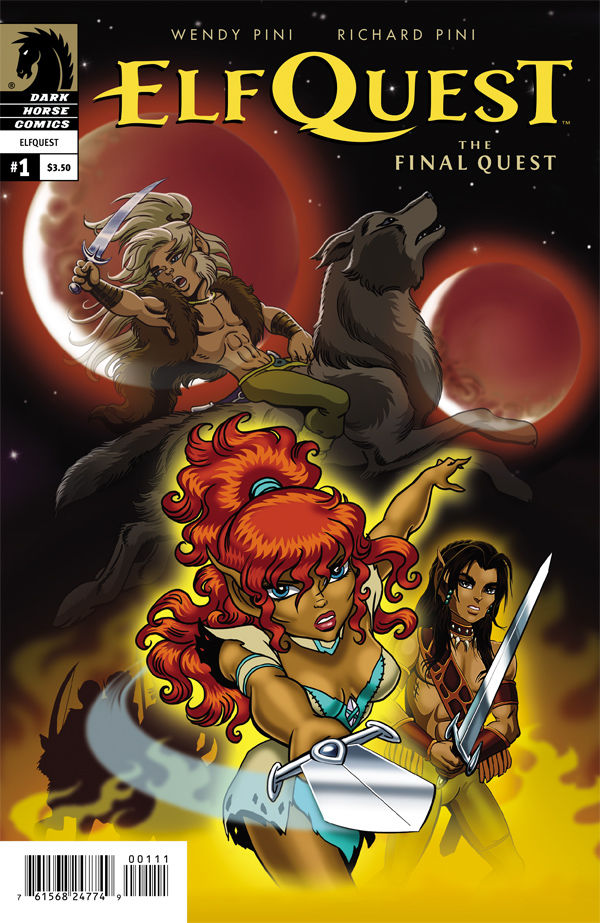 Official Dark Horse Comics Solicitation: "The Wolfriders' chief, Cutter, knows that change is coming. His tribe's proximity to the Palace of the High Ones, a mysterious and magical oasis, makes this inevitable. As Cutter's daughter Ember, chief of her own tribe, shares her father's efforts to preserve the old ways amongst their kin, the human tyrant, Angrif Djun, ascends the mountain her clan call home and rocks the foundation of their peaceful existence."
Elfquest, created and exclusively written by the Wendy and Richard Pini, has an incredible history (both in story and publication) that so many are unaware of. This is a shame that needs to end, Elfquest has left an indelible mark on so many that have read it; take it from this reviewer and let the creations of the Pinis touch your spirit too! Final Quest is upholding that history well, the story is instantly engaging whether you're up to date on the recent events of the Elfquest world or not, as this reviewer sadly is not; I missed the last few series and one shots, though I love this series dearly (I even still have the first, and to my knowledge only, set of Elfquest action figures from a little more than a decade ago! Cutter is still the Elf!). Wendy and Richard's script is tight yet epic, and dialogue is touching and real as always. Combined with Wendy's legendary artwork, I can tell this is going to be a great series that I will be keeping a close eye outside of reviews; it is definitely getting added to my personal pull list at the local comic shop!
Teamed with Wendy's always beautiful art this time is voice actor and cartoonist Sonny Strait's colors! This is exciting on many levels, not only is Sonny a former student of Wendy Pini, he is also an accomplished cartoonist and illustrator in his own right; see We Shadows (www.weshadows.com) as soon as you finish reading this review and pick up Elfquest: Final Quest #1. I digress, Sonny is perhaps better known as the voice actor for the English dub of Dragonball Z as Krillin and the FUNimation English of One Piece as Usopp, but I urge you to look into Sonny's comic book work. His colors are vibrant and lush or dark and moody, fitting each scene to perfection and matching Wendy's linework and inks in absolute symmetry.
Gushing over writers and artists I respect out of the way, pick up Elfquest: Final Quest #1 for an excellent piece of fantasy work that goes so much deeper than the shallow surface of many fantasy titles over the last decade that are looking to be the new The Hobbit or a rip on Game of Thrones. Bring Elfquest into the limelight it deserves while further building its status as a long running cult favorite. Take a run with the Wolfriders and let a howl fill your lungs and escape your throat!
The story of this first issue is rich in history, but not dependent on it to be enjoyable to Elfquest virgins. Fast paced but never feeling like it passed you by in a negative sense, re-reading will be strictly for pleasure and not to figure out gaps left by the speed of the tale, and of course another look at the artwork.
Keeping this review short and sweet to avoid spoilers, once more, go out and buy this book; you'll thank me for the endorsement by the third page if not sooner. On a final note, this reviewer is happy to see Elfquest at Dark Horse Comics, hopefully for the long haul, the publisher is one of the best places for creator-owned series.
Elfquest: Final Quest #1 gets a howling 5 out of 5!