Marvel Comics' Official Solicitation: "GWEN STACY: SPIDER-WOMAN!
In one universe, it wasn't Peter Parker bitten by the radioactive Spider, but Gwen Stacy!
·She's smart, charming and can lift a car-- Just don't tell her Police Chief father!
How is she involved in Spider-Verse? Seeds of AMAZING SPIDER-MAN #9 are planted here!"
"Gwen Stacy: Spider-Woman"
Letterer & Production: VC's Clayton Cowles
Cover Artist: Robbi Rodriguez
Variant Cover Artists: Greg Land, Jay Leisten, & Morry Hollowell
Associate Editor: Ellie Pyle
Editor-in-Chief: Axel Alonso
Simply one of the best versions of Gwen Stacy ever! In an alternate version of the Marvel Universe, Gwen Stacy is bitten by the radioactive spider instead of Peter Parker leading to a world without a Spider-Man but one hell of a Spider-Woman. In this reviewer's opinion one of the most interesting of the new additions to the multiverse of Spiders Marvel is offering up in the Edge of Spider-Verse mini-series leading up the main Spider-Verse crossover event in November. Gwen as Spider-Woman has been the stuff of fan fiction for years, but the concept has been taken to a new level by writer Jason Latour. The thought he has put into the background of this version of Gwen and the changes from the 616 reality Gwen, are all woven together so perfectly that you have a full idea of her identity and personality from one issue that often takes years invested in a character and her/his/it's story.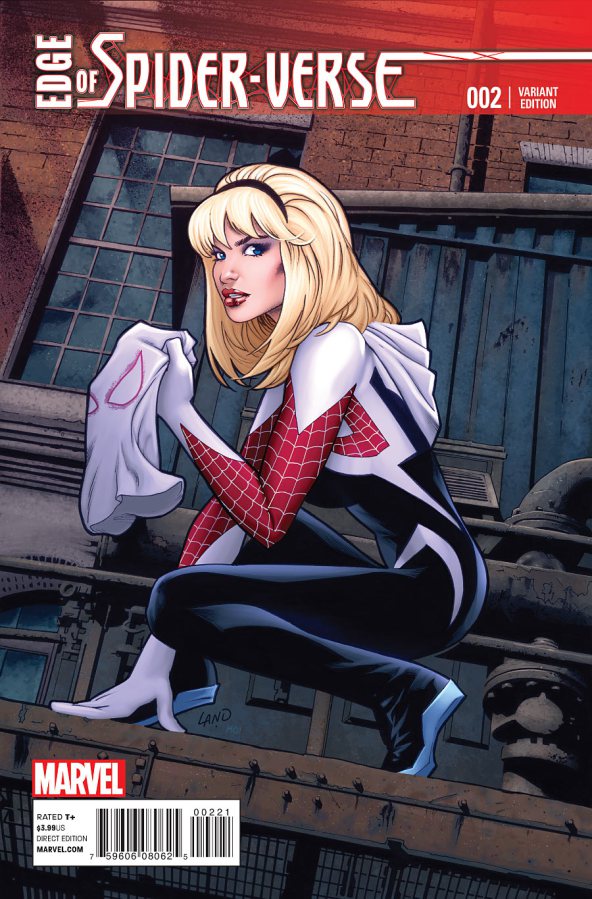 Greg Land Variant Cover - Courtesy Marvel Comics
No spoilers in this review, but the only thing I'd personally like to see in Gwen, or Spider-Gwen as she's being called and hashtagged on Twitter, is a little more of the humor and indomitable spirit that Emma Stone portray as Gwen in The Amazing Spider-Man and Amazing Spider-Man 2 films. But, given the point in life this Gwen is at when we meet her, it's understandable that wouldn't make sense to the story happening in her universe. I do hope Marvel keeps Spider-Gwen around in some fashion after the conclusion of Spider-Verse in the New Year, either a series of her own in her own reality or leave her in the 616 universe. The second option is doubtful though with the launch of 616 Spider-Woman, Jessica Drew's solo title next month and the introduction of Silk in Amazing Spider-Man a few months ago who will also be feature prominently in Spider-Woman; until Spider-Verse is concluded at least. Also the presence of the 616 Spider-Girl may mean Gwen would be one too many Spider-Women in the main Marvel Universe for the Spidey editorial department.
Robbi Rodriguez's art and Rico Renzi's colors are also pitch perfect for this issue's story and add much to the giving the reader a feel for the atmosphere of this universe/timeline. I would like to see them stick around if Spider-Gwen is given more of a presence somewhere in the Marvel Multiverse post Spider-Verse.
I can't say enough good things about this issue, granted I'm a hardcore and life long (pretty literally) fan of all things Spider-Man and Spidey related in the Marvel Universe; but things have been so good lately between what Dan Slott has been doing on Amazing Spider-Man and Peter David with Spider-Man 2099 that I want to sing as many Spider-Praises as I can. But I digress, this isn't about Pete and Miguel, this is about Gwen. All about Gwen, Emma Stone made me like Gwen Stacy when I always felt Mary Jane was the perfect woman to bear the burden of being with Peter Parker yet still having her own identity, but this Gwen made me love the character even more. Marvel, for having as many awesome female characters as they do, needs more realistic, genuinely strong willed, and intelligent women at the front and center of their line of comics (which is slowly happening with Captain Marvel, Ms. Marvel, Storm, Black Widow, She-Hulk, the new Thor etc.) and this version of Gwen should be right there too.
Edge of Spider-Verse #2: Gwen Stacy: Spider-Woman gets a solid 5 out of 5.
For more from Marvel Comics check out www.marvel.com and get out to your local comic shops! Support small business and keep local comic shops open!