Dark Ages #3


Fantasy/Action/Adventure/Science Fiction




Dark Horse Comics




Posted 10/11/14 - 11:36 PM ET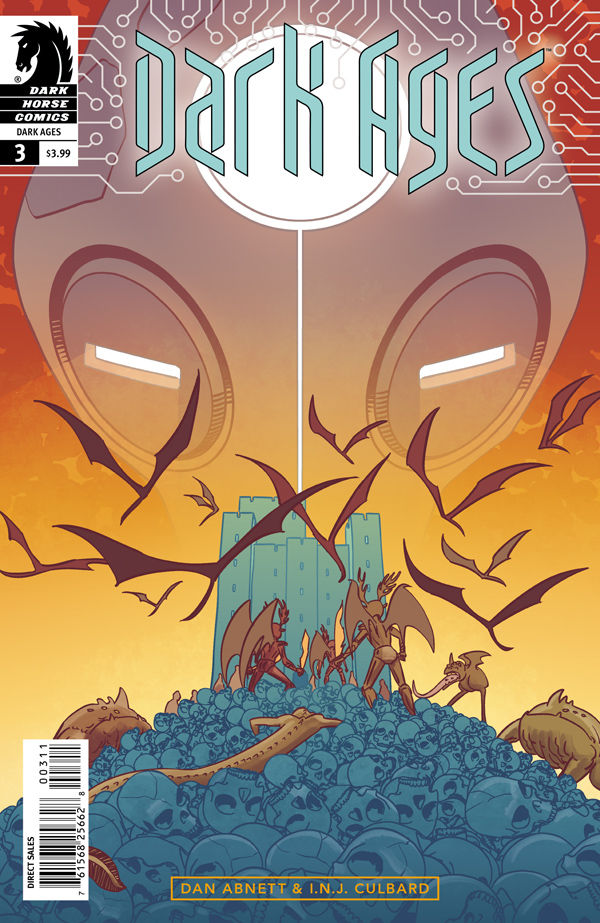 Dark Horse Comics' Official Solicitation: "Fortified in a secluded monastery, the heathen mercenaries discover a strange new ally in their war against the demons from the sky. But this new discovery reveals a conflict much older—and much more deadly—than any of them could have imagined!"
Art, Lettering, and Cover Art: I.N.J. Culbard
Assistant Editor: Ian Tucker
Dark Ages takes the knights and sorcery of medieval fantasy tales and injects some sci-fi for a decent read with literally a little something for every genre fan out there. No spoilers but it reads like King Arthur meets Army of Darkness meets Independence Day, keeping spoilers out of this review is not going to be easy; all the best bits will spoil reading the issue. Abnett is commended for not glorifying his knights and in no way making them superhuman, the cast of Dark Ages are all flawed humans that are products of the time period they are living in. As the reader, you can feel for them, even empathize with them (especially Lucifer who is the reader's window into this world), but not idolize them.
For the amount of exposition this issue gives, as it is a major reveal point in the story, and thus why there will be no spoilers in this review; it is still pretty fast paced. The narration and reveals also make the action in this one more palpable and savory, but not overdone in any aspect; even the narration doesn't feel overdone and given the gravitas of the events relayed, there are humorous points of dialogue. Albeit Gallows Humor for the most part.
Dark Ages is genre combining historical fiction done better than I've read in the graphic novel format for some time. Seamless and well written, it won't be for everyone, but this reviewer likes the gritty realness alongside sword swinging science fiction. Artwork is an intriguing blend of comic strip style line work, gritty colors, and uncensored gore of battle, a solid blending of art styles accompanying a solid blending of genres and scripting.
Dark Ages #3 gets a solid 4 out of 5.
For more on Dark Ages check out www.darkhorse.com and get out to your local comic shops! Support them before they disappear, keep comics alive and personal.