Cryptocracy #1
Sci-Fi/Action/Adventure
Dark Horse Comics
Posted 6/29/16 - 7:07 PM ET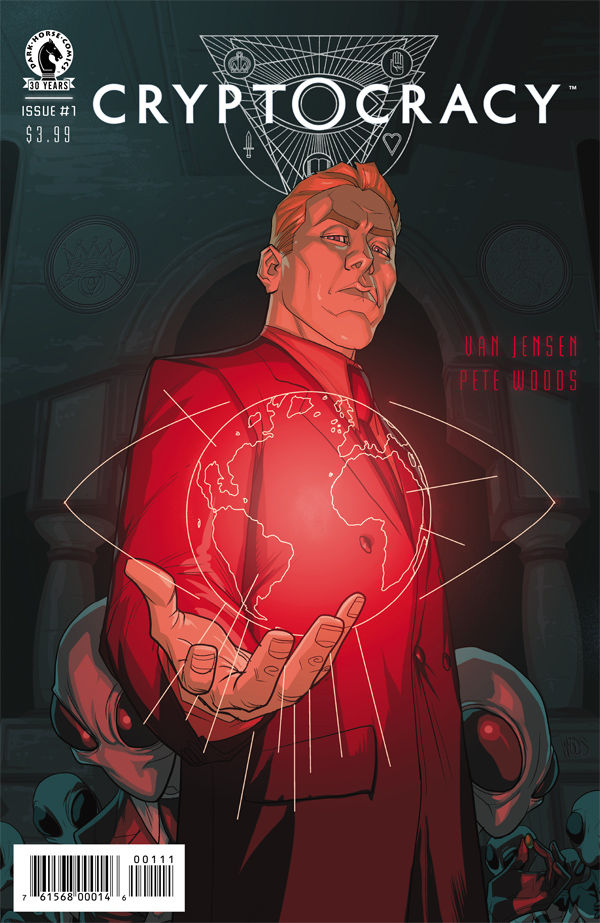 Dark Horse Comics Official Solicitation: For time beyond memory, the Nine Families watched from the shadows, believing themselves shepherds and manipulating whole societies as they saw fit. Nothing happened that they didn't observe or control. Outsiders knew naught of the Families, much less threatened them. Until now.
By Van Jensen & Pete Woods
Lettering: Nate Piekos of Blambot
Cover: Pete Woods
Publisher: Mike Richardson
Editor: Spencer Cushing
Designer: Hunter Sharp
Digital Art Technician: Melissa Martin
Release Date: June 29, 2016
Cryptocracy in one issue has become one of this reviewer's new favorite non-superhero titles on the wracks! The series takes the concepts of the Illuminati, a shadow government, mythological creatures, aliens, and a lot more, rolls them into one giant conspiracy running the world and makes each all the more interesting and fun. Obviously not for everyone, also not for the younger set (many "F-Bombs" dropped throughout the issue), but this has the makings already of one of the better titles that isn't a franchise to come out of Dark Horse in a few years. The story is just the beginning, and the driving force for me liking this series, but the art is very slick and well done as well, really digging Pete Woods' line work and colors; a little bright at points for a series that throws quite a bit of dark content at readers, but still liking pretty much everything about this book. Character driven as much as circumstance driven, the writing is top notch and and finds the perfect balance between the two narrative styles, a feat that is not often seen in the current landscape of comic writing. Everything has become so event driven that characters rarely get to drive the story, or vice versa everything is written so deeply in the character's personal development and/or personal dramas that anything outside of them feel forced or out of place; Cryptocracy takes the time to be both, as stated, and does it well with a balance I haven't seen much in what I read personally outside of Dan Slott's work on Amazing Spider-Man (yes, I know Slott gets a lot of hate, but he is one of the best Spidey writers I've read in the 26 years I've been reading Spider-Man; bear in mind I'm 30).
The first issue's pacing is also pretty damn great, it moves while creating the world it is set in, but doesn't get bogged down in hyper-focusing on any one detail. You're told enough through narrative and exposition to understand the basics of the series and want to keep reading it, but nothing is spoiled and the cliffhanger on the last page gets you counting down for issue two; which by the way I am. It also keeps things very grey with the in-story world and its characters, there's no clear answer who the good guys and the bad guys are, the series actually plays well on whether there are any good or bad guys in any world, or if it's all just a matter of perspective based on culture or social caste. Cryptocracy is definitely going on this reviewer's personal pull list at my comic shop!
Cryptocracy #1 gets a 4.5 out of 5! Go read this title if you want X-Files type supernormal, government conspiracy, shadow tech filled sci-fi adventure.
Visit DarkHorse.com for more info on Crytptocracy and their other great series. Then get out to your local comic shops and pick up issue number one of Cryptocracy, support local comic shops before they disappear.