Buffy The Vampire Slayer Season 10 #5


Horror/Action/Adventure




Dark Horse Comics




Posted 7/25/14 - 9:15 PM ET



Writers: Christos Gage, Nicholas Brendon
Letters: Richard Starkings and Comicraft's Jimmy Betancourt
Cover Artists: Steve Morris, Rebekah Issacs with Dan Jackson (Variant Cover)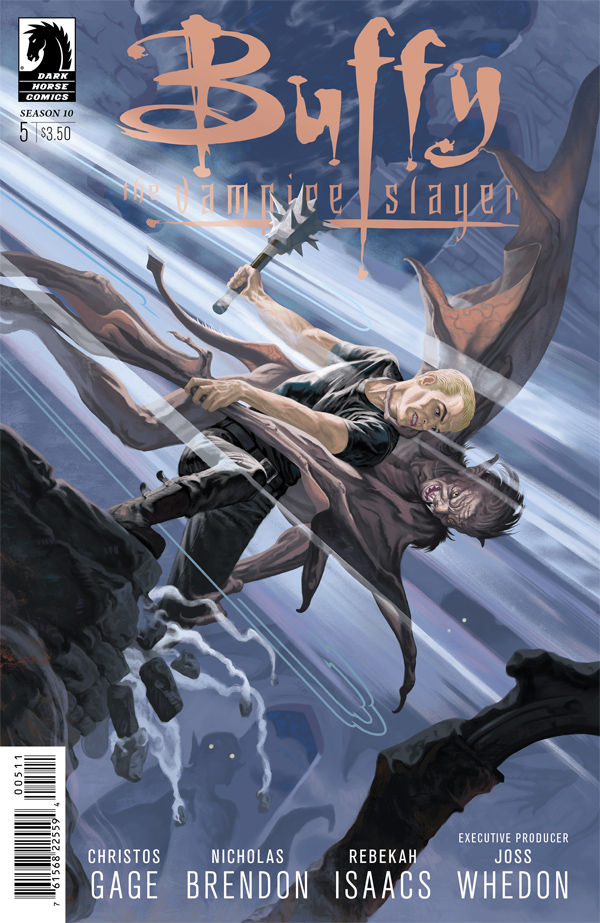 Dark Horse Comics' Official Solicitation: "When Buffy and crew try to wrest Xander from Dracula's control, they begin a battle supreme with the terrifying demon that Dracula has become . . ."
This issue of Buffy The Vampire Slayer, more than many I've read in a while, felt like the TV show was back on the air with the original cast members acting it all out. Dialogue, action, characterization... everything felt like the TV show. This is in no small part thanks to Nicholas Brendon (who played Xander Harris on the show, but if you don't know that, I'm not sure why you're reading the comic or this review) joining Christos Gage on regular writing duty for the Season 10 issues of Buffy. Brendon joining the regular creative team is exciting on many levels, his intimate knowledge of the characters and world of Buffy being no small part; only Joss Whedon or Sarah Michelle Gellar would be on par in the excitement department... who wants to get a petition going for Gellar to write an arc?
90's and early 2000's nostalgia out of the way, Buffy The Vampire Slayer and Angel were big parts of this writer's nerdy teenage life, the writing in the dialogue end of things is snappy, full of quips, and truly does sound like it popped out of the show. Two word balloons in and the voice of every actor came rushing into my brain. Dark Horse is hardcore about spoilers in the Buffyverse, so story details are tough to write around when reviewing issues, but this one caps off the beginning of Season 10 well; more or less easy to catch up on if you haven't been reading Buffy, and for fans from the beginning like myself it is so good to have one character in particular back in the fold. Granted, fans have a love/hate relationship with this character, which is understandable; the comic has developed and utilized her better than she has been since the final season of the TV show.
Rebekah Issacs Variant Cover - Courtesy Dark Horse Comics
Issacs' art is, as always, excellent and conveys the fight scenes well with movements that look natural for bladed weapons and pointy sticks. Her monsters vicious looking, her vampires face can look a little closer to Max Von Schreck's Count Orlock than the make up design from the series, but it works; especially considering previous story lines with the zompires while magick was erased from the world of Buffy. Colors are bright as the Cali sunshine, Dan Jackson does bright without being cartoony very well, his colors are consistent even in night scenes; though not so bright that night scenes are ruined by giving a crappy night filter effect to the scenes.
Buffy Season 10 #5 gets a 5 out of 5.
For more info on the Buffyverse titles and more from Dark Horse check out www.darkhorse.com and get out to your local comic shops!