B.P.R.D. Hell on Earth #128
Horror/Action/Adventure
Dark Horse Comics
Posted 2/18/15 - 10:07 AM ET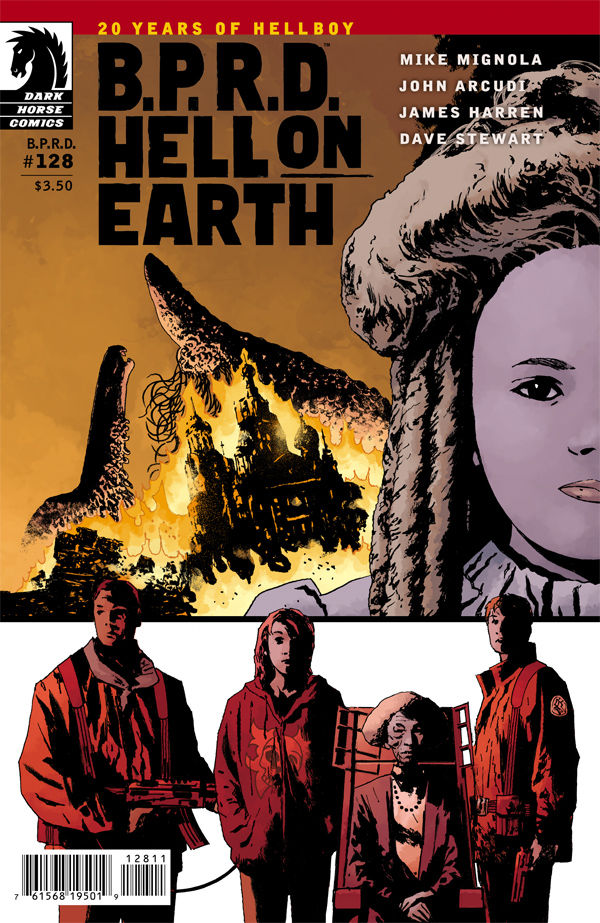 Dark Horse Comics' Official Solicitation: "The BPRD's attempts to kill the monster terrorizing a snowy mountainside have failed. While the team tries desperately to escape, one man stands against the monster . . . the mysterious Agent Howards. Will this warrior from the past be able to kill the beast or be crushed in its path?"
Writers:

Mike Mignola & John Arcudi

Artist: James Harren
Colorist: Dave Stewart
Letters: Clem Robins
Cover Artist: Laurence Campbell
Designer: Amy Arendts
Assistant Editor: Shantel LaRocque
Editor: Scott Allie
Publisher: Mike Richardson
The B.P.R.D. are still in Russia, the team split up and still fighting the hell unleashed on the Earth by the Black Flame months ago. The issue runs by at the same speed all B.P.R.D. issues have had for past year or so, Mignola and Arcudi are continually delivering with the B.P.R.D. series. Even with the breakneck speed each issue feels like it runs at, this storyline has been running for well over a year, real time not comic time, but it is still engrossing as the Bureau continues to face staggering odds and still without the aid of the still dead Hellboy or the AWOL Abe Sapien (having his own adventures traveling the damned planet in his solo title). James Harren's art and Dave Stewart's colors combine beautifully, and always presents the perfect atmosphere for each panel and scene, working in unison with Mignola's story better than any but Mignola's own.
B.P.R.D. reminds why the Hellboyverse is one of my favorite comic universes every time I read an issue. Continually one of the best horror/paranormal action series in publication today, and much as I miss Hellboy being in the land of the living, B.P.R.D. as a series does not suffer for the character's absence. And I can't wait to see what happens after the cliffhanger on the final page in the next issue...
For more B.P.R.D. Hell on Earth and the rest of the 20 Years of Hellboy celebration visit www.darkhorse.com. And of course be sure to visit and patronize your local comic and hobby shops.