B.P.R.D. Hell on Earth #121
Horror/Action Adventure
Dark Horse Comics
Posted 7/18/14 - 5:24 PM ET
"The Devil's Wings" Part 2 of 2
Writers: Mike Mignola, John Arcudi
Artist: Laurence Campbell
Cover Artist: Laurence Campbell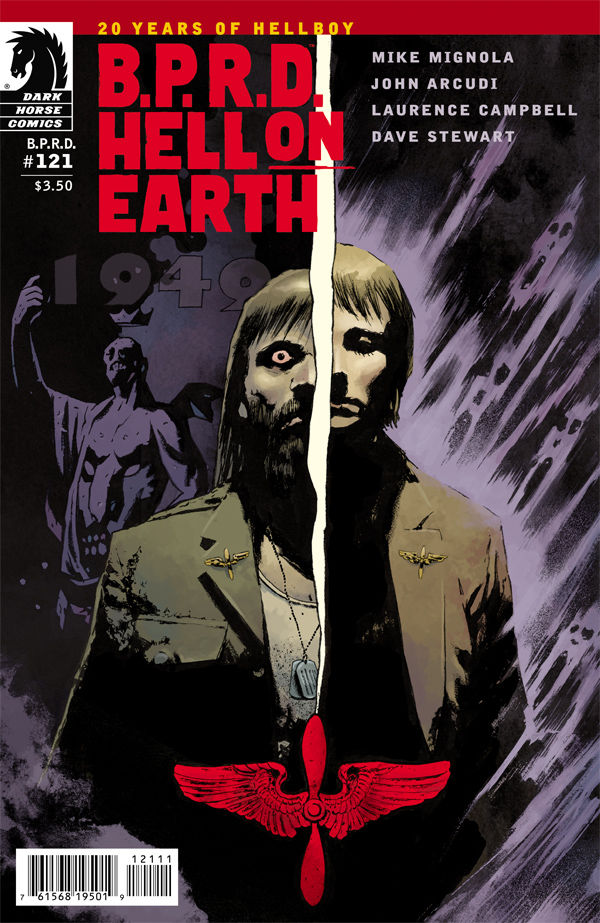 Dark Horse Comics' Official Solicitation: "After a massive blackout shuts down B.P.R.D. headquarters, our heroes are faced with having to exorcise Kate Corrigan and the dead vet who's with her."
Finishing off the two parter started last issue, the B.P.R.D. crew find themselves up against an unknown enemy within one of their own. This issue is a nice spin on the usual possession story, centered on another source than demonic possession; which is refreshing on the current deluge of demon/Satanic centered possession movies. Granted comics are freer of the over saturation that Hollywood has been putting out for the past ten years, but nonetheless it is cool to see another avenue be a plot driver for a possession centered horror story. No spoilers or I'd reveal what that avenue is, trust me though, if you know mythology and/or "dark" magicks than this B.P.R.D. issue will be a treat for your darkness loving heart!
Story is solid as ever, this is to be expected from the teaming of Mike Mignola and John Arcudi. Mignola being the creator of the Hellboy universe and John Arcudi has been working in it with Mignola for about ten years now. Artwork is dark and shadowy but bright when it needs to be, another staple of atmosphere and artwork joining pitch perfectly with Stewart on colors; he has a knack for bringing linework the feeling it should have to reflect every story. Speaking of linework, Laurence Campbell does macabre beautifully, and character profiles are well done too. Liz Sherman's face is beautiful and still young, but has a lifetime of responsibility and guilt weighing her down. Kate Corrigan's face is drawn as though she is rapidly aging under the strain of leading the B.P.R.D. with Abe Sapien AWOL and Johann Krauss away as well, though retaining a glimmer of hope and wistful missing of Hellboy.
Speaking of Hellboy, who is still dead and in hell after the events of the last mini-series to focus on him, there is a flashback that in this issue that is used as the key to the story's events, but also features a young Hellboy on one of his first cases that adds a nice little bit to flesh out his adolescence a bit more and could have been a full issue unto itself.
B.P.R.D. Hell on Earth #121 gets a 3.5 out of 5. Definitely a filler arc in the grander scheme of what is going across the Hellboy universe right now, but a very well done filler.
For more on B.P.R.D. Hell on Earth and its related titles during the 20 Years of Hellboy anniversary celebration check www.darkhorse.com and get out to your local comic shops!