B.P.R.D. Hell on Earth #115
Horror/Action/Adventure
Dark Horse Comics
Posted 1/16/14 8:27 AM ET
"The Reign of The Black Flame" Part 1 of 5
Story: Mike Mignola & John Arcudi
Cover: Rafael Albuquerque
Variant Cover: Mike Mignola & Dave Stewart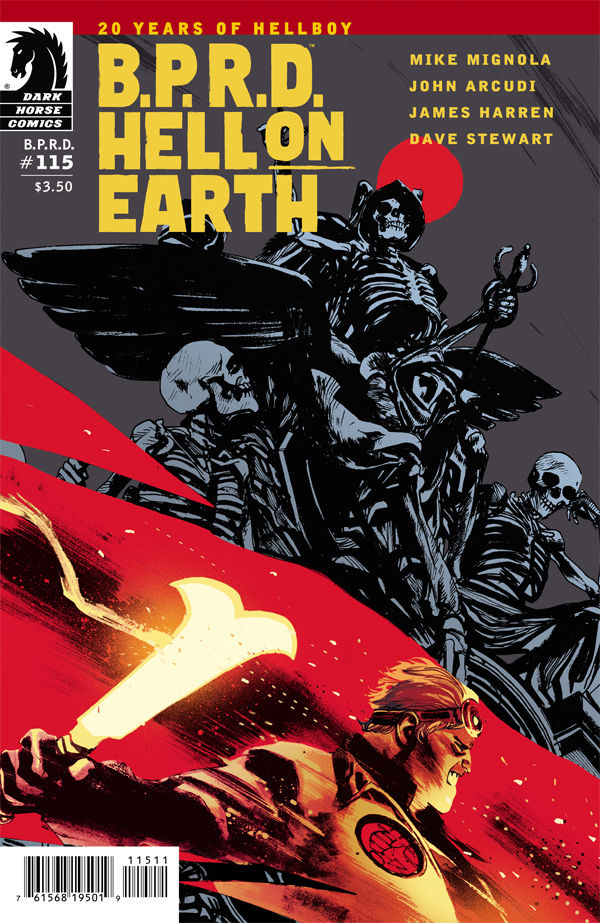 Official Dark Horse Comics Solicitation: "Two B.P.R.D. teams make their way through the monster-filled streets of a Manhattan wasteland in order to reach the Black Flame's fortress and take down his army."
The Hell on Earth storyline continues in a new five part story arc with "The Reign of The Black Flame". For those behind, the apocalypse set in motion by Rasputin bringing Hellboy to earth in the last days of World War II has more or less come to the planet through the Plague of Frogs that began not long as Hellboy departed the B.P.R.D. in 2004 and began his otherworldly journeys, along with the machinations of the Black Flame. Backstory out of the way, this pretty vintage B.P.R.D. Action here as the beaten and battered team has joined with Russian Special Sciences (the Russian equivalent of the Bureau) to further combat the countless monsters that still remain over around the world after Liz Sherman set the world on fire to destroy them. The team has seen better days even though Liz has rejoined them after going into hiding for a while. Mignola and Arcudi still have the same great partnership and flow when writing the B.P.R.D.'s exploits that they did ten years ago when I first picked a copy of their work on B.P.R.D. together. There aren't many clues in the first issue of this arc about where it's going from there as the team is still in the dark about the resurrection of the Black Flame, they still believe are on "clean up" duty finding and destroying new threats while attempting to help survivors when they can. Dialogue is still very real despite the surreal situations the writers are putting the characters through, which has always been a staple of the Hellboy universe and makes it so readable and enjoyable whether one is a horror and mythology buff or not. But if you're either or both, the stories will always be all the sweeter while reading.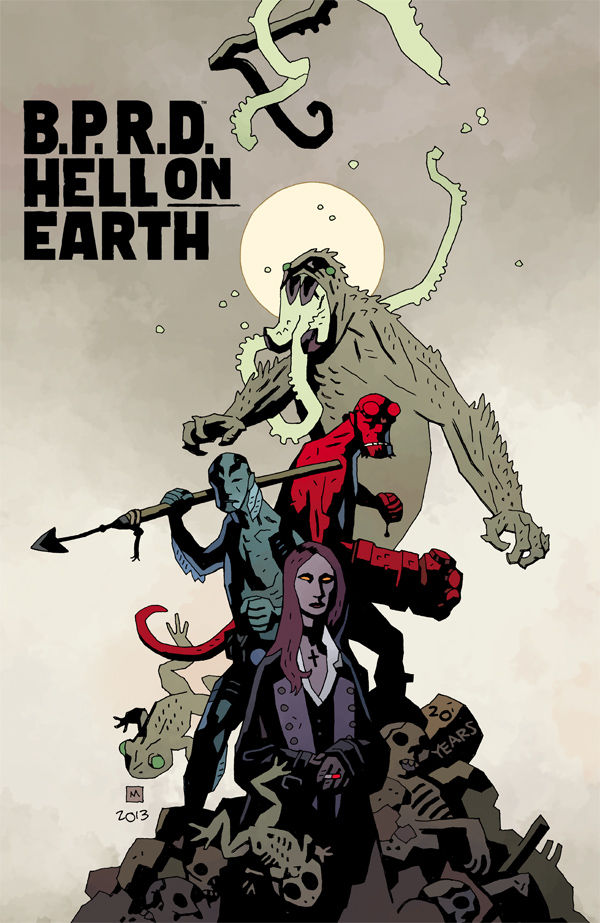 Mike Mignola and Dave Stewart 20 Years of Hellboy variant cover
Harren's art and Stewart's coloring compliment each other, Harren's pencils do go back and forth from realism to an almost manga-like style depending on facial expressions but not in anyway that harms one's reading experience. Stewart's coloring is a little brighter than I'm used to seeing from him, but I like it and it fits considering the state of New York City at the point in the overall storyline that the B.P.R.D. and Special Sciences team comes to the Big Apple to investigate what it is like now that the world as we know it is mostly destroyed and filled with demons and creatures from hellish dimensions.
It's a decent jumping on point, considering it's a the beginning of a new arc, but for readers like myself that haven't been keeping up with B.P.R.D. Steadfastly over the last year, I suggest picking up a few back issues and trades to catch up. The Hell on Earth saga has a lot of ground within it now and seen the team go through the wringer in many hard ways that even longtime fans have not expected, so do yourself a favor and pick this up along with some older issues at your local comic shop if you've been away from the Hellboy universe, and the B.P.R.D. in particular, for a little while.
B.P.R.D. Hell on Earth #115 gets a 3.5 out of 5.
For more on this title from Dark Horse Comics, as well as more info on the Hellboy universe of stories, check out www.darkhorse.com.