Articles in chronological order of publishing top to bottom
NEPA Original Music's Original Night Returns
By Michael Meade
January 26th saw the return of NEPA Original Music's Original Night to Lippy's Extreme Sports Bar, located in Jay Park Marshall's Creek Pennsylvania, the night lineup of Solace, Bereavement, Atomic Warbride, and Drowning Sun drew a packed house.
NEPA Original Music began organizing Original Night in July of 2007 with the first show set for August 3rd.
Original Night has been host to What It's Like To Kill A Man, Zen Piracy, Dave Jones (former drummer of Agnostic Front), Copper Penny, Demon Dog Sperm, Ovlo, and Methodical just to name a few.
Here's a look at the bands from the 26th >
Video courtesy of NEPA Original Music
Solace hails from East Stroudsburg Pennsylvania with Victor Solis - lead vocals and guitar, Chris Penyak - bass and vocals, Chris "Frank" Caputo - lead guitar, and Dan Bogdon - percussion.
Bereavement comes out of Bethlehem Pennsylvania, Jonathan Martnick takes bass and vocal duty, Jeremiah Martnick on lead and rythym guitar, Daniel Martnick on drums, and Ryan Buechle on guitar.
Atomic Warbride also from East Stroudsburg has Bill Snyder on vocals, Durand Garlette taking guitar and backup vocals, Jd Groller on bass, and Dan Scotchlas on drums.
Drowning Sun out of Mount Bethel Pennsylvania has Scott Morgan on guitar and vocals, Ryan K. on bass, Brad Borger on drums, and Bryan K. on guitar.
NEPA Original Music has dates set for Original Night at Lippy's booked from February through September, over the next months look for Terminal Inertia, Rid of Waste, Black Orkid, Hollis, chemical dependents, Dealer in Wares, Stasis, Crushpile, and many more to rock at Original Night.

As I overheard one person say this last Original Night "shit yeah I'm coming back next time, this was fucking awesome!"
I completely agree with that sentiment, see you out at Original Night.
UPCOMING ORIGINAL NIGHT SHOWS:
Feb. 16th 10pm - Terminal Inertia, Dave Jones, Vivid Twisted, and Act of Brutality
Mar. 15th 10pm - Rid of Waste, Demon Dog Sperm, Copper Penny, and Black Orkid
Mar. 28th 10pm - Hollis, The Fire and Reason, + 1 slot still available
Apr. 11th 10pm - Fighting Zero, chemical dependents,the holy mess, and the big nothing
Apr. 26th 10pm - Dealer in Wares, Throdl, Stasis, and Crushpile
All these great bands for the always low cover of $3, give me a reason to miss these Original Nights...
Can't think of one can you?
If you're a band interested in playing an Original Night at Lippy's go check out NEPA Original Music's myspace page: www.myspace.com/nepaoriginalmusic check their calendar for available slots and shoot them an e-mail.
It's worth the effort of typing out a message...
Ye Olde Saylor's Inn's Rockin' Reopening
By Michael Meade
Photographs by Michael Meade & Carl Pellington

Stasis, Vose, and Geronimo played the Ye Olde Saylors Inn Grand Reopening weekend long celebration Saturday February 2nd 2008. The three NEPA based bands each played 45 minute sets, set lists were comprised of a mix of originals and covers, it would have been nice to hear more of each band's original material but nonetheless the evening was a success of sorts for the venue and the bands.
The music began at 10pm with Vose starting the night off, unfortunately for the three piece outfit there wasn't much of a crowd until 10:30. Stasis had the peek hour at 11pm, people had filtered in rather nicely through the chang over time between Vose and Stasis; this of course not counting Stasis's regular loyal followers.
Geronimo capped off the night at 12am, they had few people stay for their set, as with Vose, it wasn't their fault; they gave a solid performance but the venue cleared out again after Stasis. This writer gets the feeling that Ye Olde Saylors Inn is categorized as a "starter bar".
Still in all, the night was good, each of the three bands gave better than they got, and we were all entertained by an interesting individual that made his his debut while Stasis had the stage; the self titled "Stoner Guy".
For his efforts the Stasis crew signed a drum stick and presented it to Stoner Guy after their set was complete.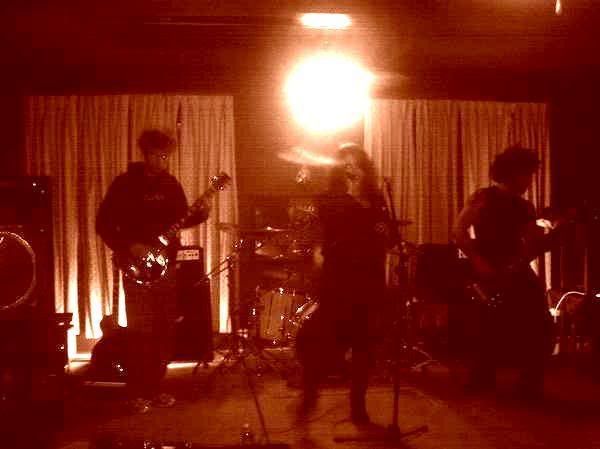 Stasis is a four piece outfit out of Bangor Pennsylvania, with Julia Glenn on vocals; "Sexy" Josh Guerrero on bass; Aaron Hallet on guitar, and Sean Montross on drums.
Check Stasis out on www.stasisrocks.net and www.myspace.com/stasisrocks
Geronimo, out of Bangor as well, is Andy - vocals and guitar, Dan - guitar, Eric - drums, and Luke - bass and vocals. Give them a listen at www.myspace.com/geronimomusic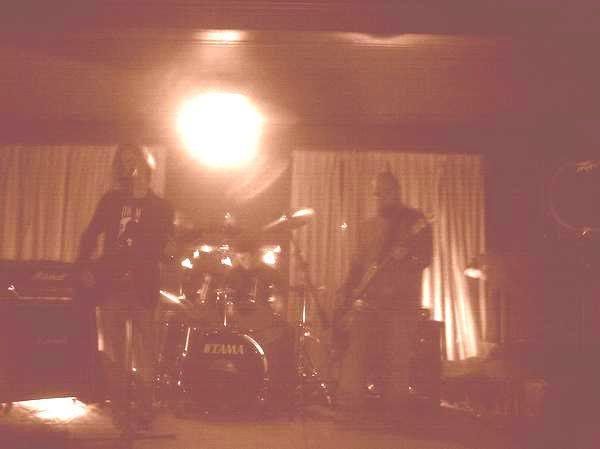 Vose from the Lehigh Valley area of Pennsylvania is Rob Havey on guitar and lead vocals, Patrick Kitt on bass, and Steve Burg on drums. See them at www.myspace.com/vosemusic and e-mail them for booking info at Vosemusic@gmail.com
The Katie Pearlman Band at The Sarah Street Grill
By Michael Meade
The Katie Pearlman Band made their Pennsylvania debut all the way from Long Island February 21 at The Sarah Street Grill in Stroudsburg. Katie and husband Jeff Pearlman started the night with an acoustic set, Katie on vocals and guitar and Jeff on keys; the hopes the Tastes Like Rock! staff had for The Katie Pearlman Band's live performance after reviewing their debut album Dreaming Again, were met and exceeded!
Photograph - Michael Meade

Unfortunately the venue was a little bare except for the Sarah Street regulars, but as Katie and I were chatting during their first set break a woman came over to us and proceeded to tell Katie, "...I've got to tell you, your voice is great, your music is original, I'm really enjoying everything!"
Which coincidently synched with the discussion Katie and I had just finished about low body counts being acceptable as long as a few people genuinely like your sound.
Soon after, all four members of the band took the stage and kicked it into high gear! Katie leading on vocals and drums, Jeff back on keys, Tom Bowler on bass, and for the first time playing out with the band; Joe Cesare on guitar.
Luckily the crowd started filling at this point, and even began dancing; which I've noticed is getting harder to get people to do in this town. With the bar livening up a bit Katie and the guys played a few songs on a little longer than usual ("Jealousy" and "Whenever You Need" to name two) and threw in a couple of covers, "Only You Know and I Know" and "Beat It On Down The Line".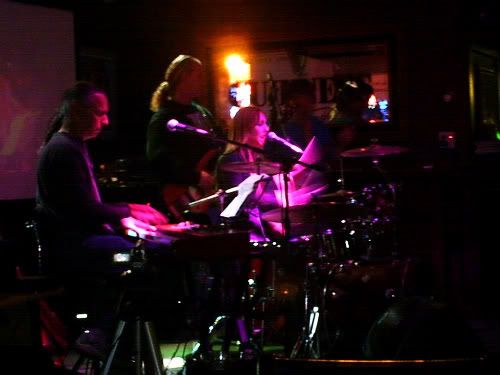 Photograph - Michael Meade

Including the acoustic set, they played a total of about three hours, every minute of it well spent! Just as tight a unit live as on Dreaming Again, by this reporter's ear not one lyric missed or mumbled and not a note out of time. Here's hoping Pennsylvania gets to see and hear more of The Katie Pearlman Band.
Check out The Katie Pealman Band live at these venues:
March 7th 8:00pm at The Spoon in in Lindenhurst, New York
March 22nd 4:00pm at a benefit concert for residents of Goldwater Hospital in New York, New York
March 28th 5:00pm at Munchaba Lounge in Levittown, New York
March 29th 8:00pm at Pisces Cafe in Babylon, New York
April 3rd 7:00pm at The Patchogue Theatre for The Performing Arts in Patchogue, New York
April 11th 9:00pm at DJ Rider's Rhythm and Brews in Oceanside, New York
April 25th at Read Street Books in Baltimore, Maryland.
Dealer in Wares Storms Borders
By Michael Meade
"The kids are alright" is an understatement when it comes to Dealer in Wares, a Blues/Rock trio out of Olyphant Pennsylvania. I was fortunate and very pleased to make their performance at Borders in Stroudsburg PA the evening of March 1st, anytime a female singer can sing an AC/DC song ("The Jack") and sound great consider me a fan!
Covers aside, Dealer in Wares is an original outfit and it's their own songs that made the night. "He's a Man", "Ira Whiskie", "Soot", "Love Me Right", "The Dealer", "Move On", "Lonely Train", "Open Road", "Pretense", and "Nothin' But A Shame" are just a few of the originals Dealer in Wares filled their hour and a half set with; I have a particular affinity for "Ira Whiskie", "The Dealer", "Lonely Train", and "Soot".

Photograph - Michael Meade

Dealer in Wares is Sarah Yzkanin on vocals, harmonica, and piano (Sarah's piano skills we didn't get to see at Borders), Tim Beckage on lead guitar, and Chris Price on drums. The band formed as a duo when Sarah and Tim met at a record store and soon after began practicing and writing together.
One of their songs, "Willow Song", came in at 14 in American Idol Underground's Top 50 rock songs for September 2007. In November '07 Sarah and Tim, looking to expand the band and their music, were joined by Chris and the sky's been the limit since!
If you can make one of these upcoming Dealer in Wares shows do it! And if you can't... do it anyway!!!
March 7th: 10PM at Aroma Cafe in Scranton PA
March 15th: 8PM at Club IBIMW in Wyoming PA
March 30th: 7PM at a Benefit Show for Fire Victims in Scranton PA
April 2nd: 6:30PM Barnes & Noble in Wilkes-Barre PA
April 4th: 7PM at the Commuter Council's Battle of The Bands at Keystone College in La Plume PA
April 26th: 10PM Original Night at Lippy's Extreme Sports Bar in Marshall's Creek PA
Head to
www.myspace.com/dealerinwares
to take a listen and check out the rest of their calendar, and sign up for their mailing list while you're at it.
If You Are In The Music Business
By Mark Mysterrio
Mark Mysterrio, World Record Holder & Magician here. Now, you might wonder what a MAGICIAN is doing giving you advise on the music business…Well, wonder away! I love people who actually THINK!!!!
As a Magician I have met and worked with some wonderful bands, duos, groups, Dee Jays, Emcees and Some very famous magicians, musicians and comedians ETC. In my fifteen plus years as a professional entertainer, that is, earning all my money through my art form, I have realized a few things about the Music Business and Show Business. I learn even more almost every day from my good friend and record producer Peter. Peter is the record producer (and husband) of MELANIE. Melanie is a true 'working legend' just Google that word MELANIE or MELANIE SAFKA if you are unsure about who she is. I will say this here and now, everyone who plays any form of Rock & Roll should know MELANIE because she has done so many things to bring R&R where it is today…for example, have you ever seen someone signal an artist to do an encore at the end of the set by waving a cigarette lighter or cell phone? I know you answered YES…Well, MELANIE started that at WOODSTOCK with a candle and the song was "Candles In The Rain" also known to many as 'Lay Down' I could go on and on about Melanie….but, for now, I'll stop there with her.
Today I want to talk about the Music Business. Every artist wants to 'get out of the basement and play man…' I hear it everyday…. 'I just want to play' I say that's great…welcome to the world of amateur music! You see, if you want to make money in this business…the music business…we need to remember that last key word: BUSINESS!!!
Don't forget it is the Music Business…let's treat it like a business. That means, stop playing for FUN or THE DOOR or THE COVER CHARGE or FREE or to get EXPOSURE…(By the way, that should be illegal in all 50 states) We will be talking more on the how's and why's….

Okay here goes…Working for FREE gets us out of the garage and gives us Exposure. FOLKS, Exposure should be illegal in all 50 states and People Die from exposure. Exposure to the water, the cold and even rock and roll.
If you are working for the big 'E' you better hope that "Tastes Like Rock!" or "Rolling Stone" is there to cover you!!! Bands that play for FREE are playing for what they are worth and everyone knows it!
Bar owners, Theatre owners and the likes now say, "Why should I hire that group, we saw them at so and so's and the played just for the exposure or the door." Bad Move!
Let me tell you, it's hard to come up from the price of FREE. Okay, so what about the door? Let's handle that one now. Okay, I own a club, let's call it the 'work for me' club. You send me a CD or drop in and I say, okay you can work here and we will split the door. You say okay. For whatever reason, you start to play at 9:00 p.m.
It's 7 p.m. and I have 75 people in my club, drinking away, eating food, having a great time. My door guy, Charlie…and he is the only door guy I ever use…he works another job…he shows up at 10:30 p.m…. late as he is ugly. Now, 75 more people got in my club, still buying drinks and still eating food and still having a great time…only now, they are listening to your first set…and NOT paying for it.,…and guess what…Neither am I…SCREW that …why should I pay you….you want the exposure…not me.
Keep on drinking and eating my food and putting money in my pocket as the band plays on…..

Well….I guess you see by now that Playing for FREE will get you tons more work…but, the thing is. Free work only gets you more free work. Imagine the smile on the face of the local bar owner when some one drinking at the bar states clear as day to him or her : "This band is awesome, where did you get them? I am having a party and I would love to have them play at my party next Saturday. How much do they charge?" It is at this time the the bar owner brags : "Pay them? Oh My God, these guys work for free!" Well now….try getting someone else to pay for the same service you are giving away!
Let me ask you something…Do you want to RENT a house or get FREE RENT? Keep in mind, both are available if you know where to look. So, Which do you want? Do you want FREE Food or do you want to pay for your food? Okay …you get the point right?
Free + Show = FREE SHOW which also means 1 Free Show = 1000 more free show offers.
Have you ever been playing your tunes and someone walks up and say: "We are having a event and you can play for us…no pay." Ah huh…there we go! I had a guy walk up to me and ask me to audition for a FREE gig after he saw my show….I told him not to hold his breath on the spot!
TRUST ME : No one wants to PAY for a service they can get FREE!
How To Make Your Band Look Like A Pack of Tools 101
Courtesy Mike P of NEPA Original Music
So last Wednesday (Oct. 1st) started off like any other Wednesday, with me sending out instructions and set orders to the bands - that kind of looks like this:

order saturday

Hole in the SKy
Shatterhook
Vivid Twisted
Quicksand Juggernaut
Skullshifter
Chorea


show starts at 9:30

All bands should be there around 8:30.


set times are 20 - 25 minutes.


There is a drum kit there (you can view it in our pics in equipment) Drummers still need cymbals, snare & stand, throne and kick pedal.


There is also a bass rig.


Having 6 bands on the bill, you will be required to use this equipment.


Business as usual right? Then the email barrage starts, and it is so amusing I had to share it with you. Both bands have been deleted from our friends list, which I now regret, because they could've seen this and possibly realized how ridiculous they look when combined.



Shatterhook sends this:

"There's no way our drummer is going to use the house kit. If we'd have known that was the case we never would've booked the show. If there's anyway to work around this please let me know, if we can't work around it we won't be able to play the show. Thanks."


Then this 8 hours later:

"Well Mike since you didn't replay to my email from last night I can only assume there's no way to work around the house kit. We're not going to play the show then. I really wish you'd have told us about having to use the house kit weeks ago we would've passed on playing the show then. Also a 20 minute set time isn't really worth us driving over two hours to play. We usually play a 30 minute set and there's no filler in it. I'm sorry it had to come to this, hopefully we can play a show at Lippys sometime in the future and use our gear and play a longer set. Thanks."


Chorea sends this

"Unfortunatly we are having problems with our truck and will not be able to make it. Sorry it crapped out this morning."


And the clincher: Shatterhook sends this after talking to them, telling them that Chorea cancelled and they could use their kit.


"Mike, I can't get ahold of everybody but I'm gonna say we're not going to play the show. The other band that dropped off was our friends in Chorea and they dropped for pretty much the same reason we did. Although you told me we could play for a half hour now and use our drum set, I don't think it'd be right to play the show after Chorea dropped off in solidarity with us. I'm sorry for the last minute bail out, but we don't compromise ourselves to play anywhere. As I said earlier if we'd have known that so many bands were playing and we'd be asked to use your equipment, we would've pulled out of the show a long time ago. Hopefully we can play another show in the future and use our equipment. Thanks and again I'm sorry it all ended up like this."


and then posts this blog.
on their page:

"Well kids we're sorry to say we aren't going to be playing this show tomorrow night. Apparently there were six bands booked for this show and for some reason no one knows how to set up and break down their equipment anymore so Lippys figured it'd be best if all the bands use the "house" drum set. Well I can't speak for the other bands on the bill, but as for Shatterhook, we wrote all our tunes on Bones' drum kit and we're not interested in rewriting our songs on the fly just to play somep