Amazing Spider-Man Special #1
Action/Adventure/Superheroes
Marvel Comics
Posted 3/11/15 - 11:45 PM EST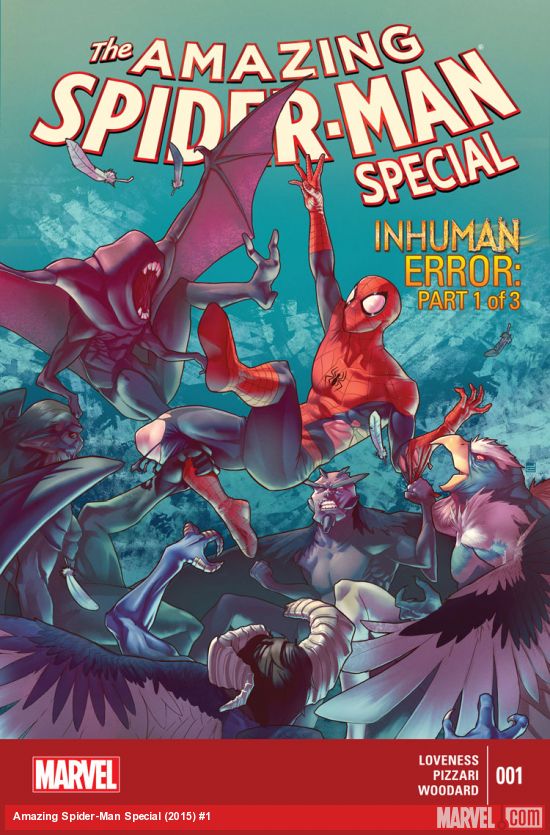 Marvel Comics' Official Solicitation: "ATTACK ON NEW ATTILAN!
• A blockbuster three-part story spanning AMAZING SPIDER-MAN, INHUMAN and ALL-NEW CAPTAIN AMERICA starts here!
• Something BIG wants to destroy New Attilan. The fact that New Attilan is in the Hudson River puts Manhattan and Spider-Man right in its crosshairs!"
"Inhuman Error" Part 1 of 3
Writer: Jeff Loveness
Pencils & Inks: Luca Pizzari
Colors: Nolan Woodard
Letterer: VC's Joe Sabino
Cover Artist: Jamal Campbell
Assistant Editor: Devin Lewis
Editor: Nick Lowe
Editor-in-Chief: Axel Alonso
Chief Creative Officer: Joe Quesada
Publisher: Dan Buckley
Executive Producer: Alan Fine
Spider-Man created by Stan Lee and Steve Ditko
Release Date: 3/11/2015
An all around great Spider-Man story, as a lifelong Spidey fan and as a reviewer, I'm looking forward to the rest of this three part epic as Spider-Man teams up with the Inhumans and later with the new Captain America, Sam Wilson (originally the Falcon for those that only listen to internet trolls and don't read the material before giving it a chance). No character does fish out of water like Spider-Man when dealing characters he has had little to no interaction with in the larger scope of the Marvel Universe. Loveness strikes a perfect note with pretty much every bit of dialogue in this first part of the "Inhuman Error" three parter, continuing in Inhuman Special #1 and finishing in All New Captain Amercia #1 released in April and May respectively, but the best comes from Spidey's inner monologues. When the monstrous bird-like, presumably Inhuman faction, attacking New Attilan runs into Spider-Man he starts cracking wise in his mind after a day of missing an opportunity to ask out a pretty young woman, and being mistaken by a small child as Blade. Best bit is as the odds stack against him, this gem rolls out, "Oh, boy... didn't think it'd end this way. Well, at least it isn't Mysterio... that'd just be embarrassing." The reason for that being hilarious to this reviewer is an inside joke that some people reading this, especially other staff, will get; and likely crack up too.
Later Spidey's best moments are awkwardly attempting to flirt with ask out Queen Medusa of the Inhumans after admitting he has a thing for redheads. Marvel fans that haven't read this issue yet, just let that one sink in and enjoy it if you're a Spider-Fan.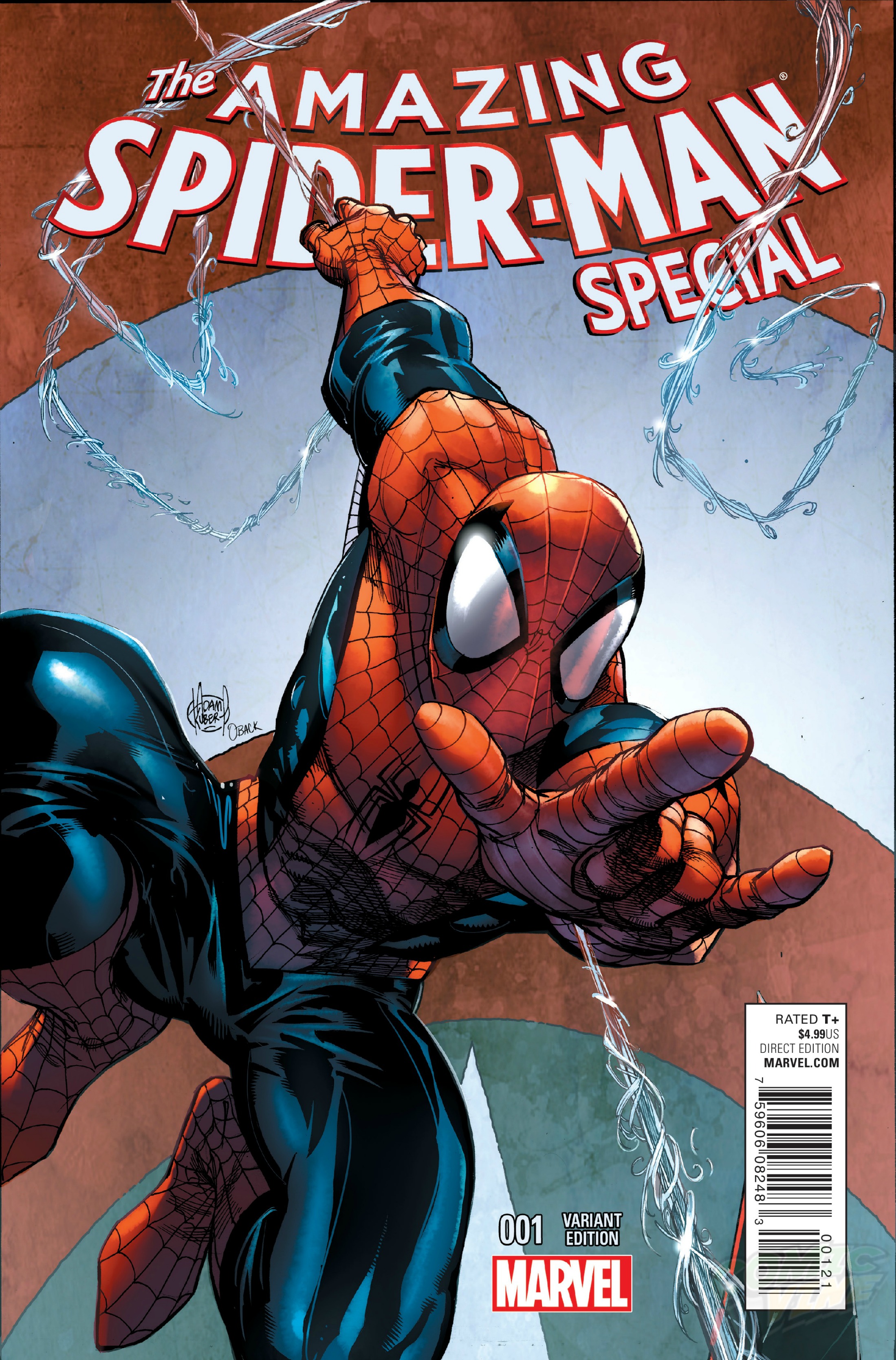 Adam Kubert Variant Cover - Courtesy Marvel Comics
Artwork and colors are awesome from start to finish, I really like Pizzari's line work and inks combined with Woodard's colors. The over sized special rushes by like a regular sized issue, in a good way, there's plenty of story here and features the return of a Golden Age character in a way no one expects. This three part crossover is a definite add for your pull list!
Amazing Spider-Man Special #1 gets a 5 out of 5, it takes Spidey out of his comfort zone by placing with characters he has little to no interaction over the decades these characters have existed, Loveness's inner monologues for Spider-Man are great, as well as Spidey's dialogues with the other characters, particularly his interactions with Queen Medusa as mentioned earlier.
For more of the Spider-Man family of titles from Marvel visit www.marvel.com and get out to your local comic and hobby shops, support local comic retailers before they disappear!