AC/DC - Play Ball (Single)
Posted 10/13/14 - 4:04 AM ET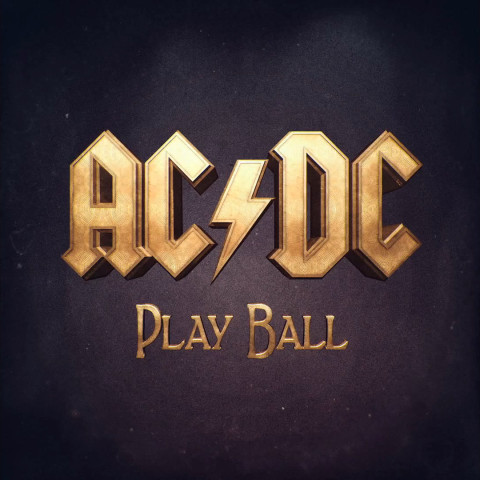 The first single, and what will be the second track on the full album, Rock or Bust, dropping on November 28 of this year; is most definitely AC/DC even with the sad and first ever absence of Malcolm Young. Though there is no mistaking that "Play Ball" is AC/DC from the first second the song starts, there is a difference in sound that further marks Malcolm's retirement from performing, even in the studio, for his health. It's not a bad difference, it's not even a difference in the quality of musicianship and prowess of the remaining members of the band; same for the playing of Angus and Malcolm Young's nephew Stevie Young. Words are failing me at identifying the difference... the sound of the instruments, the roar of the guitars just sounds... cleaner. Like some of the snarl is gone, that whiskey soaked growl that was always there is gone, perhaps not completely but subdued. Again, it's not a bad thing, I imagine it must be similar to the shock to fans' systems when Brian Johnson was brought in on Back In Black after Bon Scott's passing. The song's composition is flawless AC/DC, loud and aggressive, lyrics are about drinking and getting lucky (does anybody still say that? The song is about getting laid). Everything you expect of AC/DC, they're still the best there is.
The other change that should be noted is how short the new songs on Rock or Bust are going to be, this one included is only two minutes and forty-nine seconds; Rock or Bust is totaling out at just under thirty-five minutes for all eleven new songs. Regardless, I am still looking forward to Rock or Bust dropping next month, both as a rock reviewer/journalist and a lifelong fan of AC/DC. If you have more than one AC/DC album, you're going to understand the changes I'm writing about, but it won't or at least shouldn't change your enjoyment of AC/DC's new songs. Honestly, I'm not sure Rock or Bust will end up one of their classic albums, up there with Highway to Hell or Back in Black, but if "Play Ball" is an indication of things to come; it's going to be good.
Reserving score until the full album is released at the end of November, check back because there will be a review here in Tastes Like Rock.
AC/DC is Brian Johnson (lead vocals), Angus Young (lead guitar), Stevie Young (rhythm guitar, backing vocals), Cliff Williams (bass, backing vocals), and Phil Rudd (drums, percussion). Check out

www.acdc.com

for details on Rock or Bust and the band's upcoming tour dates.